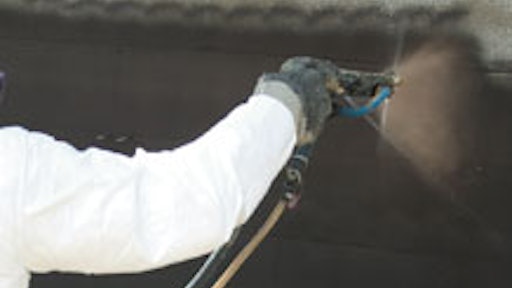 With homeowners becoming more concerned about mold and mildew, waterproofing can be an attractive value-added service for contractors.
Carlisle Barriseal
Carlisle Coatings and Waterproofing offers air and vapor barrier protection with Barriseal, an above-grade system that can be roller or spray-applied to a variety of concrete surfaces.
Water-based asphalt emulsion, modified with a blend of synthetic rubbers and special additives
Cures to form a flexible, monolithic air/vapor barrier
HouseGuard
HouseGuard is a complete system that waterproofs, insulates and drains water away from concrete basements.
Modified polymer asphalt membrane is protected by Styrofoam-brand insulation that adds insulation value up to R-10
Bridges nonstructural cracks
Water-based and environmentally friendly
Sprays on damp and uncured walls
Duron Dura Crete
Dura Crete High-Build Solvent-borne waterproof coating is available in three textured finishes: smooth, sand and medium.
Resistant to high alkalinity
Resistant to wind-driven rain
Passes the requirement for Fed. Spec. TT-C-555B
Watchdog Waterproofing
Watchdog Waterproofing from Tremco Barrier Solutions provides reliable water protection for basements and retaining walls.
Features a flexible, spray-applied polymer-enhanced asphalt membrane
Seamlessly bridges foundation-settling cracks
Backed by a five-year transferable performance warranty
Mapei Mapelastic Smart
Mapei's Mapelastic Smart combines powerful waterproofing and concrete protection with ease of application.
Two-component, flexible cementitious membrane
Applied by roller or brush
Applied Technologies Hydra-Guard
The Hydra-Guard Waterproofing System from Applied Technologies provides basement protection against water penetration.
Hydra-Guard Membrane spans shrinkage cracks that develop in a wall
FibR-Dri Protection Panel protects membrane from backfill damage
FibR-Dri allows water to drain away from foundation to the drain tile
Epro Ecobase
Ecobase membranes are high-quality, water-based, polymer modified waterproofing membranes.
Highly flexible, seamless and fully bonded, environmentally friendly and ICC-approved
May be applied to green concrete
Mar-Flex Sunflex
The Mar-Flex Sunflex waterproofing membrane has permanent elasticity that allows it to move with the expansion and contraction of the wall surfaces.
100 percent virgin polymer
Will not evaporate or lose flexibility
Resists freeze-thaw cycles
Available in yellow and gray