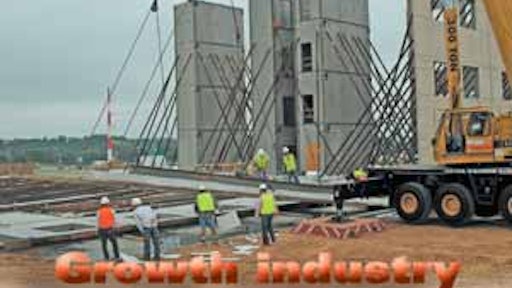 Say "tilt-up concrete" to most people and the image that comes to mind is a warehouse with four square walls.
That's a preconception tilt-up concrete contractors have been fighting for years.
"The biggest thing we do when selling a project is try to stress the architectural features we can accomplish, to try to overcome that 'box' image," says Mark Meyer, vice president of Meyer Brothers Building Co., Lees Summit, Mo. "We sell the potential."
"Tilt-up concrete has more options than any other building method out there," says Andrew McPherson, owner of Seretta Construction, Apopka, Fla. "It can be infinitely shaped and colored and featured."
The best way to convince clients of how well it will work is to show them past projects, says Bret Newcomb, president of Newcomb Construction, Madison, Wis.
"We look at every project we build as a sales tool," he says. "So we'll seek out special projects that incorporate some unique features that we can use to sell the next job.
"We still do plenty of boxes - that's where you make your money - but the special projects are the ones that sell the next year of business for you."
Despite the fact that tilt-up has been around for years, many architects and designers aren't aware of the method and everything it can do. Some of that, though, is finally starting to change.
"It was almost always a case of somebody designing something and we'd have to convert it to tilt-up," Meyer says. "It has become more visibly known as a construction method."
The competition varies from market to market, but most tilt-up contractors find themselves competing not against other tilt-up companies, but instead against other building methods.
Florida-based Seretta Construction works all over the country, but tries to do as much work as possible near its two offices in Apopka and Charlotte, N.C.
"In Florida, we find ourselves competing against masonry," McPherson says. "In Charlotte, it's still a lot of brick construction. In other parts of the country, our biggest challenge is precast."
For most tilt-up contractors, masonry is still the biggest competitor, but that seems likely to change as there are fewer skilled masons entering the industry.
"It seems to be a dying industry," says Newcomb. "We're finding that there are so few skilled masons left in our market that we can beat them pretty easily on price."
And while precast concrete is gaining popularity in some markets, tilt-up offers some advantages that precast can't meet, most notably size.
"The size is limited because it has to be transported to the site," McPherson says. "We can pour multistory panels on-site and tilt them into place, so for large buildings, it's a clear advantage."
Overall, tilt-up concrete continues to grow in popularity as a construction method. According to the Tilt-Up Concrete Association, the industry experienced growth of 23 percent in 2004, with 664 million sq. ft. of buildings constructed using site-case tilt-up. That follows a 7 percent increase in 2003.
Growth in office, retail
Long a staple of warehouses and distribution centers, tilt-up seems to be making major inroads to the office and retail markets.
"Right now, retail is the biggest market we're working in," says Meyer of Meyer Brothers, which does most of its work within a 150-mile radius of Kansas City. "We're seeing a lot of interest in lifestyle open-air malls, car dealerships, motorcycle dealers, that sort of project."
A recent project Meyer Brothers constructed, the Shops of Boardwalk, a lifestyle mall in Kansas City, Mo., won the company a 2004 TCA Achievement Award because of its effective demonstration of tilt-up for the retail market.
"It was a project that was very heavy in the architectural side," Meyer says. "There was a huge mix of materials: Cultured Stone, EIFS, cornices, Scott cast-in bricks. It's the kind of project people are surprised is tilt-up."
So far, the Kansas City market has shown little interest in tilt-up for offices.
"We have an interest in doing offices, but the market's just not there yet," Meyer says. "We just built a three-story office building for our office with an exposed aggregate finish and other architectural features that we hope we can use as a selling tool to show to potential clients."
In southern Wisconsin, the problem is reversed. While the office market is booming, Newcomb Construction has not built a single tilt-up retail building.
"Our work is typically a mix of office, warehouse/office and distribution center/office," Newcomb says. "Right now, we're seeing a lot of office construction."
The area saw a lot of retail construction in the 1990s, but there aren't many of opportunities to expand into that market now, he says.
While there might be more retail opportunities elsewhere, Newcomb prefers to stay close to home, with most of its projects within 60 miles of Madison.
"We've been lucky," Newcomb says. "The office market has been so strong here, we don't really need to look elsewhere for work."
With work throughout the country, Seretta has built office buildings, entertainment complexes, retail centers, hotels, warehouse and distribution centers, and institutional buildings, including a recent federal prison in Arizona, the first built with tilt-up concrete
"It was one of the most challenging projects we've ever had," McPherson says.
Besides dealing with the intense heat of the Arizona desert, the company also had to wade its way through government bureacracy and paperwork throughout the project.
It is one of the largest tilt-up projects the company has undertaken, with just less than 1,000 panels being lifted into place on-site. Seretta used insulated panels on the project in order to maintain the narrow range of temperatures allowed in federal prisons.
"We are starting to use a lot of insulated panels, and I think that's really going to drive the growth of the industry, because of the energy efficiency they offer," McPherson says. "Not only are we are getting tremendous R-values out of it, but it also eliminates the mold and mildew concerns of traditional paper-backed insulation."
Newcomb Construction is one of the leaders in the use of insulated panels, using it on all of the projects the company builds. Company president Bret Newcomb will be speaking at this year's TCA convention on the subject. (For more on the convention, see p. 55).
Besides a bigger focus on energy efficiency, the ability to make continually larger panels will also mean more growth for the industry, McPherson says.
As panels get bigger, tilt-up will be able to offer more advantages in time and money over alternative methods, he says.
"Ten years ago, it was unusual to have a panel that was two stories," he says. "We just did a single panel that was five stories tall for a hotel. I don't know where the multistory will stop."
Utilization of new technologies like steel fibers in the panels will continue to stretch the limits of panel size, McPherson says.
"In theory, the only thing that will limit how big we can get will be the room to cast and lift the panels," he says.
While the future can be hard to predict, focusing on tilt-up construction gives contractors an inherent advantage, Newcomb says.
"We can be flexible and stay with the market," he says. "Right now, office is where the growth is, but if that changes we can adapt any kind of building for tilt-up construction."
At a glance
Meyer Brothers Building Co.,
Lee's Summit, Mo., a former metal building contractor that converted to tilt-up in the late 1980s.
Employees: 90
Annual volume: $32 million
Projects per year: 6
Newcomb Construction,
Madison, Wis., a second-generation business that has focused on tilt-up since 1993.
Employees: 35
Annual volume: $18 million
Projects per year: 8
Seretta Construction,
Apopka, Fla., and Charlotte, N.C., founded as a tilt-up company in 1987.
Employees: 450
Annual volume: $50 million
Projects per year: 70