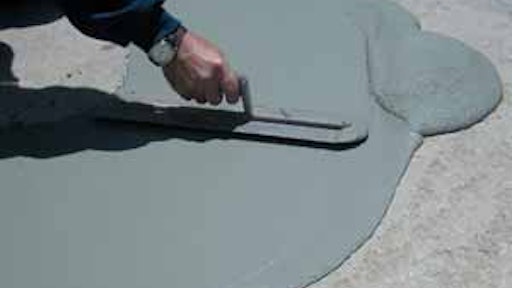 Butterfield Color T-1000
T-1000 Fine Sprayable is a polymer-modified cementitious overlay for resurfacing and texturing concrete floors, walls and hardscapes.
Available in both Cement Grey and White
24 standard color packs available
Sprayable in depths of 1/16 to 3/16 in.
Can be applied vertically and horizontally
Sprays smoothly over stencils
Flex-C-Ment Spray-Flex
Flex-C-Ment Spray-Flex from Yoder & Sons can be used to create unique designs such as flowers, grape clusters and complete murals.
Can be squeezed through a grout bag or a cake decorating tool, or applied with a trowel, up to 3/4 in. vertically
Can be stamped as a premium overlay product
Applied with a texture sprayer for knockdowns or stencil patterns
Thin-troweled for resurfacing
Increte Spray-Deck
Spray-Deck from Increte is a textured overlay system that transforms unsightly, dull concrete surfaces.
Textured finish and unique coloring system renders the surface slip-resistant and cooler underfoot than standard concrete
Comes in a choice of 30 standard colors, with custom colors available
Resistant to mildew, algae, rust, thermal shock and most chemicals
Twice the strength of concrete of the same thickness
Sundek SunStamp
SunStamp by Sundek is a stamped overlay product that offers durability, design capabilities and curb appeal.
Combines an "Old World" look with today's technology to give concrete a makeover
Super Stone Super Surface
Super Surface from Super Stone is a state-of-the-art overlayment system that can be applied as little as 1/4 to 1/2 in. thick for stamping.
Creates a durable surface with stone, brick or marble look
Superior adhesive strength
Stain- and abrasion-resistant
Resistant to freeze/thaw and other weather changes