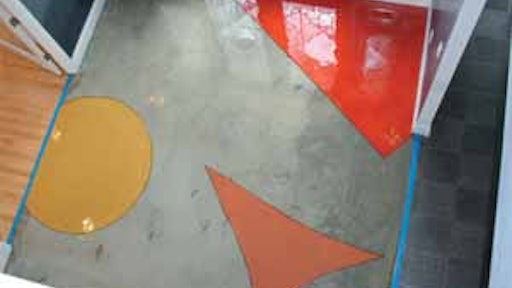 Shawn Wardall of Specialized Construction Inc. of Waterloo, Wis., was able to showcase all of his company's offerings- reactive stain floors, cementitious overlays and concrete countertops- all under the same roof in a new construction residential home on Lake Pewaukee, about 20 miles west of Milwaukee.
Wardall also got the chance to display his dedication to his customers when the homeowners decided that his third project in their house, an overlay design, wasn't exactly what they were looking for after Wardall had the job 90 percent finished.
The 29-year veteran of the construction industry with eight years of experience working with decorative concrete was originally hired for a 2,600-sq.-ft., free-form, multicolor staining design throughout the downstairs of the Lake Pewaukee home. Pleased with the job Specialized Construction did with their downstairs, the homeowners asked Wardall to create a concrete countertop for their kitchen. After the completion of that project, they asked Wardall to do a 540-sq.-ft., irregularly shaped overlay for the main entryway into their house using bold colors and geometric shapes.
"Their basic description was they wanted 'a concrete-looking floor with pieces of art dropped on it,' " Wardall says. "I was always a little nervous going into the project. I wanted to know exactly what they wanted to do."
By the time Wardall finished the downstairs staining and the concrete countertop, construction of the home was completed. The family moved into their new house the same day Wardall laid the 2-in. overlay to start the entryway job. Then Wardall sat down with the homeowners to come up with some color schemes and designs for the "pieces of artwork."
Wardall returned the following Monday and worked until 9 p.m. using solvent-based dyes to make the bold colors they wanted. Tuesday morning he showed up to put the finishing touches on the job and to seal the floor, but the homeowners informed him that they didn't like the design. They knew it was exactly what they asked for, but it didn't turn out the way they had envisioned. They asked Wardall what their options were, and together they decided on another overlay.
"Homeowners change their minds. Colors change, ideas change, but I have no problem with that. We're service-oriented and design-minded," Wardall says of the decision.
Because the family was living in the house Specialized Construction was working in, Wardall and crew had to work against some extra challenges.
"The house was done; they were all moved in. We were working up against other floors- wood, carpeting. We had to be very careful, and very neat," Wardall says. "We always like to do a nice, neat job from the beginning rather than go back and clean up later, but this situation posed an even greater necessity to be careful."
In addition, the homeowners didn't want the disruption associated with concrete construction, and the Specialized Construction crew couldn't do some of the things they were used to doing.
"They didn't want the dust or spray, so I didn't saw out between the artwork objects. We had things barricaded off because the homeowners didn't want a lot of mess," Wardall says.
Second time around
Wardall knew he needed a very thin layer of cementitious topping for the second overlay to remain consistent with the height of the surrounding floors. He decided to go with a 1/8-in. overlay with Colormaker Floor's Pentimento system.
By this time, Wardall was well-acquainted with the homeowners and was picking up on their style.
"I made an effort to get a feel for the homeowners- what they were like, what they liked, the colors they were drawn to- and then I got a feel for what they wanted in the final overlay project," he says.
Wardall always kept the homeowners involved with the design of the final overlay. He showed them color boards that he created for them, and together they decided on shapes for the floor design. Wardall cut the chosen shapes out of red resin paper and allowed the homeowners to move the shapes around on the floor and put them exactly where they wanted them.
After a design was decided on in an area, Wardall mixed up some black concrete in an empty ketchup bottle. The cement had to be the right consistency to come out of the bottle just right. Wardall outlined the shapes that the homeowners decided on, and then added another layer of overlay treated with Colormaker's Colorfast, an integral color inducer, within the black lines. The layout didn't happen all at once. The homeowners would decide on one area and the shapes they wanted, Wardall would outline it with his ketchup bottle, install the colored overlay, and they would go on to another section.
"The artwork is laid on top of the overlay with another layer of 1/8-in. thick Pentimento. This gives you some relief and some dimension to the design when you look at it, but when you add the epoxy on top it smooths it out so there's no ledge to catch your heel on or trip over," Wardall says.
This system gave Wardall a finished project he was proud of and his clients were pleased with.
Wardall says contractors have to be careful when it comes to their work and need to pay great attention to the people they are working for. The huge popularity of decorative concrete creates a lot of interest in the market, but sometimes homeowners, architects and designers aren't always sure what they're asking for, and sometimes aren't fully familiar with the options available to them.
"I like to pick the client's brain," he says. "They tell me what they want, and then I make them describe exactly what it is they want- how they want it to look, hold up and how they want to take care of it. Sometimes they end up with what they asked for initially, but a lot of times they might end up choosing something different from what they initially asked for. A lot of people don't know the potential for decorative concrete."
At a Glance
Specialized Construction Inc., Waterloo, Wis.
Owner: Shawn Wardall, 29-year-veteran of the construction industry, with last eight years specializing in decorative concrete
Founded: In 2003, as a decorative and general contracting company. The demand for decorative concrete is so strong that the company now focuses exclusively on decorative work.
Number of employees: 4
Services offered: Reactive stain floors, cementitious overlays, concrete countertops
Favorite products: Colormaker Floors, L.M. Scofield, Yoder & Sons, Brickform Rafco, Perles mixers