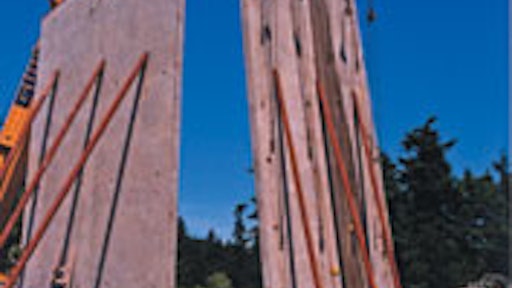 Buzzwords and articles abound regarding indoor air quality, thermal barriers and "air-tight" structures – and yet, designers all too often ignore the opportunities presented by the building envelope to provide the ultimate energy-efficient solution.
Although smart lighting and HVAC units can be key opportunities, selecting the building envelope and the construction method are critical factors for constructing an energy-efficient structure. One building method with a proven track-record in providing owners with energy efficient solutions is site cast tilt-up construction. The combination of the thermal mass properties of concrete, reduced air-infiltration and more energy-efficient insulation systems allow tilt-up construction to be a growing solution in meeting the needs of today's owners.
Understanding thermal performance
The selection of building materials, equipment and energy management systems – all early design considerations – make a difference in the long-term performance of a building, which is why tilt-up is a smart solution. "Performance" of the exterior concrete walls should be recognized as a key element of success for tilt-up as an efficient insulating option. Concrete that is located adjacent to controlled interior spaces dampens the temperature swing that is normally experienced as daily temperatures rise and fall. This dampening effect can result in substantial energy savings due to reduced HVAC capacity. Essentially, the mechanical systems do not have to work as hard to control the temperature. The same quantity of energy may need to be removed or added, but it is done over a longer period of time.
Thermal mass reduces temperature swings by storing the incoming heat energy from the warming climate during the build-up phase, rather than requiring the building's HVAC systems to fully handle it. The stored energy is then released over a longer duration during cooler periods or removed by lower equipment tonnage during off-peak hours. Although this "thermal mass effect" is more pronounced in climate regions with larger differences between daytime and nighttime temperature or where cooling is dominant to the building operation, the same effect can have a strong impact in colder climates that rely on heating as much as or more than cooling. In these regions, the mass is conditioned to a target temperature and remains as a buffer to slow the affects of chilling temperatures on the building interior as well as more rapidly controlling sudden temperature changes in combination with the HVAC systems. For a facility with overhead doors, this effect is beneficial since the air infiltration that occurs every time a door is opened is balanced by the stored energy in the concrete mass. In contrast, a lightweight metal building has no such heat capacity and therefore cannot dampen the thermal cycle.
Thermal mass is certainly not a new concept to building technology. Without looking at historical precedents, the concept has been incorporated into the Model Energy Code alone for more than a decade and a half. Proven through a combination of testing and computer modeling, the thermal mass effect is leading energy consultants today to recognize the advantages that can be gained from tilt-up panels. In cases where insulation is added to tilt-up properly, as much as two to three times greater performance or impact to the building envelope can be achieved over the stated material R-value.
Mitigating air infiltration
One of the biggest factors that impacts energy efficiency is air infiltration. The movement of air through the building envelope can mean the difference between an over-worked mechanical system with very poor efficiencies and a stable building environment that can be carefully controlled to specific temperature set points. Tilt-up panels are massive, opaque, monolithic concrete elements on average more than 6 in. thick. More than monolithic thickness, however, tilt-up panels offer substantially fewer construction joints around the perimeter of a structure than competing building methods. Where joints do exist, they are insulated to a similar or greater degree than the panels, although they represent a minute fraction of the surface area calculations and are treated with high-performance sealants that prevent both moisture and air from moving through them. With today's precise construction techniques, joints between panels are commonly held at no greater than a half-inch for architectural tolerances – a further reduction in air infiltration potential.
Insulating options integral to design
Insulation is a key component for a large portion of the building market - particularly tilt-up buildings that attempt to closely control interior temperatures and humidity and in areas that have significant climate variations. Compared to other forms of construction, tilt-up offers the optimum placement options for insulation systems balanced with construction economy. Furthermore, insulation systems of the past and in use today are often significantly compromised in attained performance due to thermal conductivity, otherwise referred to as thermal bridging. Metal and concrete are the most common construction materials that frequently penetrate or otherwise separate insulation systems and thus dramatically reduce or even negate the effectiveness of the designed insulation envelope. In today's market, proven insulation systems specifically designed for tilt-up construction provide the ultimate solution by eliminating the occurrence of these thermal bridges and providing the full material R-value of the insulation.
Winning with energy efficiency
Case in point is a recent residential tilt-up project that has received tremendous accolades for achieving high energy-efficiency ratings. The 31,824-sq.-ft. ROWhomes on F, located in a highly visible area of downtown San Diego, was designed as a prototypical urban residential project that addresses both "Smart Growth's" desire for higher density (42 homes per acre) and the homeowner's desire for comfort, energy efficiency and visually unique architecture. Conceived and designed with conservation in mind – from open space to energy – the dynamic and visually exciting urban architecture resulted from the adaptation of the "traditional" East Coast row home to Southern California's temperate year-round climate.
The tilt-up design allowed for an open floor plan with operable windows at each end of the structure without perpendicular walls. Such a design created cross-ventilation, which reduced air-conditioning demand, further reducing utility costs. The concrete also offered significant improvements in the energy conservation performance of the homes, to include the capability for the structures to maintain a moderate temperature of 65 to 78 degrees F. As such, the project was selected for the "Energy Efficiency" residential award from San Diego Gas & Electric in response to being 42 percent more efficient than Title-24 requirements. The project also received the tough-to-obtain "Energy Star" rating.
Sustainable success
Yet another example of tilt-up meeting the needs of today's energy-conscious owners is the Gleneagles Community Centre in West Vancouver, B.C. A 2004 Tilt-Up Achievement Award winner, the 23,000-sq.-ft. structure houses a gymnasium, fitness area, art center, childcare facilities and administrative space. Constructed on an extremely tight site in a remote, restrictive and mountainous area, the District of West Vancouver (the owner) and architect chose tilt-up to provide a one-system architectural, structural and mechanical solution.
A tilt-up wall mechanically acts as a passive radiator providing heating/cooling through water piping embedded in the panels, which were structurally required to be a seismic shear wall connected to a timber roof diaphragm. These panels are structurally composite, dual-wythe sandwich panels tied together with welded rebar trusses, which allow an increase in the area available for insulation placement between wythes. By opting for this sandwich panel, rather than a non-structurally composite alternative, the overall thickness is minimized, seismic forces are reduced and costs lowered. Tilt-up allowed for a finished, exposed concrete surface on two sides serving as integral components of the radiant slab cooling system, which uses about 50 to 60 percent less electricity than a forced air system. This project also uses both natural and energy-efficient lighting to reduce the overall energy demand.
The future of energy efficiency
Ed Sauter, executive director of the Tilt-Up Concrete Association (TCA), states that energy efficient design is one of the biggest opportunities in today's building industry.
"Although the industry frequently uses buzzwords like 'sustainability,' 'LEED ratings' and 'green' design, when the mainstream project actually makes it to the negotiation stage, many of these concepts are traded for other aspects of the building project," says Sauter. "If designers begin to emphasize a more complete envelope approach from the project onset rather than focus on component performance, the resulting design would achieve an advantageous balance of both economy and performance."
---
Why tilt-up is the energy efficient answer
A variety of new and proven insulation systems specifically designed for tilt-up construction aid in providing the ultimate energy efficient solution.
The large, solid concrete panels add to the energy efficiency of a tilt-up structure since the panel size reduces infiltration or air leakage into and out of the building. Air infiltration is a large source of heat loss.
Tilt-up concrete sandwich panels — with as much as 10 in. of insulation — boost material R-values as high as 50, while surface-applied insulation options garner material R-values between 5 and 15.
---