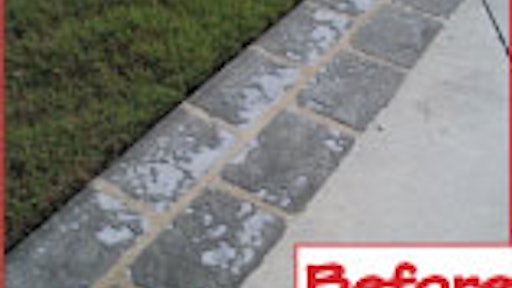 Ask most decorative concrete contractors and they'll tell you the biggest threat to the industry is shoddy craftsmanship.
Bill Benckner is no exception. "Seventy percent of the work I see in our market, I see issues," says Bencker, president of Decorative Concrete Solutions, Wilmington, N.C. "That ranges from massive failures to a lack of finishing touches."
Bencker has made a niche for himself along the Carolina coast as not only a talented installer but also as someone customers can turn to when projects installed by others fail.
That was the case when his company was hired for a reclamation job for a 5-year-old production home neighborhood where decorative concrete had been used on the driveway borders, patios and walkways.
The developer hired Decorative Concrete Solutions after years of trying to get the original contractor to come back and repair it.
"The concrete had been placed five years ago, but it had started failing in the first year," Bencker says.
When he arrived on site, Bencker found there were several problems, including poor surface preparation and an improper sealant.
"The coating had completely separated from the concrete on several homes, and on others it was simply not applied evenly," he says. "The colors were a 'silly gray' - they had turned completely yellow because they used a low-grade sealer."
Decorative Concrete Solutions ended up signing a contract to repair the work on seven homes. After they began working, the project expanded to 10 homes and Bencker spent about three weeks in the neighborhood.
"Once we got started, I had several of the homeowners talking to me about what the previous contractor had done," Bencker says. "They did no surface prep - no grinding or acid-etching. They had just hosed the concrete off with a garden hose before applying the finish."
To get the job done right, the best solution was to start almost from scratch.
"We scarified the entire surface to fresh concrete," he says.
Then, they applied the base coat and color. Next, they used the same stencil pattern as the original work and tried to match the colors as closely as possible, so the repaired projects would be consistent with the others in the neighborhood. Finally, they applied two coats of 30 percent clear acrylic sealant.
"That's a big part of making sure the job gets done right," Bencker says. "A lot of people will use a cheap sealer - either a 15 percent or water-based."
Professional quality
Taking shortcuts in materials or application methods is all too common in the industry, Bencker says.
One of the biggest problems is that there are no codes for decorative concrete in North Carolina, he says.
"Usually the problems come from cutting corners," he says. "People are rushing to complete jobs to try to make their money.
"Builders are asking too much for too little in many cases. Too many contractors are just installing at rates that don't give them the time to do it properly."
That's why Bencker spends a lot of time telling potential customers what they get for their money.
"We try to educate the homeowners on the materials and processes we are going to be using, and why that matters," he says.
The company also offers a three-year warranty on its work, as well as providing customers a care sheet detailing how to take care of their decorative concrete.
"As part of our package, we also offer a one-time visit to show them how to touch things up if they need to," he says. "After that, we charge an hourly fee if they want us to come back and do their resealing or maintenance work."
Unlike many contractors, Bencker also uses a written agreement on all projects covering insurance issues, all work to be completed and a payment schedule.
By putting all of it in writing, Bencker finds that most customers appreciate the cost of doing business. "They understand that working with a reputable contractor is reflected in fair pricing to cover the costs of the business," he says.
That dedication to customer service and professional appearance has helped Decorative Concrete Solutions, especially with residential customers.
About 95 percent of the company's work is residential, with about 70 percent coming from homeowners on exisiting homes. The rest is from builders on new construction. Only about 5 percent is from the commercial market.
"We bid on a lot of commercial jobs, but we find we're typically underbid because they are just going for low price," Bencker says.
Consistent growth
When Bencker started Decorative Concrete Systems in 1997, he was only the second decorative concrete company in the area. Since then, he has seen several competitors come and go and now competes mostly against a group of five other companies.
About a year ago, the company opened an office/showroom to better market to potential customers. The company has grown from a one-man shop to having four employees, although Bencker is still the primary installer.
Bencker started out doing spraycoating using Color Crown products, but now offers a full line of decorative services, including stamped concrete, acid staining, countertops and overlays.
"It's definitely a quickly expanding market," he says. "We're building about 13,000 homes a year in the area, from small homes to multimillion dollar ones."
The big challenge will be overcoming the negative impression of decorative concrete caused by failing projects - something that should be accomplished by better standards and more educated contractors and homeowners, Bencker says.
"Homeowners are willing to spend something in the Wilmington area if they feel like they are getting their money's worth," Bencker says. "There's definitely been a swing in the market - people are seeing that you get what you pay for."
For more information on Decorative Concrete Solutions, visit the company's website at www.decorativeconcretesolutions.biz.