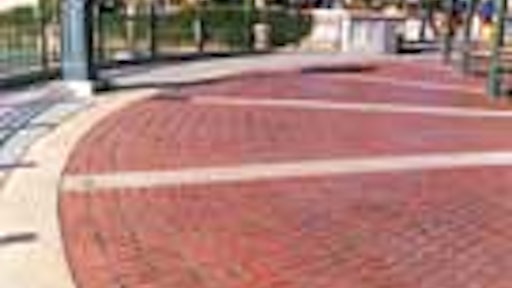 It seems like everywhere you look, you see decorative concrete - churches, restaurants, hotels, zoos, people's homes.
And a lot of times you might find it difficult to believe that what you're looking at started out with the same basic ingredients as the everyday gray slabs of concrete we have grown accustomed to seeing. No one has to settle for gray anymore, and decorative concrete has turned out to be a material in which human imagination is its only limit.
Mike Verlennich, who owns and operates Verlennich Masonry and Concrete with his brother Dave in Staples, Minn., says decorative concrete has finally reached the mainstream as an accepted interior/exterior finish all over the United States.
"We're starting to see architects and designers specifying the products, whereas even five years ago most of these products were consumer driven," Verlennich says. "When someone comes out with something new, initially the consumer asks the builder or architect or designer for this product. Then as the consumers continue to drive a particular product or process, eventually the other end catches on and then the designers, architects and builders start specifying and offering these things as an option to their customers. That's where we're getting to in the decorative concrete field."
Janine Flynn, CEO at Super Stone, says she also sees the decorative concrete industry growing, and says people are just excited about concrete. She also sees something different in some of Super Stone's new customers.
"We have our customers who have been with us for years, and then we have a new breed of contractors who are very interested in decorative concrete's artistic offerings," she says.
There also seems to be a change in the customers who request decorative concrete.
"The customer is much more sophisticated and much more demanding now, so they expect a high level of skill and professionalism from the decorative concrete contractor," says Sherry Boyd, director of marketing at L.M. Scofield Company. "Before, anybody who could do something that looked reasonably good, people would say 'wow,' but now people are so accustomed to seeing decorative concrete that they really notice the details."
Contractors can do just about anything with concrete these days - three-dimensional aquarium walls, animal footprints at a zoo, or images and designs of just about anything stained into a floor. Residential projects like fire pits, benches or tables are utilitarian and unique at the same time. One residential project that seems to be a hot project all over the country is concrete countertops.
"There are a variety of reasons why these countertops are popular," says Bob Harris, president of the Decorative Concrete Institute in Douglasville, Ga. "I would say it's their uniqueness, since you're able to custom build these countertops to meet the clients' needs. And also you can achieve any color imaginable, whereas with the other building material, such as slate or granite or tile, you're somewhat limited in your color choice and selection. And you're also able to do things like integrated sinks and drain boards, backsplashes all poured monolithically, and there is no other building material on earth that you can do that with."
Tom Ralston of Tom Ralston Concrete in Santa Cruz, Calif., says he sees concrete countertops as a way for people to distinguish themselves from other people.
"More than just being unique, it is something that can be personalized by clients or interior designers, and the contractor himself," he says. "You can come up with as many as 800 different colors. We've embedded silver stars in one countertop, real starfish with shells, aquarium sand and beach glass; it just goes on and on."
Regional trends
Decorative concrete is no longer something you see only in California or Florida. Every region of the country is involved with decorative work, although you may see different trends in different areas.
"What I've noticed is that trends start on the West Coast," Harris says. "There's such an influx of contractors that are developing techniques, processes and materials there, that I would say the trends usually start in the West and migrate toward the East Coast."
Harris says stamped concrete, which has been around for several decades, is popular all over the country, as are microtoppings and stained concrete systems.
"I would say polished concrete is actually a little bigger here on the East Coast than it is on the West Coast, but it's gaining popularity out there as well."
In the Midwest, Verlennich says architects and homeowners have finally gotten over a couple of failed decorative concrete experiences that took places in the 1970s, and people are using decorative concrete indoors and outdoors. Despite Minnesota's 100-day exterior concrete season, Verlennich says many of his customers live near lakes or in wooded and outdoor areas and are increasingly using decorative concrete to try to blend into their surroundings.
"We've seen a lot more of the integration of multiple medias. So we'll do concrete and integrate that with natural stone or wood products," he says. "A good part of our construction is log homes, Cape Cod or lake style homes - more of the rustic variety. We don't have a lot of Victorian or modern style, so our patterns tend to lean toward the natural stone patterns. We don't do a lot of the bricks - when we get out East, we see a lot of the herringbone brick and the basketweave brick."
In places like the Southeast or the Southwest, where people can spend a lot more of their days outdoors, outdoor residential work has given homeowners new options for pool decks, patios and outdoor gardens. Ralston says that after 9/11 he saw his customer base become more interested in outdoor living environments, like kitchens and living rooms. He says people started staying home more and began adding options like outdoor pizza ovens and fire pits to their backyards.
"People are moving their indoor living rooms outdoors, so they want an outdoor living space that really becomes an extension of the interior," Ralston says. "Vice versa, they want to tie the outdoors in with the inside, so they use concrete for their indoor floors and tie it in to an entryway to the patio, or they have something that ties the indoors to the outdoors."
New products and systems
The increased demand for decorative concrete has lead to an increase in manufacturers and suppliers, which has proven to be a benefit for contractors and their customers.
"It seems that as manufacturers strive to be the best and supply their customers with the best product, it forces them to find the latest and greatest raw materials that when blended to make their product you get peak performance," Harris says.
Manufacturers offer decorative concrete systems for new construction and existing construction. Acid stains and overlay systems for existing concrete give customers who are bored with their gray concrete options to explore without having to rip up old concrete. Mike Lowe Jr., director of marketing at Increte Systems Inc., says that in the last couple of years his company has introduced several products for application on existing concrete. These systems have allowed concrete contractors to offer their customers more options. And since the systems can also be used indoors, contractors in Northern states can remain busy all year-round.
"With the advent of Stain-crete, our chemical stain system, and Thin-crete, our stamped overlay, the majority of applications you find with those systems are interior, and contractors are able to work year-round by marketing themselves to restaurants, hotels and shopping centers," Lowe says. "They really don't have the downturn they used to have in the winter."
Lowe adds that Increte's self-leveling overlay system, New-crete, is ideal for retail and hospitality use because you can level out a floor, decorate it with a chemical stain and walk on it within 24 hours.
Super Stone recently introduced a new, user-friendly seamless epoxy system that can be used on new or old concrete floors or countertops.
"You can custom color the base coat, then sprinkle colored quartz or vinyl chips for a slip-resistant floor with no seams. This system is popular in areas like garages or industrial warehouses," Super Stone's Flynn says.
Super Stone also recently introduced Super HydroTone, a water-based stain specifically formulated to stain or antique textured overlayments available in more than 30 colors.
L.M. Scofield Company has also recently introduced a waterborne stain called Tintura that provides predictable results and some vibrant color choices.
"Tintura won't replace chemical stains, which produce color variations because of the way the chemicals react with the free lime in the concrete substrate or topping," Boyd says. "People love the unpredictability because that means every surface is unique. But there are circumstances where somebody wants to be predictable and get a precise color, and that's where this other product, Tintura, will come into play, because it's good in areas where you can't deal with residue removal or chemicals."
Growing pains
As with any industry or business that has rapid growth, the decorative concrete industry is experiencing a few growing pains. Leaders in the industry, however, have already begun to address these problems and are working to eliminate them.
One issue is that there are no standards for decorative concrete products, and contractors may stumble upon product that might not meet their or their customers' expectations.
"Because there are no standards within the industry, yet, there is inferior product on the market," Verlennich says. "Now there are some very reputable companies out there selling product, and those companies would have no problem with, say, ASTM certification of products - some kind of standard."
Ralston says if a contractor is using a product that hasn't been around very long, it's up to him to do his own research and development.
"Make sure that the product you're using is sound and is going to stand up to the test of time and that you don't get bit by a faulty product that might be cheaper than one that's been on the market for a long time," he says. "The decorative concrete contractor has to be very prudent, thoughtful and careful when choosing a product."
Just as a subpar product can make a decorative concrete job fail, so can a contractor who undertakes a project he's not ready for. There are a lot of people who have read about the boom in decorative concrete and jumped into the industry, sometimes with very little background in basic construction or concrete principles.
"We've noticed a real increase in the last few years of people who don't know enough about the business, and it's sad when decorative concrete fails. Because it is such a new industry, we all get hurt a little bit," Lowe says.
Luckily, the industry seems to have a safety net for those who need education in decorative concrete systems and techniques. Most manufacturers and distributors offer training for their products and systems. Increte requires its customers, both contractors and distributors, to attend training before they can purchase or sell Increte products. And there are contractors in the industry, including Harris and Ralston, who offer classes and seminars in decorative concrete.
The industry also has several organizations that offer the latest information and training, such as the American Concrete Institute, which is in the process of implementing a decorative concrete contractor certification program, or the American Society of Concrete Contractors' Decorative Concrete Council.
Ralston encourages people within the industry to work together to eliminate mistakes and spread education, because he believes this will strengthen the industry as a whole.
"Because there are a lot of things in the decorative industry that aren't scientifically proven, it's up to a lot of us innovators and groundbreakers to document, monitor, note and share our information and experience with others so collectively we all get better at being successful."
Vertical Systems
Concrete isn't just for floors and countertops anymore. Vertical systems are also growing in popularity for projects like retaining walls, foundation walls, sound barriers and siding for new buildings. The potential for vertical systems is huge, especially in the housing market, since they give contractors yet another option to offer their customers.
FossilCrete has developed a system that can be applied to any surface, including insulated concrete forms and steel buildings. For smaller applications, the company's Vertical Stamp Mix can be applied with a trowel. Larger projects can be sprayed on using FossilCrete's own shotcrete machine called QuikShot.
Stan Pace, president of FossilCrete, was a decorative concrete contractor for 15 years. About three years ago he decided to bring the vertical mix and stamps he used for so long to other contractors through FossilCrete.
"We manufacture stamps specifically for doing a certain type of stone on a wall, or a stamp for doing tree bark," Pace says. "In the past we would stamp something with a flat work stamp and then hand carve around it. Now we have specific stamps that give us really good relief and detail. We do still touch up carving or drought lines, but what it allows us to do is make a stamp that addresses the difficulties of stamping on a vertical surface – in other words, fighting gravity. We've got stamps that are more than an inch deep. And also in that we can take the best parts of any stone that we like or any sets of stones and incorporate those into our stamps and leave out the undesirable parts."
FossilCrete has a stamp called the Ashler pattern tool, which simulates diamond cut stone. Pace explains that true diamond cut stone is very expensive, but contractors can replicate it and other patterns with the FossilCrete system with several benefits to their customers.
"We have the ability to be able to duplicate any application, from brick to cobblestones," Pace says. "We can duplicate it with a far superior strength, a lot less cost to the contractor and 100 percent control of color and shape. And on that note, we have some very unique stuff, like the Shanghai stone wall set, which was molded in Shanghai, China. In July, we're coming out with our production stamp of the Great Wall of China, which we pulled off the Great Wall ourselves."
Increte specializes in a different type of vertical decorative concrete called Stonecrete, which is a form liner created specifically for cast in place walls. They offer 10 patterns that attach to a standard concrete form.
"Stonecrete is a cast-in-place system that has obvious aesthetic beauty, but it also has the structural capacity as well, so it is the best of both worlds. For bridge abutments, retaining walls and foundations, it's great," says Mike Lowe Jr., director of marketing at Increte. "We don't change any rules or codes on how these guys are pouring their walls, we just attach a liner to the inside of their forms."