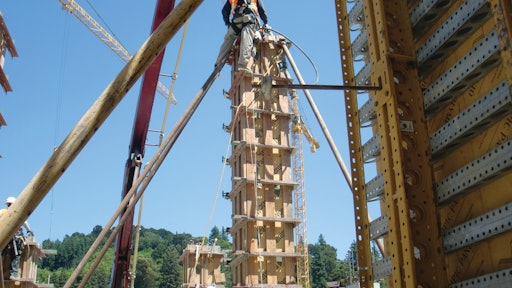 When a contractor is faced with a specification or language in a job plan that is contradictory to real-world applications or superfluous, he has limited options in getting a resolution. The best thing he can do is discuss these conflicts with the project engineer before construction starts. Engineers aren't always willing to take advice from contractors, so these conversations are rarely easy.
After years of seeing similar conflicts arise on different projects across the country and seeing contractors running into the same specification issues project after project, the American Society of Concrete Contractors (ASCC) introduced Position Statements in 2003. The one-page documents, written by ASCC Technical Director Ward Malisch and consulting engineer Bruce Suprenant, explain why these common issues arise and how to remedy the situations. The statements are based largely on research pulled from the American Concrete Institute (ACI), ASTM International and published papers. ASCC offers 44 Position Statements — 36 covering traditional concrete and eight focused on decorative concrete. ASCC adds Positions Statements as worthy topics arise.
Position Statements at work
Chris Plue, Webcor Concrete, Alameda, Calif., recalls a recent high rise project where the plans called for his company to sand blast or water blast rebar before concrete placement, a common engineer request based on ACI documents that were written to prevent bond issues between reinforcement and concrete. Plue introduced the engineer on the job to ASCC Position Statement #3 "Coatings that Affect Bond to Reinforcement." The Position Statement cites research that shows form release agents, bond breakers and cement splatter do not decrease bond. "It resulted in savings of over $20,000 on that job alone," Plue says.
On the same project, Webcor ran into a second issue where a Position Statement helped save the company time and money. "Many times specs say the concrete can't drop more than 5 feet during placement. Yet on almost every high rise, columns are built by dropping the concrete more than 5 feet," Plue explains.
To alleviate this construction challenge, Webcor submitted ASCC Position Statement #17 "Free Fall of Concrete," which cites research that proves concrete can drop more than 5 feet without affecting the concrete.
"Because the Position Statements come from third-party research — not contractors asking for relief — engineers and owners are more accepting of the information," Plue says.
Steve Lloyd, president of Lloyd Concrete, is another contractor who has successfully utilized ASCC Position Statements to clarify construction specifications and educate the people he works with. "When I get a new Position Statement, I send it on to the local engineering community. Our company also holds 'lunch and learns' two to four times a year. We buy 10 to 20 people lunch and talk about slabs. The engineers like this because they can get credits toward their licenses too," he says.
Lloyd's Lynchburg, Va., company, which performs industrial, commercial and high rise cast-in-place and tilt-up concrete, looks at his specifications before he bids a job and starts communicating inconsistencies and issues early on. One area he is constantly discussing with owners and engineers is slab curling. "Concrete is going to curl, just like it is going to crack. We want to minimize that. The process starts with the design," Lloyd says.
If he thinks changes can be made to the mix and slab designs to reduce curling, he will bring ASCC Position Statement #30 "Responsibility for Slab Curling" to prepour meetings. Position Statement #30 warns of the dangers of slab curling and the steps that can be taken to reduce it. "Nine times out of 10, the engineer will change the mix design. If he doesn't, I don't take the job," Lloyd says.
Lloyd also utilizes ASCC Position Statement #6 "Division 3 versus Division 9 Floor Flatness Tolerances," which addresses the conundrum contractors face because Division 3 specs require measuring floor flatness with FF and FL numbers while Division 9 specs require measuring floor flatness with a straightedge. Position Statement #6 addresses the incompatibility of these specifications and makes recommendations to the engineer and owner on how to handle this inconsistency. This Position Statement is endorsed by the National Wood Flooring Association (NWFA), the Floor Covering Installation Contractors Association (FCICA) and the National Tile Contractors Association (NTCA).
For years, Tommy Ruttura, president of Ruttura & Sons, struggled with the engineering community's common practice of using wire mesh as secondary reinforcement. His company was involved in a lawsuit several years ago that stemmed from a project where the owner maintained a concrete failure occurred because the wire mesh was not in the proper position in the slab — a feat all concrete contractors know is extremely difficult. Ruttura & Son's portion of the settlement was $1 million. Ruttura also notes placing wire mesh is labor intensive and creates safety issues for workers with trip and fall hazards.
Since the introduction of ASCC Position Statement #2 "Location of Rolled Welded-Wire Fabric in Concrete," Ruttura has had a tool to help him prove to engineers the problematic nature of rolled welded-wire fabric and convince them to use an alternative. "We always recommend steel fibers or regular fibers on slab-on-grade or elevated decks to replace wire mesh as secondary reinforcement. We've had huge success with that," Ruttura says, adding the alternative results in better construction. "Fibers are integrated and everywhere they are supposed to be."
Who can use Position Statements?
ASCC Position Statements are available for anyone to view via the ASCC website, www.ascconline.org, under the "Resources" tab. Copies are free to members, or non-members can purchase them through the ASCC Bookstore online.
"When we take a Position Statement by ASCC and present it to engineers, it packs an awful lot of horsepower. We always win the battle," Ruttura says.
Plue experiences a similar reaction. "Because it's not coming from the contractor, it warrants the engineer's contemplation," he says. "If owners or engineers want to discuss a topic further, the authors of the Position Statements are available."
Lloyd adds the Position Statements work because they are short and simple. "ACI information is great, but it's in big books or on CDs. Position Statements are neat, one-page papers," he says.
Next time you are faced with contradictory specifications or an engineer not willing to take your advice, check the ASCC's list of Positions Statements. The backup you need might be closer than you think.
About the ASCC
The American Society of Concrete Contractors (ASCC) is an industry trade organization that helps members enhance of the quality of their concrete construction. It is governed by its approximately 500 member companies, including contracting firms, manufacturers, suppliers, designers and other industry professionals.
Each year, the ASCC holds two educational/networking events — the CEO Forum and the Annual Conference — and association-sponsored events at the World of Concrete. Specialty councils include the Decorative Concrete Council, Safety & Risk Management Council and the Manufacturers Advisory Council.
The ASCC offers a host of benefits free to members. Here are just a few:
Two Telephone Hotlines. Both the Technical and the Safety & Insurance hotlines are staffed by industry experts.
Safety Manual. This manual can be used as a basic safety program. It was designed specifically for a concrete construction company and is customizable to an individual company.
MIX Groups. Management Information eXchange groups offer contractors the chance to share information with other companies their size outside of their markets.
Contractor Email Forum. Submit business management and technical questions via email and receive answers from your peers.
Troubleshooting Newsletter. Technical answers from the Technical Hotline.
Safety Videos and DVDs. First copy is free to ASCC members.
Learn more about the ASCC and membership at www.ASCConline.org. The ASCC Annual Conference will be held Sept. 20-23 in Lisle, Ill., just outside Chicago.