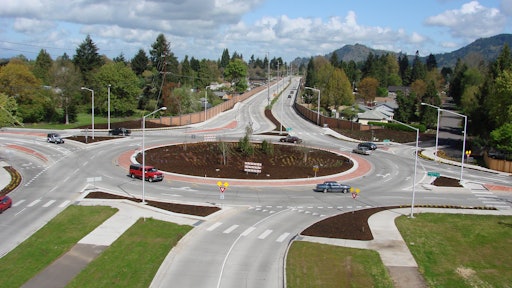 American Concrete Pavement Association
Many associations, organizations, and businesses have developed programs in the past to help their constituents produce specifications for a variety of concrete pavement applications. For smaller projects with no specifications contractors relied upon what they knew and ready-mix producers supplied concrete that was thought to be adequate for the situation. You could also get training about how to install pavement from experts or companies such as ready-mix producers, construction supply houses, admixture companies, or other suppliers of materials used in pavement construction. Sometimes it came down to doing what you have always done.
Jerry Voigt, president and CEO of the American Concrete Pavement Association (ACPA), says that one problem with the many specification programs for pavement was that they often produced different results. For instance, if a pavement was being designed for light traffic one specification might call for five-inch thick pavement while another might require six-inch thick concrete—putting in the same information yielded different results. This might not seem to be very important but if only five-inches were actually needed, adding an additional inch would only add to the cost of the job.
By 2015 there was talk of creating one pavement specification program that all could support. Up to this time the ACPA offered a program they called "StreetPave," the National Ready-mix Concrete Association (NRMCA) offered "Pavement Analyst," the Portland Cement Association (PCA) had their own program, and the American Association of State Highway and Transportation Officials (AASHTO) offered a program called "AASHTOWare Pavement ME" to name a few. So in 2016 the ACPA, NRMCA, and the PCA entered into an agreement as equal partners to development a "one-stop-shop" pavement program that would meet the design requirements for all types of pavement with the exception of  "Pavement ME" which focused on high volume design issues. The ACPA agreed to lead the project. Voigt indicates this project is the largest collaborative project ever undertaken by these three industry associations, which has also garnered additional attention and support from others including the RCC Council. They call the new program "PavementDesigner."
Voigt says they wanted to develop an interactive program for the internet that would be free for anyone to use so they hired a software developer to help them. The resulting program covers all different types of pavement; jointed plain concrete, continuously reinforced concrete, roller-compacted concrete, and composite systems. It can be used for roadways, overlays, parking lots, intermodal and industrial pavements, and even residential driveways. The program is intended for use by designers, engineers, contractors, departments of transportation, city departments of public works, and even private property owners.
How the program works
Pavement Designer has several features:
It is web-based and accessible from any computer or mobile device
Your project designs can be printed, saved, and shared
The program allows for various traffic inputs which allow for a wide range of vehicle weights and counts
The program is industry approved for all applications
It provides the ability to do side-by-side comparisons with alternative design programs
There is no software to install or updates or patches to track
Eric Ferrebee, the Director of Technical Services for the ACPA, says that using the Google Chrome internet browser is the most trouble-free one to use. So to start the process open Google and type in http://pavementdesigner.org to access the software. On the opening screen you will have the opportunity to log in if you have already registered, you can open an account if you wish, or you can click on "Start Designing" if you wish to avoid the log in process. The next screen requires that you select one of three categories; Parking areas, Intermodal, or Streets. If you select "Streets" there are three more options; "Overlays," a process of bonding a layer of concrete as thin as a couple inches to an existing asphalt or concrete roadway to increase the strength and longevity of the pavement—these overlays can be un-bonded too. You can also choose "New Composite." This option includes the utilization of stabilized base materials to help add increased slab life. But the third option, "Concrete" is probably what most people will use. It's where conventional jointed city streets and local roads can be designed as well as roller-compacted concrete (RCC) and continuously reinforced concrete pavement. It's where you can even design your residential driveway if you wish.
When you go into the next screen, the place where you input data, Ferrebee advises that you hover the mouse pointer over the help button on the top right side of the screen. A "Yes" or "No" box will appear. Click on the yes button and an information screen will appear whenever you hover over any of the input boxes. The screen will provide additional information that will help you make decisions. You will need to repeat this process for each following screen.
Factors that influence pavement design and life
There are a number of factors that must be considered when designing pavement. They include the following.
Traffic type. This includes cars versus trucks, the number of axles on a truck, and traffic volume. For instance, streets with a lot of truck traffic need better pavement and sub-grade preparation in order to provide a longer service life.
Design life. Planning for pavement with an increased life span is more expensive so designers must weigh this cost against replacement. This has significance when considering concrete versus asphalt pavement too. Asphalt streets have an average life of 8-25 years while concrete pavement can have a useful service life of 20-40 years depending on how it is designed. If designers want equal performance between the two materials than they must specify a longer design life for asphalt
Trucks per day. Trucks are much harder on pavement life than cars so the average number of trucks that travel over pavement daily, monthly, or yearly is important to know to pavement life. The range can average as little as three per day on a residential street to as much as 1,000 per day on a major arterial road.
Traffic growth rate. Pavement designs should include increased traffic use over time. Planners usually estimate between one to three percent per year.
Directional Distribution. Roads typically carry traffic in both directions. In most situations each side of a road carries 50 percent of the traffic but there are situations where more traffic is carried in one direction than the other and this can influence the design.
Lane Distribution. When there is more than one lane in one direction there can be more traffic in one lane than another. On a four lane road 90 percent of the truck traffic typically travels on the right hand lane. Therefore the pavement design is usually based on the right lane.
Reliability. This helps account for the timing of pavement deterioration. The cost of a project is related to the percent reliability that is specified. One might say they want their pavement to be 100 percent reliable but that will significantly increase the price. However, increasing the reliability will help reduce the likelihood of premature failure due to fatigue cracking or sub-grade instability. For freeways designers plan for reliability factors of 85 to 99 percent while for small local roads, parking areas and drives the factor is in the 50 to 80 percent range.
Slab Cracking. By the end of a pavements predicted service life what percent of its panels should be expected to have cracks in them? Designers plan for this in their design knowing that some cracking will occur. Plans for freeways for example will often predict cracks in as much as five percent of its panels by the end of its service life while residential roads are often plan to be in the 25 percent range. Planners make decisions about the allowable number of cracked panels based on future expected maintenance costs for removing and replacing these panels.
Sub-grade
The importance of sub-grade conditions is very important to the useful life of pavement—both concrete and asphalt. Ferrebee says that the stiffness of sub-grade materials is very important and this is usually referred to as the MRSG or resilient modulus of the sub-grade. It characterizes the sub-grade materials stiffness of the original soil, not the added compactable fill material. If you are unfamiliar with this you could use a CBR number for average low traffic street applications of approximately three to four percent. This will allow you to complete your pavement design form in a conservative manner.
Results
The design summary provides you with the following information:
Recommended pavement thickness
Maximum joint spacing
Concrete (there is no recommended mix design)   
  

•

Strength requirement


   •

Recommended Modulus or Elasticity    


   •

Flexural strength needed


   •

Whether slab edge support is recommended


   •

Whether macrofibers are recommended as an add to the concrete
The calculated MRSG value for sub-grade
Final thoughts
If you do a search on the internet for "pavement design" a large number of models, programs, and expert design services will come up. Voigt says their effort with PavementDesigner is to reduce the need for so many programs and to encourage a unified approach. By making it an interactive internet program they hope many more people will be able to use and understand concrete pavements more easily. The ACPA will bring the team back together periodically to update the program.