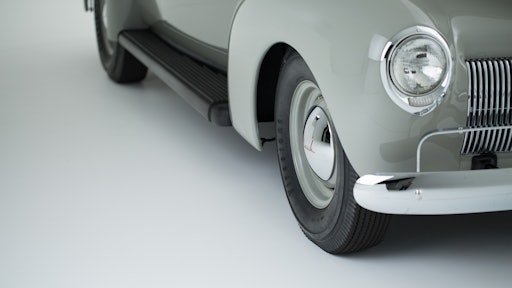 Coatings for Industry
Documenting America's historic vehicles requires a highly specialized floor. So does repairing today's cars at any modern service center.
The photography studio at the Historic Vehicles Association (HVA) in Allentown, Pa., is used to document historically significant cars for the Library of Congress. The floor of the studio is finished with a specialized coating that optimizes photography while resisting the tire marks and oil spills that old cars inevitably leave behind.
Oil spills and tire marks are also common at any automotive service center, yet the concrete floors at these facilities have a very different job to do. While photography is not a concern, durability is, as the floors must endure not only oil and tires, but also dropped tools and heavy, wheeled traffic.
These two examples illustrate the challenge concrete flooring contractors face every day. Your customers expect you to provide a perfect floor. But it's not as simple as putting down a coating and waiting for it to dry.
Every project has unique requirements and parameters. To meet those expectations, you should follow a complete process that starts well before the first coat is applied.
Step 1: Define Needs & Expectations
Every floor is different. It's an obvious statement, but it's a fact that's often overlooked by building owners and even general contractors.
The needs of a floor vary depending on the type of traffic it will have to endure, the environment it will be in, and the look that's desired. An aircraft hangar, for example, will be used very differently from a big box retailer. It's important to know the details of how the floor will be used prior to beginning the project.
In addition, be sure to ask your customers about their expectations for the look and finish of the floor, durability, and how quickly it needs to return to service. The more you know ahead of time, the more you know about what promises you can make.
Step 2: Understand the Application Needs
Once you have an understanding of the needs and requirements of the floor, you need to know what you're getting into from an application standpoint.
If the floor is new concrete, it's pretty straightforward. The main information you'll need to have is how long the floor will have cured prior to the coating application process. Cure time requirements vary by coating system, so be sure the concrete is ready before you start.
Existing concrete floors can get trickier. One of the most important things you'll want to know is if there are any contaminants, such as oil or other chemicals, below the surface. This can have an effect on the ability for a coating to cure and perform over time.
Finally, make sure you understand what the application environment will be like, particularly the temperature and humidity. It's also important to know if other areas of the building will be occupied and used during coating application and curing, as they could be affected by fumes and odors.
Step 3: Prepare the Surface
A coating is only as good as the surface onto which it's applied, which is why surface preparation is crucial.
For existing floors, look for any old, damaged concrete that needs to be repaired. Also, some coatings require mechanical abrasion in order to adhere effectively. Finally, make sure the concrete surface is clean and dry before you begin application.
Step 4: Choose the Right Primer
The primer is a key component in any coatings system. Primers help the coatings adhere to the surface and help ensure the long-term durability and performance of the coating. But it's important to choose the right primer for the application and the environment.
For general/industrial applications, a quick-drying penetrating epoxy, such as WearCOAT 1020, is usually best. In moist environments and green concrete, use a moisture vapor tolerant epoxy, like WearCOAT 1080. Finally, if you need a robust coating that covers physical imperfections and existing chemical spills, use a polyamide epoxy such as WearCOAT 490.
There are, of course, many variables to consider, so be sure to consult with your coatings supplier to choose the right primer for the job.
Step 5: Choose the Right Topcoat to Meet the Need
The topcoat is, obviously, the part of the coatings system that everyone sees. It provides the final look and finish to the floor, but it does more than look good. Factors like resistance to ultraviolet light, abrasion, and chemicals, as well as odor and cure time must be balanced with the desire for gloss or satin finishes.
The adjacent chart shows the primary topcoat characteristics and the types of topcoats that provide them. As with primers, it's important to consult with your coatings supplier to choose a topcoat that meets the specific needs of the project.
Step 6: Choose Texture & Color
Finally, choose the color and texture that meets the customer's expectations for how the floor will look and feel. Coatings are offered in flake, metallic, pigmented top coats, and dozens of colors of quartz.
Whatever color and texture choices you (and your customer) make, be aware of when in the process they need to be applied. Some colors and textures need to be applied before the topcoat, while others are mixed with it.
Every floor is different and has specific needs, whether it's in a customized photo studio, an automotive service center, or one of the countless other applications and environments where concrete is used. In every case, your customers expect the floors to last and perform as promised.
While the needs of any given floor are different, the process for specifying the right coating should always be the same. By following the right process, you will help assure that the right coating is selected to meet the needs and environment of the facility. In short, you'll be on your game to provide a perfect floor that meets your customers' expectations.
Ed. Note: For more detailed information about concrete floor coating systems for dozens of specific applications, contact CFI for a free Floor Coatings brochure, info@cficoatings.com.