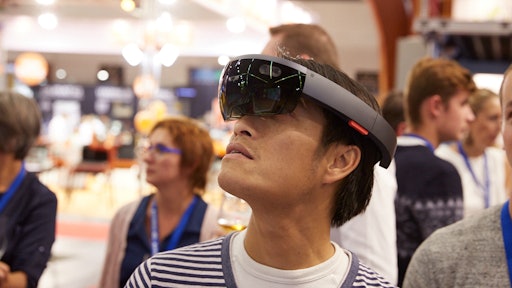 PERI Formwork Systems
In 2015 the Microsoft Corporation introduced "HoloLens™," 3D holographic hardware and software that makes it possible to view objects that aren't real with scenes that are real. The technology is referred to as "mixed reality" (MR) or "augmented reality" (AR). Eric Harris, a Strategic Communications Manager for Trimble, says MR and AR permit you to see something that isn't there overlaid on something that is real. But technically there are some differences between the two, MR inserts virtual objects into a real world while AR inserts data and some types of graphics, and example being the backup camera on your car which overlays lines and sometimes numbers into the live action video screen to help you know where you are. Neither MR nor AR should be mistaken with virtual reality (VR) which doesn't include the real world in what you see.
Microsoft markets their MR equipment and software to the computer gaming industry but it is also interested in developing technology with third party vendors. This article is about two such companies that are using Microsoft MR to provide new technology that benefits the construction industry; Trimble, based in Sunnyvale, California, and Peri Formwork Systems USA with US headquarters located in Elkridge, Maryland.
Trimble
Trimble is a US company with a worldwide reach. It is well known to the construction industry for its surveying equipment technology, 3D modeling software, GPS surveying, and machine control technology. They focus on cutting edge technology that now includes being able to see virtual holographic construction objects overlaid onto the location they will be installed on a project. To accomplish this Trimble developed a software application for Microsoft's HoloLens called "Trimble Connect for HoloLens" as well as an attachment accessory to attach the HoloLens to a hardhat for use on a construction site. The plastic outer lens of the unit acts as safety glasses and is tinted to reduce bright ambient light. Inside the visor is what looks like glasses and that's where you see the holographic images. The band holding the device to your head (and to your hardhat) also contains a computer. A camera which maps the environment around it is also part of the assembly and it helps the HoloLens to know its position. A microphone is also included. The camera photographs what is in front of you and picks up signals from your fingers to navigate menus and commands. HoloLens presents its best images in lower ambient lighting conditions.
BIM. Construction projects increasingly use Building Information Modeling (BIM) design software. BIM combines 3D models with powerful databases that project participants add their information to. MR can utilize many 3D design programs but BIM is the most popular one on construction projects and contractors on larger projects often hire full time BIM specialists to keep the drawings up to date. When jobsite personnel turn on their HoloLens BIM graphic images become the 3D hologram that fits seamlessly into the real scene in front of the wearer. For example, if you wish to see what the rebar would be like on a location you would look at the space (which the camera in the HoloLens photographs) and choose the BIM detail showing the rebar placement. The holograph shows what the rebar placement would look like, allowing the user to view it from any angle.
Trimble Connect. Architects and designers typically work on 3D project drawings and details in their offices. Then they publish them on Trimble Connect, a construction collaboration platform, to give all project participants who have permission to see them, providing them with the opportunity to add their parts and interact with each other. Trimble Connect for HoloLens becomes the platform that enables participant access through their HoloLens device. Trimble Connect software can view drawings from a variety of different software programs and it supports viewing on several devices including desktop computers, tablets, cell phones, and HoloLens.
Users. Any number of people can be given permission to use Trimble Connect to access plans for a job but David Burczyk, the Segment Manager-Field Technology Group at Trimble thinks contractors today will primarily focus on HoloLens technology for quality control, craft-worker training, and safety. 

Important benefits. The construction world is headed in the direction of paperless design, one advantage being that changes to a plan can be continuously updated so that everyone sees the most up-to-date information. Foremen who are responsible for setting concrete forms or iron workers who install rebar reinforcement for example, can be located where the work is installed, easily visualizing what they must do.
Burczyk says you can view the 3D model on a mobile phone or tablet in Trimble Connect. However the benefit of the HoloLens application allows you to interact and be immersed in the model at full scale on the project site, viewing it from different angles. It's easier to understand things three dimensionally.
When work is installed a foreman can quickly check it against the BIM holograph to be sure their work is installed properly. If something is not right it is quickly identified. Burczyk says project managers can check work too. For example, a floor on a building that has rebar, post-tension reinforcement, rough plumbing and electrical, and imbeds can be compared through the HoloLens to the model. If something is wrong Trimble Connect makes it possible for the viewer to connect with persons in their office to decide what to do, office personnel can see through the HoloLens to view what the person on location is seeing. In this way problem areas can quickly be discovered and reworked. These checks can become part of the construction log for a project too; assuring that work was installed properly before concrete placement.
Looking at the system. Ryan Barker, manager of virtual design for Wayne Brothers Incorporated, Davidson, North Carolina, says they are currently using cellphones and tablets to connect via Trimble Connect to access BIM drawings but they are studying the feasibility of using Trimble's new hardhat HoloLens technology.
PERI
When a contractor is estimating a project where concrete forming is a significant part of the work, their first call is often to a formwork manufacturer to set up a meeting to figure out the best technology to use. Contractor's productivity is frequently related to their choice of a forming system so there is much discussion and learning that takes place as forming technology keeps changing and improving. So the manufacturer often becomes a trusted partner in a construction project. But the manufacturer may be the one to initiate the partnership, PERI Formwork Systems US, based in Elkridge, Maryland regularly partners with contractors who are bidding a project and presents their technology in hopes the winning bidder will use their system.
To help contractors and owners representatives visualize their innovative solutions, PERI utilizes software to help clients visualize how their advanced forming systems work. They use a gaming tool program language called "Unity" to create an MR format that can be viewed by several 3D drawing programs such as SketchUp, AutoDesk, and their own drawing program PERICAD.
How it works. MR means that part of a scene is real and part isn't real. The real part is the physical environment and the virtual part is the 3D model of structure with PERI's forming system. Program software scales the 3D formwork model to fit on a conference table or view in full 1:1 scale. Mark Henning, PERI's Director of Markets and Products says they can take this technology into the field and enable contractors to see the formwork model in place on the job-site.  They can immerse themselves in the full-size model in the real environment. Clients can view these formwork solutions in either 2D or 3D depending on whether computer monitors, tablets, or Trimble Connect for HoloLens technology is used to help them understand how their forming system works.
Contractor benefits. During the estimating phase of a project PERI uses their models to present their advanced forming solutions such as their self-rising perimeter protection system or core-forming systems and how they work. If a construction requires elaborate concrete forming they can also show contractors and crews the safest and most efficient way to assemble their forms. By using MR technology, companies and their workers can virtually construct and visualize the formwork ahead of time in order to streamline the actual assembly, installation, and cycling process.
Closing thoughts
The world of construction continues to move in the direction of collaborative activity and at the same time it becomes more demanding and technical. Programs building on MR help us understand the details and be sure that everything is accounted for. Continuous learning is our future at a time when change is constant.