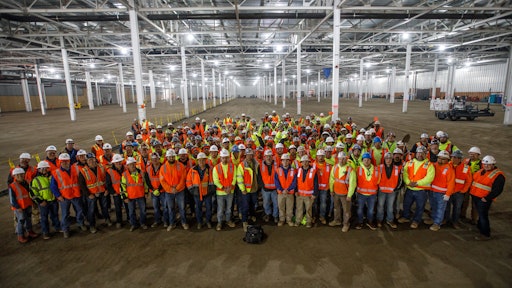 Barton Malow
Even for mid-January, it was unseasonably cold in Texas. Normally the temperatures get close to 60-degrees Fahrenheit during the day, but for team members at the GM plant in Arlington who were ready to embark on a historic event, seeing your breath at noon wasn't out of the question. The bad luck in weather served as just a microcosm of the several challenges Barton Malow and its partners, Lloyd Concrete Services, Unlimited Concrete Solutions, Redi-Mix, Multiquip, Somero Enterprises, Transhield, Bekaert, Allen, Wacker Neuson, Husqvarna and many more, faced and overcame as they took on one of the largest continuous concrete pours ever conducted in the region. As the story unfolded, planning became a crucial element in ensuring the project was not only done, but done well.
Planning
Placing 256,000+ square feet of concrete isn't just something you can do on a whim. It took 33 continuous hours start to finish, dozens of equipment pieces, materials and more required extensive planning and expertise. Oh, and not to mention the 140 tradesmen who were flown in from across the country by Barton Malow.
"We build virtually before boots even hit the ground," says Barton Malow Superintendent Brian Willard. The company's Virtual Design & Construction (VDC) team shouldered the responsibility of providing an interactive model for the Mega Slab event. Jason Neff, VDC Manager, led the charge. He created a 4D model that combined what the project would look like down to the minute; it featured 2,280 parts. How did it help? By seeing what the project could like like—again, down to the minute—the team was able to determine timing, equipment and budgeting. Most importantly, however, the model also gave the team confidence. "The intangible of knowing that a project can succeed because you've seen it run virtually is underrated," says Barton Malow's Ethan Uhl, Placement and Finishing Superintendent.
When even minutes can make a crucial difference in a project as complex as the Mega Slab, the model also served as a way to discover mishaps that could happen—before they happen. "We had to ask ourselves, 'What could go wrong?'," says Willard. Contingency plans were drafted for those 'just in case' scenarios. These simple measures led to increased work flow and made sure the team stayed on plan. "To the average person, these actions are probably things that people don't think about. But every little detail needs to be perfect for a project like this," exclaims Willard.
Execution
With the plan in hand, the crew knew they had to be as close to exact as possible. But as is the case with most undertakings this big, it came with its own set of hurdles. The original plan was to dump a ready-mix truck once every 90 seconds. But when some of the mixing plants had technical issues and back-ups needed to be called, the pace slowed. For the first crucial hours of the project, things weren't perfect. But when the back-up plants started firing and the others came back into action, concrete trucks arrived en masse toward the site, and a pace of 550 cubic yards per hour was held for a large portion of the placement. In the end, the team averaged 315 cubic yards per hour. "We just lined the mixing trucks up and let 'em rip," says Willard.
Planning the roles of the people behind the project was just as thought-out. The goal was to maximize their skills without wearing them down. Through rotating shifts, project leaders did just that. Tradesmen were split into several teams with assigned colors to make it easier to identify. Two teams started placement with the second team starting slightly behind the first to give them physical room to operate properly. Three more teams arrived at the 11th hour of the project, which replaced the original two that arrived at the beginning. At the 23rd hour, and after some rest and food, the original two teams were shuttled back to relieve their replacements and complete the finishing of the slab, saw cut and water cure process.
The amount of concrete used in this project was astronomical. It necessitated five batch plants—all suppliers coming from the same source to ensure material consistency—working overnight.
But the potential for freezing became an issue. Getting salt and heaters was a priority, so the team stockpiled necessary materials weeks in advance. In addition, they moved the steel fibers on site as to ensure cold weather had little-to-no impact.
Lasers were installed every 150 feet with thorough testing to every screed to ensure consistent leveling. "The meticulous set up of the five lasers is the best I have ever seen on a multiple laser pour" comments Somero's Derek Ryan. Quality - some concrete professionals might say a Floor Flatness (FF)/Floor Levelness (FL) of 56/42 is "just okay." But when one considers the sheer size of the project, production rates, the number of bodies, equipment, vehicles and materials on the ground, it becomes clear just how exceptional that number is. Moreover, the fact that the civil crew got grade within 3/16th of an inch across the placement's square footage meant concrete yield stayed within 2% of the plan. When 647 concrete trucks are driving across the site, you can't really ask for much better results.
When it was all said and done after 33 hours, 6,470 cubic yards of 8-inch steel fiber reinforced concrete were placed in what was one of the largest continuous projects of its kind.
Build it safe
Barton Malow's motto behind every project is Build It Safe. A 256,000-sf concrete placement is no different. Thorough pre-task plans were created by safety leaders and then effectively communicated to the crew. During the Mega Slab orientation at the hotel, everybody discussed plans in detail. Rescue plans and evacuation routes were established and shared with not only the tradesmen, but security at the GM Arlington Plant to maximize efficiency. On-site nurses were provided from the beginning to end of placement, in addition to hydration and break stations set-up near the pour.
Quality of life and safety of the team was also a primary concern.  Due to the cold temperatures proper ventilation was a concern. Air handling units capable of exchanging 9-million cubic feet of air per hour were installed before work began and air monitors were used throughout the project.         
Teaming – Who was involved?
A project as big as the Mega Slab wasn't something that could be done by one entity; it took a collection of groups to get the ball rolling on this endeavor, let alone finishing it successfully.
35 team members from Lloyd Concrete Services, 31 from Unlimited Concrete Solutions and 74 from Barton Malow brought their all to the project. Crew members, most of whom were flown in, stayed at local hotels secured by Barton Malow near the site. They were provided with meals and a shuttle service to take crew members from airport to hotel and hotel to jobsite.
"It was really and truly a well-oiled machine on game day," says Chris Daley, General Manager at Unlimited Concrete Solutions. "The plan was gone through so many times that every part of it was known by all. So, when plan B was needed, quick decisions could be made." UCS was highlighted by 31 skilled tradesmen, two Somero machines, trowel machines, saws and vacuums.

Rustburg, Virginia's Lloyd Concrete Services also made its mark. They supplied 35 tradesmen, two Somero machines, riding and walk-behind trowels and cut saws. Stevie Ray Lloyd, Vice President of LCS, was impressed by how his tradesmen were treated: "The experience reminded me of a college bowl game. I played Division I football at Virginia Tech, and the way Barton Malow did things were the same as a bowl game." He continued, "They flew everyone out to Texas, rented an entire hotel near the site, provided meetings, meals, hydration stations, nurses and more."
Ask any concrete pro, and they'll tell you that leveling is everything. The excellent leveling seen at the Mega Slab was led by Somero Enterprises, as their innovative Laser Screed® machines served as the backbone for the project's consistency. "I remember the initial call from Ethan Uhl," says Myron Hillock, Sales Director for Somero Enterprises. "He asked me 'Is this even possible?"' I assured him it could be, and that they had our support."
During the planning stage, Somero and Barton Malow coordinated several meetings. The plan called for utilizing the contractor's inventory of four large S-22 Laser Screed® machines and two smaller S-940 units with two S-840 models to serve as backups. Dumping a truck every 90 seconds left no time for wide overlaps and re-screeding a pass was out of the question. Therefore, a smaller S-940 unit was assigned to each pair of S-22 machines to quickly raked the truck dumped concrete close to grade prior to screeding. In addition, Somero's on-site support staff of Trainer/Operators and support technicians provided continuous screed operation during restroom and refreshment breaks. Somero's Thad Fritz adds, "This was critical for production because the plan called for 22 hours to place and screed, yet with the slower than planned start we were behind at the midpoint.  But with the ramped up ready-mix delivery and zero down time on the screed machines, the last truck was dumped and screed pass made at 20 ½ hours. Over 90 minutes ahead of schedule and under budget."  "We were there to support no matter what the issue would have been, but the efficiency, reliability and quality of the Somero equipment was truly evident as not a breakdown or spare part was utilized," says Somero technician Zach Mills.
Redi-Mix, a leading supplier of ready-mixed materials in Dallas/Fort Worth, were instrumental in giving the on-site crew a steady flow of concrete. With active and backup plants, astute truck drivers and premium concrete, the Mega Slab would obviously not be possible without them.
Multiquip, whose wide array of products serve construction, industrial, telecom and other industries, provided necessary equipment like back-up trowel machines plus an on-site support team along with an assortment of spare parts to support the Multiquip trowels provided by the three contractors.
The conveyor belts and the fibers they loaded into to the concrete were supervised by Bekaert, who supplied four team members to the project. "I was impressed by the sheer size of the task at hand. Our product, the Dramix 3D 65/60 steel fibers, resulted in a great slab," says Jimm Milligan, Regional Manager of the Midwest for Bekaert. With the Bekaert team present, they closely monitored the fiber loading for proper timing.
Rick Smith and his Structural Services, Inc. (SSI) brought concrete solutions, education and testing. They provided crucial engineering data and also monitored building temps in advance of the project. Moreover, they gave the crew onsite support the day of the placement to ensure consistency and quality of the slab.
And to top it off (literally), ReliableCure  curing blankets provided their unique, non-woven engineered absorbent fabric.
Transhield also provided TopCure concrete curing covers. The cover is durable, kept material under it wet and was placed in areas where there was a potential for foot and light equipment traffic. Moreover, with a non-slip; surface it was ideal for a high traffic area such as this. "The precision with which this project was run really stood out for me," says Mindy Kruggel, Director of Marketing for Transhield. "We were honored to be a part of such an immense project."
Reflecting on the project
The Mega Slab provided a unique opportunity for all involved. With so many cooks in the kitchen, many wondered if something like this was possible. But as the teams began to collaborate in the pre-planning stage, it was evident that they were ready to take on the challenge.
"Whether it was Barton Malow's contractor management side or the self-perform side, they were united and treated all of the companies and parties that came together as if they were their own," says Daley.
"Everyone came together," says Steve Lloyd, President of Lloyd Concrete Services. "Teams were assembled based upon each person's strengths.  The majority of workers had never met their teammate working next to them.  There were no attitudes, complains or anything […] Everyone knew their role and they just executed it, thanks much to their ACI Finisher Certifications.  Everyone just gave it their all; it was a thing of beauty." 
For many, the project served as a major milestone—but the companies involved shouldn't stop there. Uhl states that "this is by far the best thing that has been done in the 10 years I've been doing this, but I can't say it won't be topped." Willard agrees: "I think it was a huge accomplishment, and I can't wait for the next opportunity to use our planning and execution abilities to make it happen."
Willard also expanded on the use of Barton Malow's self-perform team for this undertaking: "By using some of our own skilled trades, we had the resources to meet the demands of the Mega Slab. Our team's depth of experience gives us the ability to work on unique projects like this while maintaining the highest levels of quality and safety standards."
256,000 square feet of concrete? That's nothing, according to those who took on the massive pour. They're ready for something even larger.