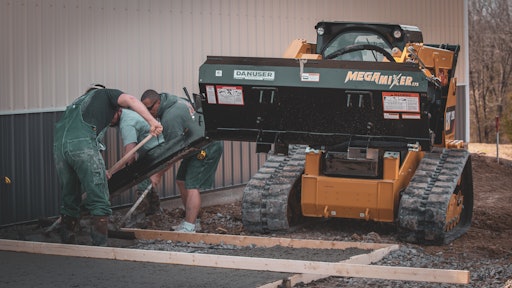 Danuser
Concrete is one of the most readily available, reliable and used construction materials. Original equipment manufacturers have been improving on their concrete attachments in order to make concrete operations more efficient, safer and less costly.
Since concrete is durable, the attachments used in concrete applications also need to be more durable, says Stuart Galloway, president of the Canadian Concrete Expo. Concrete can also be a messy activity. On the mixing end, wet concrete can gum up components. On the demolition end, small particles created through the demolition process can infiltrate attachments and cause damage. And, since construction and demolition can be risky worksites, efforts have been made to make the use of these attachments safer.
Not only do many of these attachments improve on durability, uptime and safety, some include automation and versatility in order to improve concrete works.
Cutting and Crushing
Concrete is a material that lasts a long time, with many concrete structures often outliving their original use. "That is why so many attachments have been created for the destruction of concrete," says Galloway.
Concrete pulverizers easily crush through reinforced concrete and cut through light steel structures. The Nye XCP4 pulverizer is intended to be the heaviest and the strongest. "It is not a price point pulverizer; it is the best pulverizer on the market," says Mark Nye, president of Nye Manufacturing. "This unit is intended for demolition."  
One of the latest innovations of the Nye XCP4 is its unique and patented ripper shank located at the rear of the pulverizer. It is used for prying, ripping, flipping, sorting and manipulating. The profile on the unit's teeth has evolved over many years of development to get the best performance. "It's not just a dumb triangle," says Nye. "We have pioneered many unique features on pulverizers, from our rebar pulling feature to our patented ripper. Our pulverizer is the best. Experience makes it the best. The XCP4 represents our ninth generation of concrete pulverizers. We have been innovating for a long time."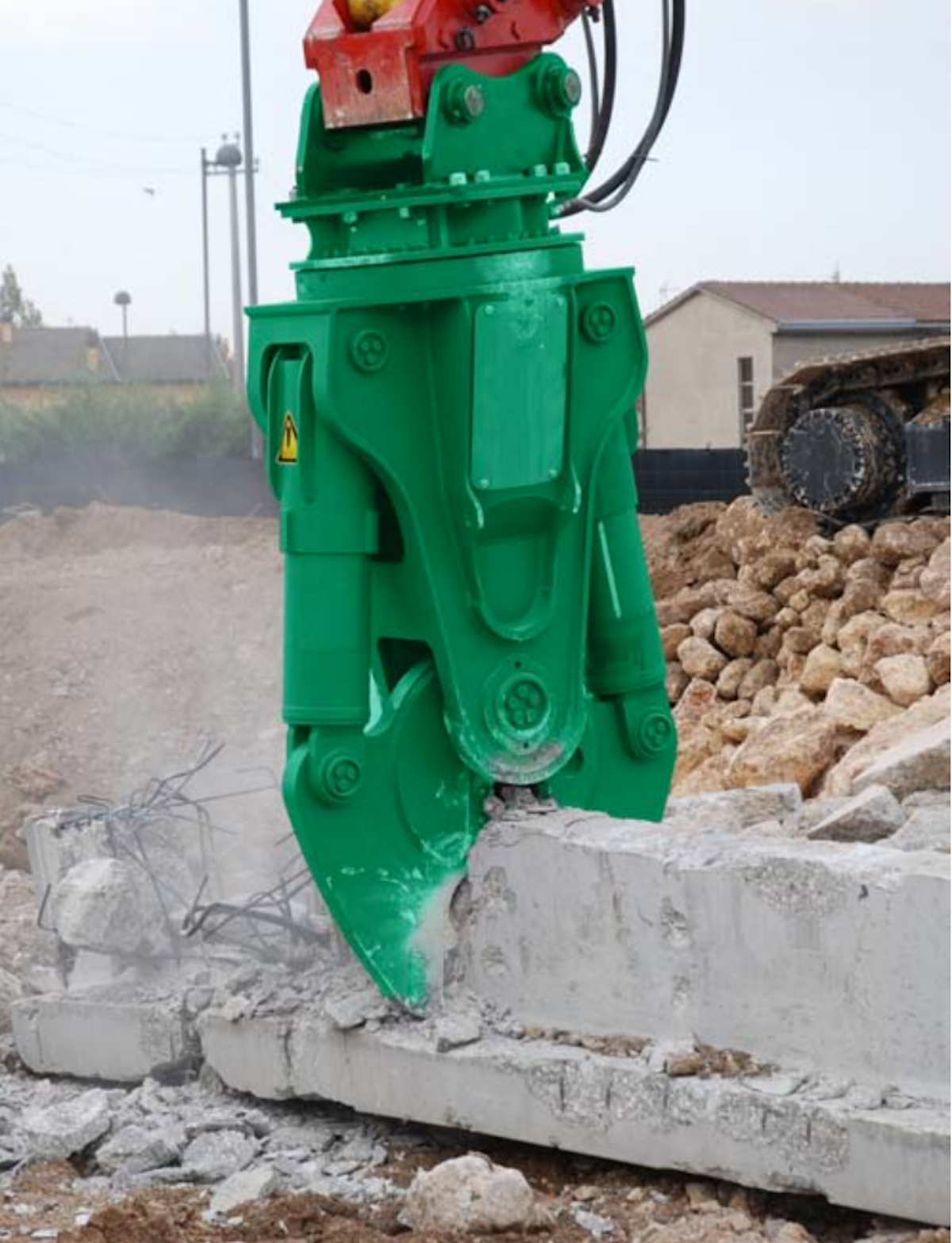 The Tramac Multi-Utility Demolition Shears MT Series can easily be converted into different types of jaws for a variety of applications. The bottom half of the processor (shears) is replaceable, and in about five minutes can be transformed into one of five different attachments.Tramac
Antraquip manufactures and distributes hydraulic rock drum cutters suitable for material with uni-axial compressive strength (UCS) ranging from 500 to 25,000 psi, which includes rock and concrete. The drum cutters feature a robust and customizable drum, powerful high torque hydraulic motors and robust cutting drums. The company manufactures both transverse drum cutters — which are well-suited for a variety of applications, including rock excavation, trenching, demolition, concrete, tunneling or underwater — and axial hydraulic drum cutters, which are mounted lengthways and designed for specialized application models such as narrow trenches, remediation, profiling, scaling and controlled demolition applications.
Tramac manufactures one of the most versatile attachments appropriate for concrete applications. The Tramac Multi-Utility Demolition Shears MT Series can easily be converted into different types of jaws for a variety of applications. The bottom half of the processor (shears) is replaceable. In about five minutes, it can be converted from a concrete cracker to a pulverizer jaw for crushing concrete, a steel shear for cutting I-beams, a tank jaw that features two blades on one side and one blade on the other, or a railways jaw that is specially designed for dealing with rail's hard and brittle metal that is so difficult on jaws, says Shaun Brown, sales manager at Tramac.
The latest innovations to the attachment include the addition of a speed valve that make the jaws open and close quicker for faster cycling times. It achieves this by taking outgoing oil and dumping it with incoming oil. It now is also equipped with a quick connect system instead of pounding out pins for faster changeouts. With this attachment, you can not only demolish concrete structures but you can separate the rebar from the concrete.
"Concrete with rebar in it is considered to be contaminated," says Brown. "If you separate the rebar from the concrete, the concrete can be used as a backfill, and the rebar is recyclable material. The attachment makes it easier to get rid of demolition debris."
Hammering and Drilling
Hammers are designed for breaking concrete sidewalks and driveways, pavement, roads, masonry, site prep and landscaping, and breaking frozen ground for utility repairs. Caterpillar's B Hammers are designed for construction and light demolition applications. They feature a gas-fired design for consistent high production over the life of the attachment. The attachment's flat top/top-mount style provides a larger work area, excellent visibility and increases impact power by keeping breaker force and stick force in line, the company claims. Slip fit bushings are easy to maintain and can be replaced in the field.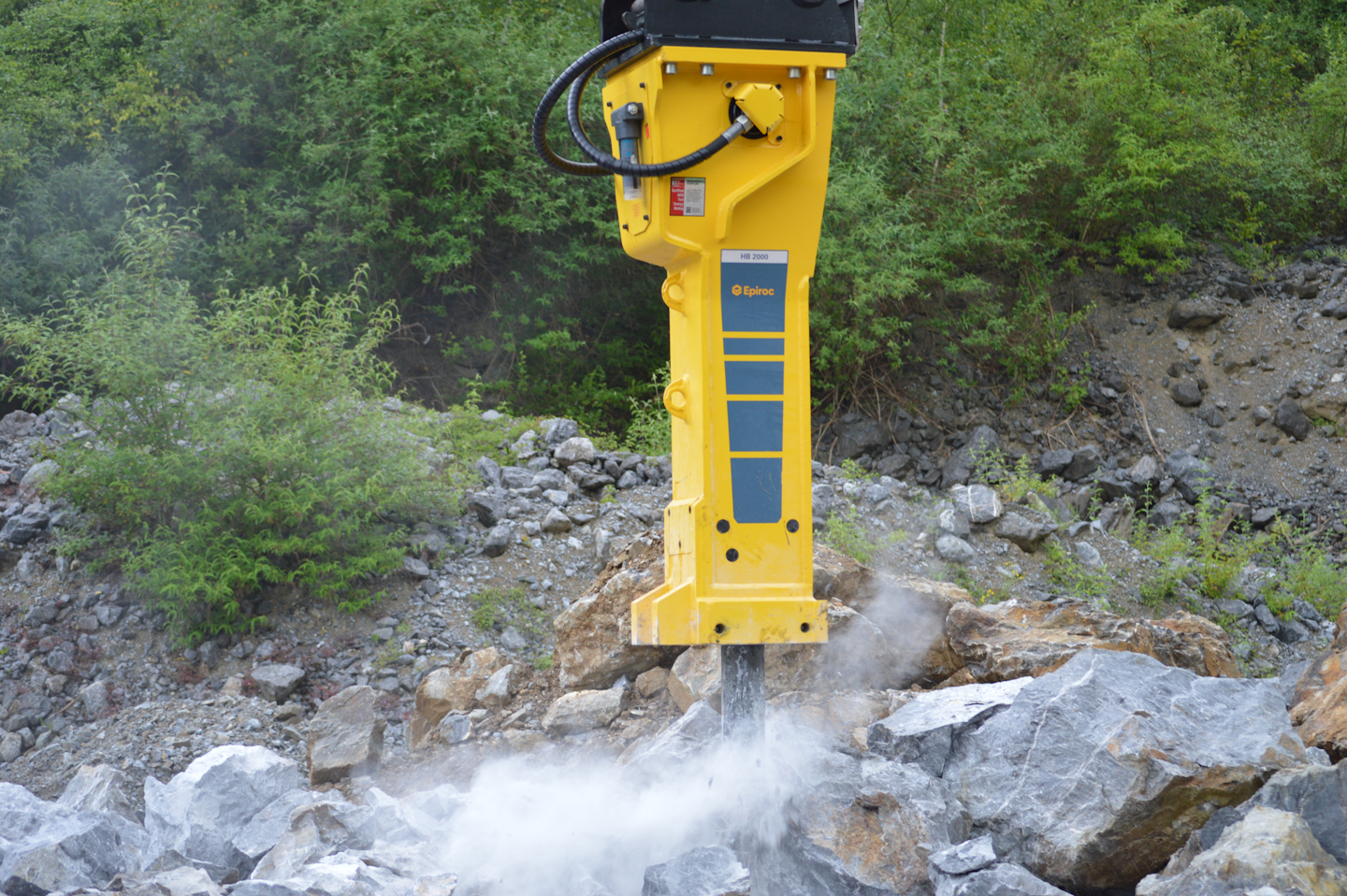 Epiroc pioneered the hydraulic breaker 50 years ago and today their breakers feature automation for intelligent systems for simpler, more efficient and more economical breaker operation.Epirco
Epiroc designed the first hydraulic breaker 50 years ago. The Epiroc HB heavy hydraulic breaker attachments are well-suited for primary blast-free rock excavation and secondary rock breaking on construction sites and in quarries, surface and underground mines, as well as primary demolition of massive reinforced concrete structures. They feature the patented Intelligent Protection System (IPS), which seamlessly combines Epiroc's AutoControl and StartSelect functions. The fully automated system provides simpler, more efficient and more economical breaker operation, Epiroc says. 
Brokk says the TEI Rock Drills MMB326 is safer, more productive, more accurate and quieter than handheld tools used in the same application. The unit features an expanded hole range up to 3 in. in diameter and uses a 360-degree positioner for drilling in a variety of positions. The 30-in.-long MMB326 delivers 200 ft.-lbs. of impact energy at 3,480 blows per minute. The unit's reversible rotation motors deliver high torque to ensure powerful drilling; and its variable rotation is capable of speeds up to 250 rpm, which minimizes the risk of jamming, according to Brokk.
Scooping and Mixing
Although many attachments designed for concrete are used in demolition applications, there are some that get used on the mixing/placing side. Most popular in this category are mixing buckets.
Danuser's newly updated Mega Mixer mixing bucket allows operators to mix, scoop and dispense materials, including bag-mix concrete. Material can be dispensed from either side due to mounts equipped on both sides. The latest changes to the Mega Mixer include an 8-in. diameter with an 8-in. pitch steel auger for faster mixing and dispensing, a new discharge end that is easier to operate, and an improved torque due to a 22.8-cu.-in. motor, which is capable of dispensing 3/4 yd. of material in 26 seconds.
"The Mega Mixer is a very diverse material handling bucket that can mix, scoop and dispense a wide variety of material. It can handle mortar, grout, asphalt, topsoil sand, sawdust and concrete," says Kurt Schellenberger, marketing manager at Danuser. "It is unique in that it is well suited to both construction projects and farms. With it, you can get in closer to the pour and in other tight spaces because the vehicle required to carry the attachment is much smaller than a mixer truck.
Latest innovations include a new robust discharge end with a handle that controls the gate and gives users more flow control and helps them reduce spillage.
"We also redesigned our auger. The 8-in. diameter steel auger with 8-in. pitch mixes and dispenses faster than the previous model. Twenty 80-lb. bags of concrete could be mixed in about five minutes. Also, we upgraded the motor so the unit now offers more torque," Schellenberger adds.
"Concrete is a great building material, but it can be tricky to work with. Original equipment manufacturers are designing attachments that make working with concrete much simpler and more profitable," Galloway concludes.
For more information on concrete attachments, visit the Canadian Concrete Expo Jan. 22-23, 2020, at the International Centre in Toronto. 
Nathan Medcalf is the public relations representative for the Canadian Concrete Expo, Canada's national concrete trade show, and a content creation specialist in the construction industry.