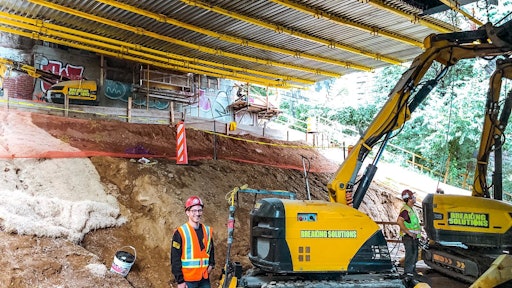 The Big Apple, despite its name, is not known for extra legroom. Apartments are small and expensive, streets and subway cars are packed, and demolition contractors are continually tasked with finding new ways to do their work in the cramped urban environment. 
Some companies have found ways to adapt to and excel in the limited-space environment of New York City. New York City-based concrete breaking and rental company, Breaking Solutions, has been doing so since 1994. Unlike many demolition contractors, Breaking Solutions doesn't often use handheld breakers or mini-excavators; they turn to remote-controlled demolition robots instead. The resulting safety, productivity and versatility has led them to expand the business to include more than 50 machines, complex projects and government contracts, and a successful rental and service business.
Introducing Innovative Solutions
Breaking Solutions' founder, John Amorosano Sr., bought his first remote-controlled demolition machine in 1994. The Brokk 250 he purchased is the most popular model in the manufacturer's history. He operated the machine for the first time 10 years earlier while working for Break-Tech, a demolition company that helped pioneer the use of the equipment in that area.
Amorosano Sr. was a collector, though, and didn't stop at the one machine. He regularly bought new models as they were released. Now, in the company's second generation, his son John Amorosano Jr. continues to expand the fleet with new models. The latest this year were the diesel-powered Brokk 120D and Brokk 500 series bringing the total number of remote-controlled machines in Breaking Solutions' fleet to 50 Brokk models, seven from Husqvarna, and the latest range of Brokk machines on order.
"I still love to get my hands on every Brokk 250 I can find," Amorosano Sr. said. "The model is the perfect size for most of the work we do. Aside from that, we've built up a wide range of machine sizes and types for every different application and space and pride ourselves on being able to mobilize for any project in a matter of hours, not days."
Busting into New Markets
The remote-controlled demolition machines' versatility, power and flexibility, along with the contractor's large fleet of machines, attachments, skilled operators, mechanics and service trucks opened the door to success in new applications. The company has a contract with a local transit authority requiring them to be on call 24/7 with a fleet of machines and operators. To avoid transit delays and liquidated damages, the contractor must be able to effectively break concrete in tight spaces on a short deadline.
"We've never missed a deadline. Period," Amorosano Sr. said.
A notable project was the Brooklyn Battery Tunnel rehab completed in 2017. The 1.7-mile tunnel connects Brooklyn to Manhattan and consists of two 2-lane tubes running east and west. Breaking Solutions was hired to remove concrete in several areas of the project. The contractor's 2-year portion included breaking about three miles of new trenches in the extremely hard concrete walls for fire line replacements, wall scaling for tile replacement, and the removal of curbing, bench walls, and other concrete. Project officials originally planned to use a mini-excavator to complete the trenches. Crews could complete about 8 to 10 feet per night with the method. Breaking Solutions had a better idea. The contractor used remote-controlled demolition machines to complete more than 200 feet per machine per night. Most nights consisted of six machines at once doing different phases for about 1,200-feet of concrete at a time. This dramatically accelerated the project schedule. In addition to the improved speed and productivity, Breaking Solutions was able to complete the work with a skeleton crew and minimal hand work.
Breaking the Bank
The robots' flexibility in constricted spaces resulted in a niche for the company: bank vaults. Amorosano Sr. said the vaults have become another specialty for them. The equipment's compact size and stair-climbing abilities mean the contractor can sometimes drive the machine right in without dismantling parts of the building. Other times crews disassemble the machine to fit in the building and then reassemble the machine in the work area. Amorosano Sr. said the machines make quick work of the reinforced, 18- to 36-inch-thick walls. The buildings are typically occupied so the emission-free qualities of the electric-powered machines are another significant benefit. Similarly, the company has had success with interior rock excavation, drilling into then breaking through bedrock common in New York.
A Light Footprint
The robots' light footprint, even load distribution and — with electric models — emission-free operation paved the way to other applications that would otherwise need to be done manually with hand tools. Breaking Solutions regularly works on rooftops or upper floors of buildings that would be unsafe to work on with larger, heavier equipment. In addition, Amorosano Sr. said as a result of the equipment's light footprint, project owners sometimes allow the company to work on bridge decks. When faced with restrictions requiring that a 45-pound-maximum jackhammer be used to complete the work, Breaking Solutions conducts demonstrations to show how operators can use a demolition robot with a 500-pound hammer and do less damage than the lighter weight version.
"This works because you don't need to have a guy pushing down on the jackhammer to use it," Amorosano Sr. said. "The down pressure required for the tool to work makes it difficult to control and be precise, sometimes meaning rebar damage or damage to what's supposed to be untouched concrete. With a robot and a skilled operator, we can use a light and precise touch to break through the bridge deck, basically just tickling the concrete."
Improving Safety with Robots
Breaking Solutions is committed to safety and prides themselves on their excellent record and being able to provide the best tools and equipment for any task at hand. The company does a lot of full demolition work, including taking down entire buildings. Because of the urban environment, this is a controlled process with workers demolishing the structure piece by piece from the top down. Breaking Solutions opts to use the remote-controlled demolition machines in these applications as opposed to mini-excavators and similar equipment. Although cheaper compared to demolition robots, Amorosano Sr. said they aren't worth the safety risks in that type of job.
 "Machines are replaceable, people are not," Amorosano Sr. said.
Aside from the obvious benefit of keeping workers safe, Amorosano Sr. said he sees savings in health insurance costs. He said this is primarily because the company can achieve work with 35 employees that may otherwise require 100 laborers, thanks to the power and productivity offered by the equipment. Because insurance costs make up about 30 percent of each worker's wage, a smaller workforce means big savings, which are passed along to their clients.
Rental Success
Amorosano Sr. began renting equipment out with experienced operators, which is now a significant portion of their business. Because of their expertise in the field, they are able to provide recommendations to clients for the most optimal machine and efficient solution for their project.
"A small portion of our customers' business is 100 percent of our business," Amorosano Sr. said. "So us sending an operator with the machine allows our customers to relax and leave the breaking to Breaking Solutions."
By constantly servicing their own machines in a state-of-the-art facility, the company also offers maintenance and repairs for Brokk machines not owned by the business.
According to Amorosano Sr., rental success has been in large part because of the machines themselves, the company's highly skilled operating engineers and its customer service. The company places a large investment on upkeep and keeping the machines in pristine condition, with regular parts and service. Managers also work with potential clients carefully to determine whether the job is appropriate for the machine or if there's a better option.
"It's important to us that every customer is set up for success," Amorosano Sr. said. "After all, the equipment is only new for one day but we pride ourselves on sending out a good, clean machine every time."
Remote-Controlled Success
Amorosano Sr. said, aside from safety, the biggest benefit of the machines is productivity, allowing for an ROI on the high-priced equipment. He estimates they complete jobs about 50 percent faster and with fewer workers with the remote-controlled machines than they would with other methods.
Not only that, in an industry struggling to find new skilled labor, Amorosano Sr. said he regularly receives unprompted calls from potential hires wanting to work for him and he thinks his high employee retention rate is partly a result of minimizing backbreaking labor common in the demolition world.
Amorosano Sr. said the business has grown steadily over the years as Breaking Solutions adds new applications, services and improves productivity and safety. Much of the growth, he said, is due to the company's embrace of innovative equipment in a slow-to-change industry and consistently outperforming their customers' expectations.
Though competition in the Big Apple is fierce, the contractor's ability to use the high-tech machinery in tight quarters and pass along significant savings to its clients has enabled the company to expand.
About Breaking Solutions Inc.
Breaking Solutions Inc. is a premier New York City-based demolition and heavy equipment rental company. Established in 1994, Breaking Solutions is a boutique, customer-oriented business with a track record of completing complex and demanding projects throughout the five boroughs and the tri-state area and providing nationwide rentals. With a fleet of meticulously maintained equipment and experienced engineers, the company provides its expertise to clients seeking recommendations for the optimal machines to maximize efficiency, productivity and safety. For more information, visit www.breakusa.com and Breaking Solutions' Instagram, Facebook and LinkedIn pages.
About Brokk
Brokk has been the world's leading manufacturer of remote-controlled demolition machines and attachments for more than 40 years. Through continuous innovation in engineering and design, Brokk is able to offer unique solutions to multiple industries worldwide, including construction, demolition, mining and tunneling, cement and metal processing, nuclear and other specialty applications. For more information: Brokk Inc., 1144 Village Way, Monroe, WA 98272; 800-621-7856; info@brokkinc.com; www.brokk.com; Facebook; YouTube; LinkedIn and Twitter.