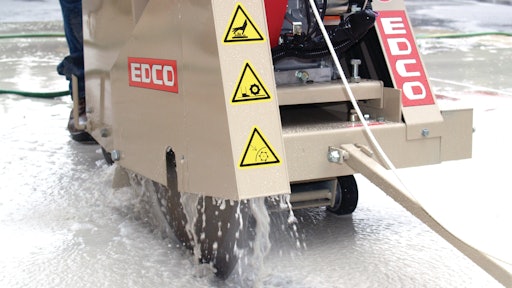 EDCO
As with other applications, it's important to conduct an assessment of the application and jobsite prior to cutting or drilling into concrete, asphalt or other surfaces. This will enable you to plan out the project, identify the necessary equipment for the task, as well as assess any potential risks.
A jobsite assessment is very important as it will allow the workers to plan their work more efficiently, say product experts at Hilti. In addition, it increases the worker's awareness of potential hazards and how best to mitigate them, therefore helping ensure the proper measures to increase health and safety on the jobsite are implemented.
Tony Calcopietro, national account/export sales manager, EDCO, agrees, noting, "Construction sites are always full of potential hazards. Before saw cutting or drilling, it is extremely important to inspect the work area. Check to ensure a safe and secure workspace for things like proper lighting, ventilation, auto or pedestrian traffic, noise, etc.
"Address all hazards accordingly before you begin operating the equipment to ensure safety for both the operator and those surrounding the jobsite," he adds.
Use the Proper Tools
Having the right tools is one of the basics required to complete cutting or drilling operations in a safer manner. An inappropriately sized tool can do more than slow production or potentially lead to equipment downtime.
"Inadequately powered equipment can also expose an operator to physical injury should they try to push an under-powered saw or drill beyond its capability," Calcopietro points out. "Diamond blades or bits may jump out of the cut or get pinched in the cut, creating additional expenses and exposing operators to preventable, unnecessary steps.
"Know how deep you are cutting or the size of the hole you will be drilling," he advises. "Knowing depths of cuts or drilling diameters will help you choose the right horsepower saw or drill based on manufacturer guidelines."
Conducting a jobsite assessment can help to ensure operators have the proper tools and accessories. It will also help you to identify the power source available or needed to run the saw or drill.
Gas-powered equipment is recommended for outdoor use, while electric-powered saws and drills are primarily used indoors. "For electrical saws and drills, identify and utilize an electrical outlet that is secured by a GFI and ground," says Calcopietro. "Inspect extension cables and any electrical junction boxes to be sure they are safely run to the workplace from a generator or outlet."
Make sure cables are intact and not frayed. "Frayed cables that expose internal wiring can expose personnel to electrocution," says Calcopietro. "Also, choosing the correct cable size (length and gauge) will prevent downtime caused by tripping circuit breakers or damaging electric motors on the equipment."
Larger industrial facilities are where you typically find propane-powered saws. For these applications, proper ventilation is required. "Improper ventilation can result in the operator or nearby workers passing out from the propane engine exhaust fumes," says Calcopietro.
Prepare for Operation
Prior to use, conduct a thorough inspection of the saw, drill, blade or bit. "Be sure the machine is operating at 100%, and make sure all machine hardware is tight," says Calcopietro. "Loose machine hardware can cause the equipment to vibrate excessively, causing blade or bit damage, which can be harmful to the operator or nearby workers."
Inspect the blade or bit for defects or cracks and check that it is installed properly with a tightened locking collar and nut. "Failure to ensure all hardware and accessories are tight can cause the diamond blade or bit segments to fracture and chip, resulting in projectiles on the site causing injury or death to operators or nearby workers," Calcopietro cautions.
At minimum, follow the manufacturer's routine maintenance schedule in the user's manual, Hilti product experts advise. Checking air filters, tightening the blade arbor before use and checking for any damage can reduce downtime and improve safety.
Certain applications may require additional accessories to maximize safety. For example, most manufacturers recommend using a drill stand when core drilling with core bits over 3 in. in diameter. "This helps the operator gain better control of the equipment. A core drill stand prevents the operator from losing their grip on the drill, thus twisting out of his/her hands, resulting in injury," says Calcopietro.
"Also, be sure the surface you are standing on is firm and secured," he continues. "Proper stands, a firm grip and proper footing of hand-held core drills is important to prevent physical injury."
Know What You're Getting Into
Prior to cutting or drilling, make sure you know what's behind the wall, in the floor or below the surface.
"Assessing the jobsite is very important — this will let you know where you can and cannot cut or drill," says Andrew Mayer, business development manager - light equipment, Chicago Pneumatic Power Technique.
Prior to starting the job, walk the site to look for potential hazards such as rebar sticking out of the surface or debris along the cut line. Mark off these areas so they are clearly visible to the operator.
Be sure to identify the location of gas lines, electrical cables, water lines, etc. Hilti recommends scanning surfaces to help identify areas where rebar, live lines, post-tension cables or pipelines could be present. Don't always rely on the drawings of a surface to tell the full story of what's behind or underneath it, the company's product experts advise.
"Be aware of and avoid cutting into live electrical conduits, any pipes, any rebar or areas that are important for the integrity of the building or structure. Cutting through live power cables, water/sewer pipes or structurally required supports will result in unforeseen project cost overruns and possible operator injury," says Calcopietro.
"This is why it would be a great idea to get in touch with the utility companies before any cutting or drilling is started," Mayer comments. "This way, they can identify those areas for you and accidents can be prevented, saving a lot of time by not having to do this yourself."
In addition, take special precautions when cutting or drilling into floors on multi-level structures. "Once the cut or drilling is complete on a multi-level structure, the floor slab or core could fall from the ceiling into an active workspace, creating the potential for striking a worker, resulting in injury or possible death," says Calcopietro. "To avoid this, be sure the work area below is clear of personnel and properly secure the cut-out material, preventing it from dropping below."
Another necessary precaution for this and other types of cutting or drilling may include using barricades around the work area to protect workers and/or prevent unauthorized access.
During the cutting process, let the tool and blade do the work, Hilti product experts advise. Don't apply unnecessary pressure to the tool, which can cause extra wear and tear on both tool and blade. In addition, keep the tool in line with the cut. Twisting in the cut can cause wear on the tool, risks breaking the blade or, worse, increases the chance of kickback.
Control the Risks
Of course, proper personal protective equipment (PPE) is essential when cutting and drilling. Make sure operators follow OSHA requirements for PPE, as well as those required and suggested in the tool or equipment operating instructions.
According to Hilti, required PPE may include safety glasses, safety toe boots, hard hats, ear protection and potentially gloves, depending on the task. In some situations, such as flying sparks, face shields may be advised.
Be especially wary of the risk of eye and ear damage and whether both eye and hearing protection are required. "Users must be vigilant when it comes to these two parts of the body," says Mayer. Injuries to feet are also common. "Proper foot protection should always be worn."
But when it comes to hazards, perhaps the most commonly identified — and frequently cited — is dust. "In my opinion, the largest and most dangerous risk is the exposure to silica dust," says Mayer. "While running this type of equipment, there tends to be a lot of dust created."
"Breathing in harmful silica dust particles can lead to silicosis and cancer," says Calcopietro.
Dust control was once largely ignored. "Some users were wearing no protection at all," Mayer points out.        
It is now closely regulated by OSHA, with strict standards for silica dust exposure. OSHA regulations require some form of dust suppression for most cutting and drilling applications to ensure exposure levels fall below prescribed limits. The type of dust mitigation required varies depending on the equipment and application.
OSHA Moves Forward with Revisions to Silica Dust Rule
Diamond blades and core bits can be operated wet or dry. "For wet blades/bits, be sure you have ample water on your blade/bit for dust suppression to eliminate hazardous silica dust from becoming airborne," says Calcopietro. "The water is also used to properly cool diamond segments to prevent them from chipping and becoming projectiles causing injuries. Have a proper slurry management system in place to be OSHA compliant."
For dry blades/bits, use proper manufacturer-specified dust collection shrouds and vacuums.
"The use of some type of dust suppression equipment, either dry, such as a vacuum system, or wet — using either a water hose or a fixed water-emitting system attached to the equipment — would help mitigate risk," says Mayer.
But dust suppression doesn't replace the need to wear the prescribed PPE throughout the cutting or drilling process. "Make sure you are wearing the proper PPE equipment — shoes, hard hat, gloves, eye protection and dust mask," Mayer emphasizes. "This would also apply to all personnel working in the same area."
Companies in this article