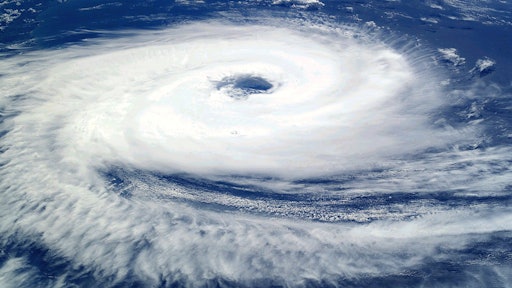 Wikimedia Commons
The Federal Emergency Management Agency (FEMA) is studying whether a change in building codes would reduce the amount of damage caused during natural disasters.
There were 409 natural disasters worldwide in 2019, killing approximately 60,000 people, according to OurWorldData.org. Of those, 40 natural disasters caused at least $1 billion in damage, says Scientific American, with all disasters costing more than $232 billion last year alone. 
So it's no wonder that FEMA is studying whether stronger buildings would result in fewer deaths and damages. "Building Codes Save: A Nationwide Study of Loss Prevention" is part of FEMA's ongoing Building Codes Save (BCS) initiative, a first-of-its kind engineering-based study. The organization released a fact sheet on the study in April with initial results. 
If California and Florida were to adopt stronger building codes, the two states combined would save $1 billion a year, the study found. The study is analyzing 17 million structures constructed with modern hazard-resistant building codes, as defined by the 2000 International Building Code and other International Codes. The savings reported are based on the reduced average annualized losses derived by comparing the anticipated losses had the buildings been designed with codes from the 1990s. Losses avoided include damage from three types of natural hazard events: flooding, hurricane wind and earthquakes. 
A map of the buildings constructed with IBC 2000 provisions, and the losses prevented.FEMA

The study's initial findings showed the highest savings near San Francisco in California and near Miami in Florida. California avoided $44 million in damages due to flooding and $42 million due to earthquakes and seismic events during that time frame. Florida avoided $152 million in flood damages and $911 million in hurricane wind damages, according to the study. 
The 2000 International Code put increased emphasis on improved building safety, including constructing with robust materials, such as concrete. According to the study, "Concrete Building Systems: Disaster Resilient Solutions for Safer Communities," published by PennState College of Engineering in 2013:
"Concrete has the necessary hardness and mass to resist the high winds and flying debris of tornadoes and hurricanes. Concrete is fire resistant and non-flammable, which means it can contain fires and will not contribute to the spreading of fire. Reinforced concrete framing systems can be designed to resist the most severe earthquakes without collapse. Concrete doesn't rot or rust even if it's subject to flooding."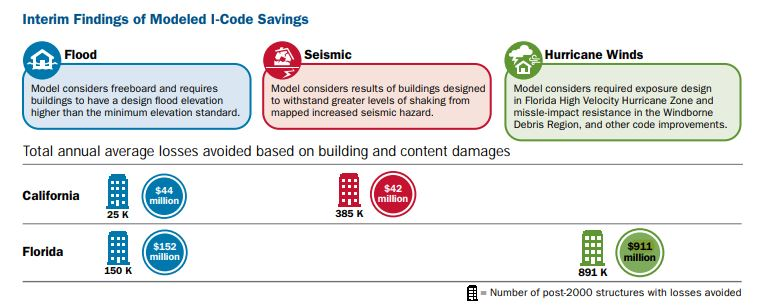 Total annual average losses avoided based on building and content damages.FEMA

The FEMA study has concluded that:
Billions are saved from direct losses by using 2000 and more recent International Codes when building.
Using the updated building codes has led to savings from indirect losses, such as lost productivity, weakened financial standing,  recovery costs and environmental damage. 
Not all states and territories have adopted minimum statewide building codes. Eighteen states have not adopted statewide minimum freeboard requirements, eight states have weakened some minimum wind provisions or made them optional and 10 states have not mandated statewide adoption and may have counties with limited seismic provisions.
Why is that? According to "The Real Value of Resilient Construction" by the Portland Cement Association, "owners and designers need to have current, accurate information. Given a set of desired performance attributes, realistic carbon accounting and documented cost comparisons of different building systems, decision makers may learn that resilient construction, leading to longer-lasting buildings, is often the best value for the money."
The study's initial findings echo those of the Natural Hazard Mitigation Saves 2019 Report by the National Institute of Building Sciences, which also states that "building codes have greatly improved society's disaster resilience, while adding only about 1% to construction costs relative to 1990 standards."