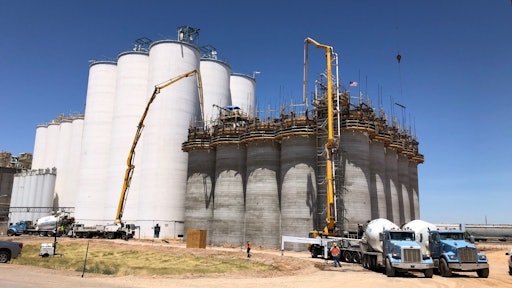 McCormick Construction Company
Bay State Milling, a fifth-generation family-owned company needed a set of new slipform grain silos for their Tolleson, Ariz. location – 24 of them, to be exact. And each needed to rise 140 ft. in the air with a 21-ft. diameter. This was no small task.
McCormick Construction, an industrial construction contractor based in Minnesota, was hired for the construction. The creation of the silos was set to be a continuous pour spanning nine straight days, 24 hours a day. For this type of complex construction, the contractor used an intricate slip-forming process.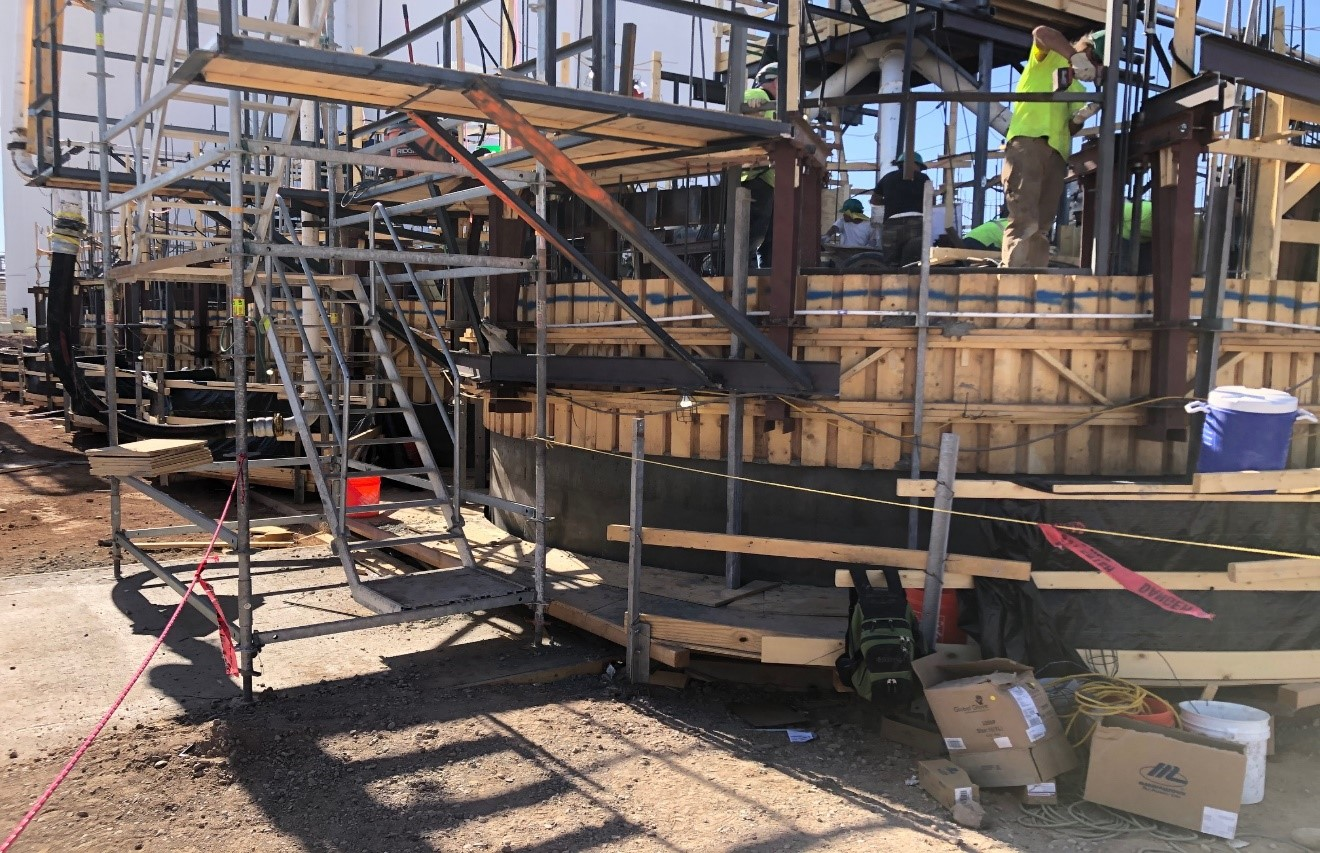 McCormick Construction Company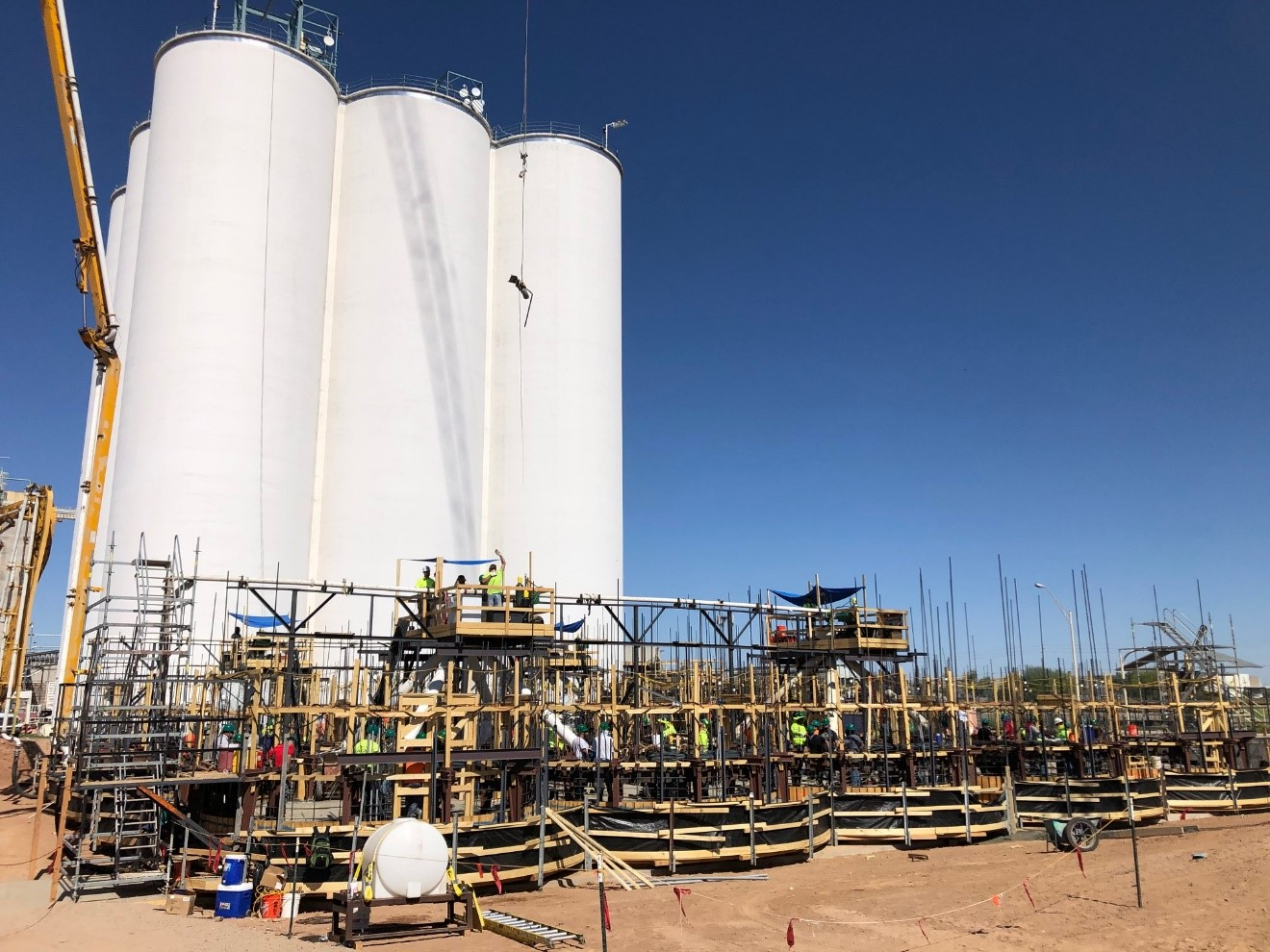 The initial set up / start of the 24-silo construction.McCormick Construction Company

Interestingly enough (for comparison purposes only), at the time of this writing the Guinness World Records website recognizes the longest continuous concrete pour is five days, four hours, and 11 minutes by PS-Co. for a project in Tehran, Iran, between March 1-6, 2018. Guinness World Records also lists the largest continuous concrete pour at 32,315.5 m3 (roughly 42,267.08 cubic yards) by the Navayuga Engineering Company Ltd. (India) for the Polavaram Dam Project in 2019.
Quick Specs

Project: Bay State Grain Silos
Client: Bay State Milling
Ready-mix Producer: CalPortland Company
Concrete Contractor: McCormick Construction Company
Admixtures Used: RECOVER, WRDA 64, and DARACEM 55 by GCP Applied Technologies Inc.
Mix and Specifications: 4,500 psi
Volume: 6,000+ yards of concrete
McCormick awarded the project to CalPortland Company, one of the largest cement and construction material producers on the west coast, for the ready-mix concrete. "We worked with CalPortland on a project in Washington years ago, and their staff and attention to detail were top-notch," says Steve Swanson, Chief Operating Officer of McCormick Construction. "They are all about making sure customers get what they want."

Video by McCormick Construction Company
The Challenge
The sheer size of the slip footprint and the 21-ft. diameter of the silos made it critical to select the right mix design. "We needed concrete that would flow easily through the congested rebar and would perform well in extreme temperatures," says Swanson. Aside from the magnitude of the project, the location's environment was one of the biggest challenges: ambient conditions would exceed 100° F requiring pre-trails on set times throughout the day.
"We needed large quantities of chilled water and ice for temperature control measures. Having pre-conditioned/tested aggregates was also key for cooling the coarse aggregate and maintaining SSD moisture," says Lauro Rivas, P.E. CalPortland Company Director of Quality Control.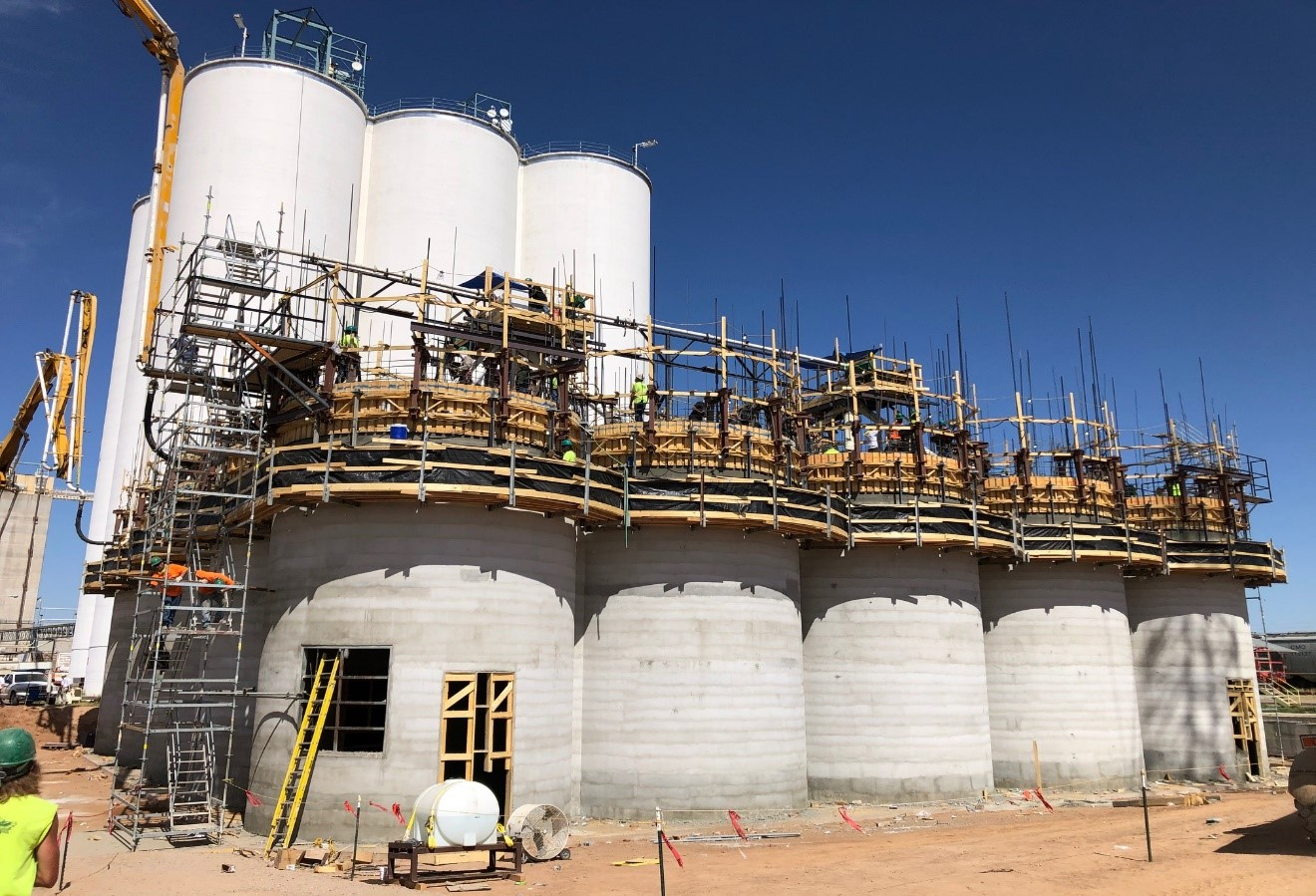 McCormick Construction Company

To reach the 140-ft. height of each silo, concrete needed to set fast enough to support the concrete above while remaining pumpable. McCormick Construction works across the country — Iowa, Illinois, and South Dakota are all "in-progress" projects at the time of this writing — and each project's concrete will be as unique as the challenges. "We pour concrete at sites across the U.S., and each one requires its own 'brew,'" he says. "For this project, we performed numerous test pours with CalPortland and were pleased to get the mix the right way we wanted it."
The process required a fair bit of mix optimization, as well as stringent quality control to maintain the mix. CalPortland performed laboratory and field trials to test for an optimum set time, slump retention, and temperature control. A CalPortland QC technician worked at the plant and at the jobsite at all times, checking and adjusting concrete loads to maintain consistency throughout concrete production.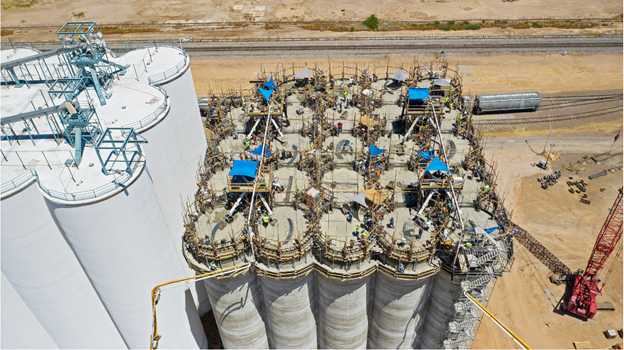 McCormick Construction CompanyCalPortland chose RECOVER hydration stabilizer, WRDA 64 water-reducing admixture, and DARACEM 55 mid-range water-reducing admixture for the project. "GCP admixtures worked together with the appropriate dosages to improve slump retention and set time extension, which were optimal for hot weather conditions," says Rivas.
The RECOVER admixture is a chemical compound designed to stabilize the hydration of Portland cement concretes.
The WRDA admixture improves concrete performance, making it more workable and easy to place and finish. It is often chosen for mix designs requiring high compressive and flexural strength.
DARACEM 55 water-reducing admixture produces concrete with low water content and improved placement properties. It also imparts a "slickness" to the surface of the concrete, making it a good choice for slip form work.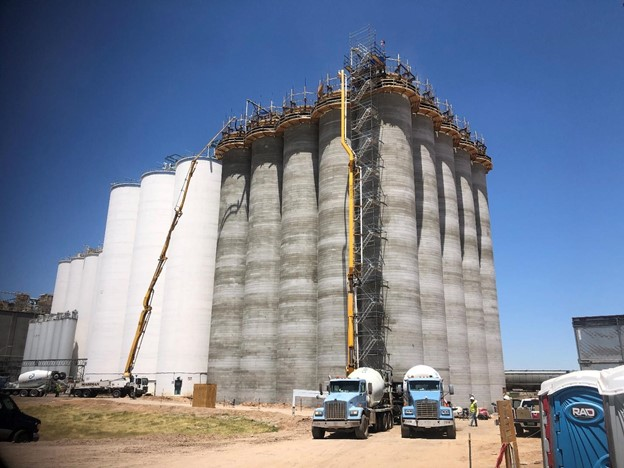 McCormick Construction Company"It takes a huge team effort to maintain consistency when you supply a 24-hour, eight to nine day continuous pour," says Paul Marsh, CalPortland's Phoenix Ready-mix Operations Manager. "Our batch plant operators, drivers, and quality control team did a great job working together to ensure a successful finish."
For McCormick Construction, the admixtures gave a sense of control of the set time in the mix, explains Swanson. "The results were stellar."
Companies in this article