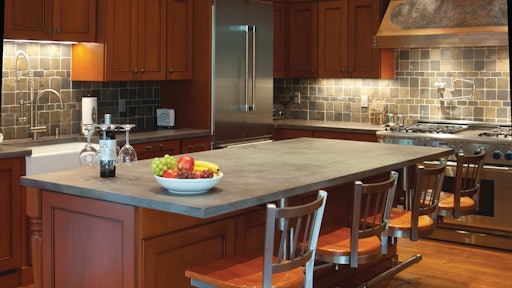 It may sound like a phrase from a broken record, but one way to ride out this down economy is through diversification. And one area concrete contractors may look to enter into is decorative concrete.
Breaking into the decorative concrete market is a path many concrete companies have taken, including Bontrager Concrete Specialties Inc., Nappanee, Ind., which entered the decorative market five years ago. The family-owned company, run by brothers Kevin and Duane Bontrager, started in 1965 in foundations and "gray" concrete. But when they saw the market heading in the decorative direction they wanted to get on board, says President Kevin Bontrager.
"You do gray concrete for so long and then you might want to take it to the next level," Bontrager says. "With decorative you can use your imagination, and there's a lot more interaction with homeowners."
Bontrager Concrete's decorative division began by offering stamped concrete and then eased into overlays, staining, concrete countertops and spray textures. Even though Bontrager Concrete had been in the concrete business since 1965, they didn't know everything about decorative concrete when they got started. To educate themselves before entering the market, the Bontragers read decorative concrete-related articles and attended training seminars in the different decorative services. Then Bontrager relied on a trial and error process to learn the methods and get used to the decorative products.
"The only way you can learn is experience. The more you do something you learn the things you should and shouldn't do," Bontrager adds. Along with experience, Bontrager suggests contractors looking to enter the decorative market get connected with a supplier who can answer questions and offer support.
M.A. Del Col Inc., Dublin, Ohio, has also been offering decorative stamping and staining services for years, but it has never been the company's main business - M.A. Del Col specializes in footings, concrete foundations and flatwork. In 2006, the mainly residential company realized it needed to diversify into decorative even more, says Mark Del Col. So they decided to research the growing market for decorative concrete applications.
"We spent about 14 months in the research and development stage," Del Col says. Mark, his brother Michael (who was brought on board for the production of the countertops and new decorative services) and cousin Steve attended seminars and purchased relevant reference materials to educate themselves in the new services they were offering.
In 2008, M.A. Del Col began marketing its decorative division, M.A. Del Col Color Impressions. The decorative division specializes in smaller, custom projects, a niche market that has been working for Del Col.
Both Del Col and Bontrager pinpointed the purchase of stamping mats as the biggest expense at startup. Both contractors also purchased small tools such as grinders and mixers for the various decorative services.
Rather than hire all new employees for the decorative work, Del Col tapped the company's current employees. "We cross trained our employees because all they are using is really just a new pallet. Instead of using a steel trowel they are using a stencil. Once they did it a few times they were able to learn it well," Del Col says.
Bontrager Concrete did the same for its decorative division, which currently has four full-time employees. "You can actually get by with less in decorative because the jobs you do are smaller and more detailed. You want to make sure you have people who are detailed in their work," Bontrager says.
Before you start
 
Before entering full force into the decorative concrete industry, Del Col suggests contractors identify the market they want to serve. Bontrager and Del Col both agree that product research is also essential.
One area contractors may want to pay particular attention to is staining. Contractors have the option of acid-based or water-based stains, but with environmental requirements becoming stricter, water-based stains are becoming more popular. "Water-based stains have an application technique you need to learn. Once you learn the technique you can achieve very close to the same look of an acid stain," Bontrager says.
Michael Del Col adds that decorative contractors should always keep an open mind. "Decorative concrete can be very personal. People can have a hand in the design and it can be fun and it can be playful," he says. "A contractor is not limited by what he sees in a store. A contractor is only limited by his or her imagination, what you design or what you envision the final product to be."