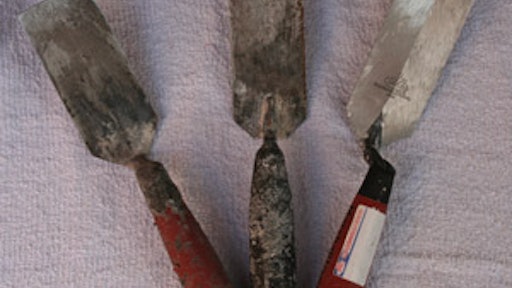 WSO CREATIVE CONCRETE
Bohemia, N.Y.
The three-man team at WSO Creative Concrete in Bohemia, N.Y., specializes in small, unique decorative projects, including hand-troweled, poured-in-place countertops; vertical jobs; acid staining and stamp work. The company started out doing monument work in cemeteries and discovered that the unique forming skills they gained in that business could be easily applied to formwork for intricate countertop systems and about five years ago started hand-picking decorative projects to take on.
Bill Orenzow of WSO says his favorite decorative tool is the square-headed margin trowel. "It's not a tool that will finish the job, but it comes in handy for finishing edges of countertops. It's my favorite edge finishing tool," he says.
Orenzow also points out the importance of another tool his team uses on each job. "Our hands are our most important tools - without them we'd get nothing done," he says. "Without that tool there would be no true meaning to the phrase 'hand crafted.'"
BILL'S TOOLBOX INCLUDES:
Gilson 8-cu.-ft. mortar mixer
Quick-grip clamps
Square-headed margin trowels
Marshalltown steel magnesium trowels
Campbell-Hausfeld high-volume low-pressure sprayer
5-in-1 for vertical concrete carving and sculpting
Sponge brushes
Pool trowels for hand applying Fossilcrete
Clay sculpting tools
Terry cloth towels for applying paint and antiquing
Handmade stamping tools
TOM RALSTON CONCRETE
Santa Cruz, Calif.
www.tomralstonconcrete.com
Tom Ralston of Tom Ralston Concrete in Santa Cruz, Calif., is a third generation concrete contractor, getting his first introduction to the business as a young boy in 1964. Ralston wasn't sure about making concrete his life's work until he took on his first decorative project in 1989; since then he has shaped a company that performs all types of decorative concrete work, structural concrete and masonry. Ralston now employs 36 people and does work mainly in a 50-mile radius in the San Francisco and Monterey bay areas. Other projects, demonstrations and consulting have taken him and his company to Italy, Hawaii, New York, Atlanta, Las Vegas and most recently Panama.
Ralston's list of often-used products includes acid stains, acrylic stains, colloidal dyes, alcohol dyes, wood dyes, silicon carbide grit, color hardeners and even shoe polish. He often keeps seashells, aquarium sand and beach glass handy for certain projects such as decorative floors and countertops, and uses copper and brass imbeds for drain boards and trivets on countertop jobs.
When it comes to equipment, Ralston utilizes a few unique items that allow him to achieve the one-of-a-kind finishes his customers want. By pressing wrinkled plastic on a wet acid stain floor, Ralston can create the distinctive look of batik, an ancient textile dying technique. And for a recent project, Ralston turned to a tool more traditionally used in the kitchen. "I just finished a job in Panama on which I used a turkey baster to apply droplets of retardant on the floor, so when the floor was washed the retardant created crater-like pockets to replicate seaside shelves along the coastline. It is a very cool treatment," Ralston says.
One of Ralston's favorite decorative tools is an ordinary small spray bottle. He fills multiple spray bottles with different colors of stain and uses them to apply and blend colors on a project. "The reason the spray bottles work so well for acid staining is they produce a very natural variegated finish similar to colorations you might seen in a natural hardscape," Ralston explains. "We always spray wet on wet, which leaves a randomly blended coloration that you cannot easily get any other way. This technique is especially important when using two or more colors together."
Tom's Toolbox Includes:
Bull float
Pool trowels
9-cu.-ft. mixer
Grinders with 4-in. diamond blades
Dremel tools
Hand made edgers and pointer trowels for very tight spots
Sheet rock taping tools
Backpack sprayers
Airless sprayers and air brushes
Tuck pointers, rakers and other implements used in brickwork
Various sized chisels and rat tails to carve lines
Axes to carve in random lines
Hand polishers with diamond pads
DECORATIVE CONCRETE SYSTEMS
Blue Mounds, Wis.
www.decconsystems.com
Dave Lorenz, owner of Decorative Concrete Systems in Blue Mounds, Wis., has been working with decorative concrete since 1991. Lorenz is a licensed Bomanite contractor and installs colored and stamped floors, stained interior floors, polished floors, overlays and toppings, concrete countertops, and other Bomanite systems such as Bomanite Exposed and Grasscrete.
Lorenz's favorite decorative tools, which he finds himself using over and over on every job, give him high quality results that set his work apart from his competitors - a chisel and a "pizza roller" for detailing stamp jobs. "Detailing is what makes a good stamping job great," Lorenz emphasizes.
With detailing so important to Lorenz's finished product, he has come up with some inventive alternatives for finishing and detailing when he's been left without his chisel and pizza roller. "You can use your pen like a rat's tail, and if you have a Fritos bag you can crumple it up and use it for texture," he explains.
But for Lorenz, his most important tool can't be bought in stores, furnished from any household items, or stashed away in a toolbox. "As a boss, my biggest tool is employees who love what they do and whose pride shows in all their work," he says.
DAVE'S TOOLBOX INCLUDES:
Bomanite printing tools
Rollers, rat tail, mason's z-shaped striker and large chisels
Makita hand saws with dustless capability
DeWalt and Milwaukee saws
Bosch and Dewalt grinders
500 Series HTC polisher
VMT edging machine for polishing
Bobcat skid-steer loader
Extraction cleaning truck for maintenance jobs
DONLIN BUILDING, INC.
Miller, S.D.
www.donlinbuilding.com
Mike Donlin, owner of Donlin Building, Inc., S.D., has worked in the family-owned business since 1976 and has been in the decorative concrete business for about five or six years. Currently, his company has six employees. Donlin Building offers decorative services including stamped concrete, stencils, stained concrete, vertical decorative concrete and concrete countertops.
Donlin says he has the usual assortment of tools used for decorative concrete: bull floats, hand floats, steel trowels and Metal Forms flexible forms for forming patios. He also says he uses Black Beauty screeds for screeding off the concrete. He owns five different patterns of stamps and several non-reusable stencils. Donlin also has a total station - a layout tool used for foundations - which he uses to measure how much concrete needs to be ordered for unusually shaped projects.
Donlin's favorite tool is his 16-ft. long ToolTrailer. The two-axel, pull-behind trailer has doors on all four sides that open, allowing for easy access to all the tools. "Literally all of our tools get carried to the job with that tool trailer," Donlin says. That way no tool is forgotten for a job. Plus, having access from all four sides means no one will have to climb all the way in the trailer to reach a tool. Donlin's customizable trailer also has electricity, a microwave and a propane grill - which gets a lot of use from his employees. Other tools that top Donlin's list of favorites are the Black Beauty screeds and an electric rebar cutter that cuts or bends rebar and is very appreciated by all the employees.
Donlin has adapted one unique tool to leave his mark in his creations. "I go to Hobby Lobby, and I buy some plastic ferns that I stamp in each job," he says. He puts one fern leaf underneath one of his stamps and then stamps it in a corner of the concrete as an unobtrusive yet unique signature.
Mike's Toolbox Includes:
Bull floats
Hand floats
Steel trowels
Metal Forms flexible forms
Black Beauty screeds
Various stamp patterns
Non-reusable stencils
Total station
Electric rebar cutter and bender