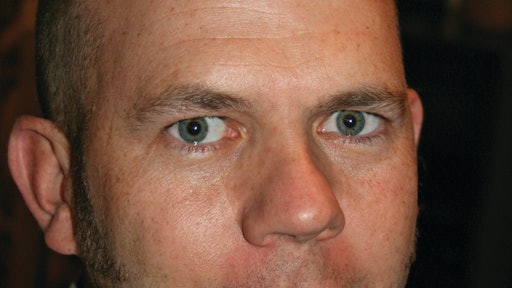 B-more Custom Concrete Inc.
Baltimore, Md.
Toolbox:  Pneumatic handheld 3-in. polisher; Electric 4-, 5-, 7-in. polishers; Buddy Rhodes Triad Planetary Polisher; Kraft Tool Co. EZY Deck Pro hopper gun; and a full array of woodworking tools including table saw; circular saw; band saw
After completing his kitchen, his friend's kitchen and several furniture pieces Philip Ferreira, owner of B-more Custom Concrete Inc., decided to turn a hobby into a career. "Fabricating concrete countertops was something I enjoyed, and I was fortunate enough to take the plunge of starting my own business," he says.
Located in Baltimore, MD., B-more Custom Concrete Inc. began in 2008. Since then, Ferreira has taken several training courses with industry leaders. With a lot of trial and error, Ferreira continues to expand his skills as a concrete artisan. 
B-more Custom Concrete Inc. completes a variety of precast, glass fiber reinforced concrete projects including countertops, sinks, tubs and fireplace surrounds. Currently, B-more Custom Concrete generates business from 60 percent commercial clients and 40 percent residential with a new focus targeting designers and architects.
Using a variety of tools ranging from different sized polishers to hopper guns, one of Ferreira's most valued tools is his Buddy Rhodes Triad planetary polisher. "It cuts down my polishing time by at least half. What I would normally do with a 7-inch polisher I can do in a third of the time with the planetary polisher," he says. "It is very efficient and produces a good polish pretty effortlessly."
Another reason Ferreira prefers the planetary polisher is the smaller size, its 10-inch polishing area and being able to use it wet or dry. "It also has enough weight allowing the tool to do the work versus you doing the work," he says.
Ferreira believes the tools used in his projects before even touching concrete are also significant. "We have a full range of woodworking tools including table saws, circular saws and band saws," he says. "To me, that is almost as important as the concrete – it all beings with the form building. The craft is really in the form building."
Todd Rose Concrete
Charleston, S.C.
Toolbox: Graco HVLP Spray Gun, Marshalltown finishing tools, Kraft finishing tools, Decorative Concrete Impressions textured rollers and stencils, various stains and overlays -- often making his own micro-toppings and top coats depending on the final look and use of the floor
Working in the decorative concrete industry for 12 years, Todd Rose has had the opportunity to participate in a various aspects of the industry. Whether it is completing projects, writing articles or presenting on important topics, Rose has continued to be active in the industry. He recently opened a new company, Todd Rose Concrete, located in Charleston, S.C.
Specializing in commercial and retail establishments, Todd Rose Concrete offers a variety of services including overlays, microtoppings, staining, stenciled concrete and epoxies. Rose also gives architectural presentations on how to spec decorative concrete correctly to avoid problems in the decorative industry.
As for his favorite tool, he would choose his Graco HVLP spray gun because of its versatility and ability to control the amount of stain used. "I've built my reputation on fixing screw ups, and the HVLP gun has been the tool that has allowed me to do that," he says. "You can start staining at a controlled cut or joint, and by the time you go a foot or two away from that spot the stain is already dry. This allows you to put down a minute amount of stain and come back in 5 minutes to put another color down."
In one project, Rose had to blend the colors of three different floors. By using the spray gun, he was able to have complete control over the amount of variation of the stains. It is also useful for vertical overlays. "A lot of people have trouble staining verticals, but this gun allows you to stain such a little amount at one time," Rose says.
One of his most used tools would be the 3-foot textured roller from Decorative Concrete Impressions. "The great thing about textured rollers is that they are so much more efficient than stamping," he says.
His second favorite tools are the chemicals and admixtures which help with stamping and stenciling such as the plasticizers, set delays, evaporation retarders and surface retarders. "These admixtures have contributed greatly to my success and need to be taught through magazines and training," he says. "These admixtures are right behind my HVLP gun in importance." 
Not all of Rose's tools are found in his shop. In a recent project for a microbrewery and restaurant, Rose added dyes to a light colored beer in order to enhance the color. He has also used wine to create an original color for a different floor.
Another household item he uses as a tool is crumpled up paper bags. "Once a corner has gotten hard or if I need a little more texture on it, I will take a paper bag and scrunch it up in my hand add liquid release and powdered release," he says. "It gives wonderful texture where you can't get texture in other places." 
Colorado Hardscapes
Denver, Colo.
Toolbox: Shotcrete pump, air compressor, 32-in. planetary grinder, autoscrubber, large vacuums, mixing drill,  4-in. angle grinder, diamond pads, variety of sizes and shapes of trowels, paint brushes, chisels, latex skins as texture tools, jointing tools, carving tools
John Buteyn, senior technical manager at Colorado Hardscapes, has witnessed the progression of the concrete  industry from standard concrete to decorative concrete. He began working at Colorado Hardscapes, located in Denver, Colo., in the early 1970s. Originally, it was as an owner/operator company in 1948 completing basic concrete flatwork. The company shifted to offering decorative services in the early 1980s after becoming a Bomanite licensed contractor.
Now, the company offers such services as basic uncolored flatwork, integral colors, shake on colors, stained concrete, polished concrete, stamped concrete, exposed aggregate finishes, toppings and overlays, water features and simulated rock work. Completing both residential and commercial work, the last 10 years has been more commercial work in museums, hospitals, schools and retail centers.
In a recent project, Colorado Hardscapes used the shotcrete process to complete a tree for the Cheyenne Mountain Zoo in Colorado Springs. Buteyn believes that texturing skins are one of the most essential tools on such unique projects. "The texturing skins are a latex tool that has texture built into it allowing us to impress the texture on the wet surface to create a bark like look," Buteyn says.
Colorado Hardscapes uses the texturing skins to make other impressions in the concrete including animal footprints and fossils as well as stone and brick patterns.
Buteyn believes that regardless of the type of project, finishing tools are the most valuable tools because they help ensure an end product that is quality work. "We definitely need the tools that help detail the final product to color it and finish it out," he says. "Some of those tools are the small trowels, paint brushes, grinders and pigments used to touch up repairs."
Additional finishing tools Buteyn uses are hand chisels and edge tools. "The difference between a great job and a mediocre job is how you address the edges and the details," Buteyn says. Buteyn believes that contractors will find true success in having the right focus on detail and being able to properly finish along edges, and around columns and drains. The tools help to execute the vision.