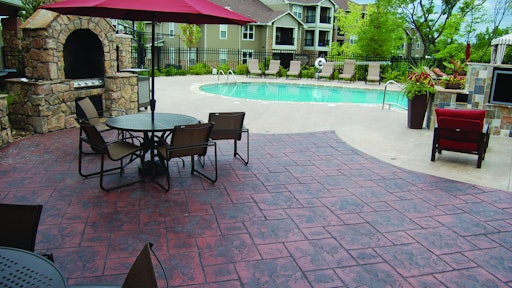 Josh Kobush has more than 12 years of experience in the concrete industry. In the early 2000s, Josh called his dad, Bob Kobush, and asked if he would like to start a company with Josh. After many phone calls and conversations, the father-son duo started Kobush Concrete in 2007.
Kobush Concrete, Platte City, Mo., offers both traditional and decorative concrete services, but focuses primarily on the decorative side. "When we first started our work was about 50 percent decorative," Josh says. Now, about 70 percent of Kobush Concrete's jobs are on the decorative side. Josh adds that in the short time the company has been in business it has earned a name for doing jobs that are challenging, something the company takes pride in.
"We started in the downturn, but we were able to go into the decorative side of things heavier," Bob says. "We continued with the same volume of work, we just changed the product."
The company currently has six employees and offers decorative services including stamping, staining, stenciling, microtopping and decorative saw cutting for the residential and light commercial industries. The company's work is split 50/50 between homeowners and builders, Josh adds.
Working with builders and homeowners can be very different, so Kobush Concrete needs the skill set to work with both types of clients. "Builders know what they want," Josh says. Builders focus on budgets and value engineering. And they have a homeowner they have to please as well. Often they want a specific decorative concrete look. When Kobush Concrete first started, Bob says several builders were seeking out the company's work. That collaboration allows Kobush Concrete the ability to help home builders in the area set themselves apart from their competition. And it helps Kobush Concrete generate decorative concrete jobs in both new construction and remodeling work.
Working with homeowners requires a different focus, Josh says. "Homeowners often need more up-front explaining, and we have to focus on managing expectations before the job even starts," Josh says. "We need to make them feel comfortable." Some homeowners may come in with a specific look or decorative service in mind while others may have no idea what it is they want.
No matter the client, Josh is present on every jobsite to maintain job quality. This also keeps the line of communication between Kobush Concrete and the client open and active. He is often hands on with the work, too.
The whole Kobush Concrete crew knows that in order to maintain quality and do the best work possible they must be constantly learning and adapting. "We are continuing our education all the time," Josh says. He, his dad and their employees do this through attending trade shows as well as training seminars. Josh says industry publications help him learn more about the decorative concrete industry and his craft. He's also able to get a lot of new ideas through reading these publications, he adds.
What's to love about decorative concrete?
Josh and Bob love that decorative concrete jobs are always different, and they love the freedom to try new things.
"We try to stay ahead of the curve and push the envelope," Josh says. "We experiment to find out what new looks we can achieve." He particularly loves when he gets to work with a homeowner who is willing to experiment and give Kobush Concrete the freedom to do different things. The crew also spends time experimenting in its shop to come up with new, unique offerings.
Along with the ability to try new things comes the ability to be the designer, which Kobush Concrete also takes pride in. "We get more satisfaction at the end of the day," Josh says.
"We take pride when we look at a finished job," Bob adds. "And it's great to have our peers like it, too." The hard work and pride Kobush Concrete displays has been publicly recognized as well. The company won a couple of local awards in both 2008 and 2009, Josh says. The company also had a few nominations in 2010.