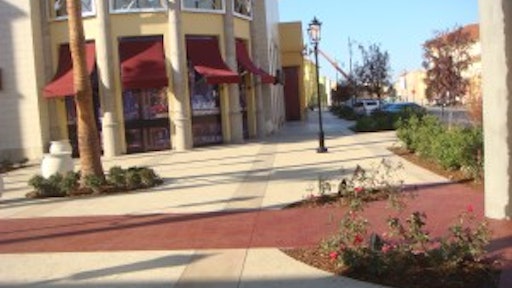 Many traditional concrete contractors looking to diversify their businesses turn to the decorative concrete market as a way to find new customers and new revenue streams. Bay Area Concretes, Livermore, Calif., chose to go in the opposite direction and moved its once predominately decorative concrete company into a complete site package concrete contractor.
Bay Area Concretes was established in 1966 by current president Michael Price's father and uncle. At that time the company focused on concrete work in high-rise buildings, but Price says his father saw an opportunity in stamped concrete. Bay Area Concretes soon became the second Bomanite licensee in the world. "We are, as it stands right now, the longest standing stamped concrete contractor in the country," Price says.
By 1970, the company was specializing primarily in decorative concrete - what the company refers to as architectural concrete. "Architectural concrete is anything outside of a standard gray concrete with broom or trowel finish. Decorative concrete is the great catch-all phrase, but architectural concrete gives you a streamlined vision of what you are trying to achieve," Price says.
In the early 1990s, the company began to see more competition in the decorative market and had to find a way to set itself apart again. It added complete site package concrete services, including structural concrete, curb and gutter, and city sidewalks. Then in 1999, Price took over as company president, maintaining the company's diversified portfolio of services. "We've always done some structural and gray concrete but we're known for our architectural concrete services," Price says. "Prior to the economic downturn our business was probably 60 to 70 percent decorative concrete."
Bay Area Concretes services both residential and commercial customers, doing jobs ranging from thousands of dollars up to the $3 million range, Price says. Its crews are cross trained in both decorative and traditional concrete work, allowing Bay Area Concretes to utilize any of its 45 employees on a job. All employees are trained Bomanite installers, Price adds.
While Bay Area Concretes will work for residential homeowners, the company's target markets are with interior designers, architects and general contractors. To reach its target customers, Bay Area Concretes attends professional and society meetings, conferences and goes directly to architects' and general contractors' offices.
A sizeable staff also provides Bay Area Concretes the ability to staff a dedicated design department. The three-person staff works on providing research and development for the company as well as sampling. When Bay Area Concretes bids jobs or attends project meetings, at least one member from the design team will be present, Price says. That design team member takes what was discussed in the meeting and goes back to the lab to create decorative concrete samples. "This helps us ensure all expectations are communicated clearly and achieved before any concrete is placed," Price adds.
What's to love about decorative concrete?

When asked what he loves about decorative concrete, Price says it's the people. "You tend to meet creative people when working in decorative concrete," he explains. "This industry revolves around people."
Price also loves working with a tangible medium. "Being able to have something tangible at the end of the day allows you the chance to look at it and say 'It was worth it,'" Price says.
That tangible result gives Bay Area Concretes' employees something to be proud of. "They feel like they've worked a hard day and they were able to leave something behind to show for it," Price adds.
For Price and Bay Area Concretes, it's important and gratifying to know that when they approach a client for architectural concrete, they are not only selling the company's quality but they are selling a piece of art.
A winning project

Despite Bay Area Concretes having to lean on its traditional concrete services more in recent years as the decorative market in its area has tightened up, its name as an architectural concrete company has continued. In fact, the company won two 2010 Decorative Concrete Council Awards from the American Society of Concrete Contractors (ASCC), one of them the "Wow!" award for its work at the Fillmore Plaza in San Francisco. The 17,000-square-foot plaza involved multiple decorative concrete elements.
Bay Area Concretes installed 300 linear feet of decorative custom color hardened concrete curved seat walls, over 100 linear feet of 10-foot maximum height structural color hardened walls and a custom color hardened concrete fountain in a globe shape, Price says. All the color hardeners were custom blends by Aggretex, he adds. In addition, the crew also completed 17,000 square feet of decorative architectural flatwork in the plaza, including on city sidewalks and one bus stop. It took a crew that ranged from seven to 20 employees six months to complete all the decorative concrete work.
Not only was the volume of work a challenge, but Price says all surfaces had to be poured, stripped and finished in the same day. Before any flatwork areas could be done, Bay Area Concretes had to fabricate and lay out the concrete seat walls, planter walls, fountain and structural walls first, Price says.
"All forms and finishing tools had to be custom fabricated - laser cut in many situations from computer generated CAD files - assembled in the field and then constructed to be delicately stripped the same day in order to apply the Aggretex color hardener and finish the same day," Price says.
Other custom elements of the job included custom aggregate blends imported from Malaysia and blended into the Aggretex matrix as well as custom crystal clear glass sand blended into green, red and cobalt blue Aggretex blends used on the flatwork. Decorative architectural light fixtures also had to be mounted into the concrete paving finishes.
"This type of artistic concrete structural formwork and color hardened trowel finishes had never been completed before on this scale and to this artistic extent," Price says.
With all the decorative concrete and custom elements, it's easy to see the wow factor of this project.