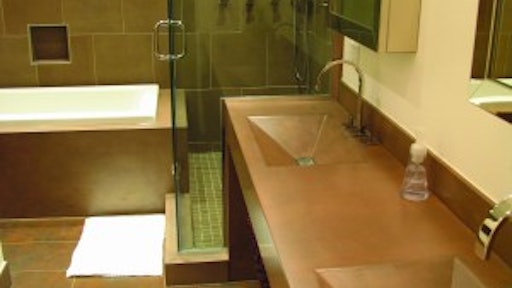 J&M Lifestyles is a design-build decorative concrete contractor. The Randolph, N.J., company has over 20 years experience in the concrete industry focusing on the decorative precast industry in the last five years, says Jeff Kudrick, product manager.
"With precast you get more control over variables and are able to create a manageable system," Kudrick says. That control helps J&M reach its customers' expectations; and in this industry, it's all about expectations, Kudrick says.
Along with precast concrete countertops, J&M also fabricates concrete furniture, facades, vanities, bars, wall panels, wall and floor tiles, cabinetry, and rock work. J&M likes to add in extras, too, such as fiber optic and other lighting applications.
J&M has found a niche market for its design-build precast decorative concrete in both residential and commercial. The company services the tri-state area but also ships pieces all over the world. "We have a steady flow of residential, but commercial - which was slow over the last few years - is starting to grow," Kudrick says.
The commercial customers are looking for ways to capture their customers, something that will get customers talking and refer other customers. The unique pieces J&M creates fit the bill. J&M has also started doing work for municipalities. Kudrick refers to these as functional pieces that are artistic projects.
"We find a balance between good design and diversity," Kudrick says. J&M works with the client from the design phase through the finish. "We take the custom work the client wants and turn it into a package. Everything is turnkey," Kudrick adds.
And creating unique custom pieces allows J&M the opportunity to come up with unique processes as well. Since each piece is different, the process and approach will vary. J&M is always working on developing processes and finding ways to make it consistent and easy to replicate for future jobs - and other contractors.
Kudrick says the company wants to actively help the industry grow. Currently, J&M is starting to expand into becoming a supplier. It wants to help other decorative concrete contractors learn its processes and learn how to manipulate decorative precast concrete. "We want to give them the tools to start creating the decorative concrete on a regular basis," he says. Kudrick adds the company also hopes to increase decorative concrete's notoriety and public awareness.
What's to love about decorative concrete?

Kudrick can't pinpoint just one element. "It's such a personal item that clients feel so excited about," he says. "It's always challenging and always rewarding and every job is so different." He loves the ability to use concrete to create anything he can imagine. And Kudrick also likes how fluently concrete works and fits in with other mediums.
Kudrick also loves incorporating the whole thought process of decorative concrete and how design techniques can differ depending on the job. "The beauty of concrete is that at the end, when you look at it, there's no transparency in the process," he says.