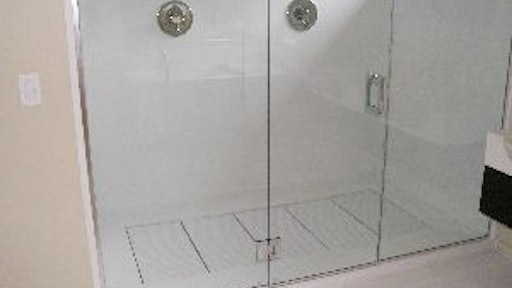 James Catabia of Casting Impressions in Ocala, Fla., recently completed an amazing project involving Glass Fiber Reinforced Concrete (GFRC) used to create extremely precise stair treads, floor tiles, shower pan and floor to ceiling shower wall panels. This project demonstrates the possibilities of concrete beyond concrete countertops.
The homeowner had originally approached James only about a shower pan. The home also included a custom metal staircase, for which he was going to have a concrete contractor create plain gray stair treads set on top of the metal plates forming the stairs. This staircase was to be a major architectural feature of the home, with glass walls and spanning four stories, so James suggested that concrete countertop techniques could be used to create stairs that are not only structurally sound but also refined and beautiful.
James took the initiative to create a sample of a dropped-front, white stair tread. He designed the reinforcement for the stair tread and figured out the best way to fashion it out of GFRC. The initiative paid off, and the homeowner contracted James to create not only the shower pan and shower walls but also the stair treads and even floor tiles in the bathroom. The original shower pan would have sold for about $2,500. The whole project ended up selling for almost $40,000.
Companies in this article