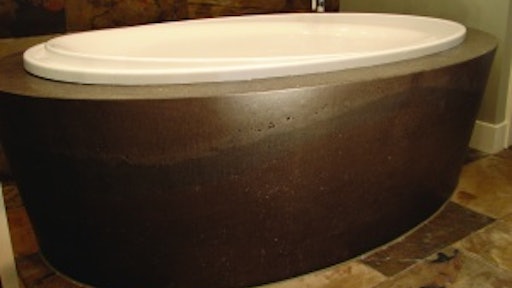 Concrete countertops are a popular option for homeowners who value craftsmanship and the unique character of concrete. Many contractors have recognized this and added concrete countertops to their businesses. Successful contractors have also recognized that concrete countertops' fit, finish, overall quality and performance are in a different class from conventional decorative concrete work. Those who have mastered concrete countertops are ready to expand their product line beyond countertops.
On the surface, there seems little difference between concrete countertops, floor tiles, stair treads, fireplace surrounds and shower wall panels. All are thin, flat and made of concrete. But each application has its own requirements for fit, finish and performance. After all, a floor tile serves a different function from a fireplace surround, but each must be made to satisfy that item's functional, aesthetic and performance requirements. Understanding what these requirements are is the key to being successful when moving beyond concrete countertops. Following are a few examples of non-countertop items and the things you need to consider for each.
Fireplaces
Fireplaces offer a variety of possibilities because they have distinct parts that can be mixed and matched. The three major components of a fireplace (other than the firebox and chimney, of course) are the mantel, surround and hearth. Each can be approached individually or as a combination. All-in-one surrounds that have a hearth and mantel built in are larger and more complex than a stand-alone hearth or flat surround panels that wrap around the firebox opening.
Flat surround panels are often treated like oversized tiles. Tile thinset is used to adhere the panels to the wall, which must be smooth and flat to ensure a precise fit. GFRC makes creating thin, hollow sections easy, so it's possible to hide the structural supports inside the concrete. Hearths, mantels and large complex surrounds are often mounted onto sturdy brackets or steel hardware bolted to the wall's framing. This makes installation fast and results in a clean, hardware-free look. Careful planning will ensure installation happens without a hitch. You'll need to know where the studs in the wall are and make sure you mount the support hardware exactly where it needs to go.
Keep in mind that the exterior components of a fireplace are not meant to get hot. Only the firebox is designed to take the heat. Ordinary concrete can't take the high heat of an open flame the way refractory materials can, so plan accordingly. It may be tempting to use ordinary concrete or GFRC to create a firepit or pizza oven, but over time the heat will destroy the concrete.
Showers
Shower pans, wall panels and even ceiling panels can create a sophisticated custom enclosure when combined into a total package. Shower pans can be made in one piece or in several pieces, but either way they must be sloped for drainage and provide a non-slip surface. Wall panels can be treated like large tiles, with sizes ranging from a few feet all the way to ceiling height. Often wall and ceiling panels are installed just like large tiles.
Wet areas like showers require extra care. Water has a way of finding its way into areas that shouldn't get wet, so it's important that you understand how showers are built and what is used to waterproof them. Always make sure there is a code-compliant waterproofing barrier behind or beneath your concrete. Never rely on the concrete to contain the water. Any leaks that happen will be blamed on you!
With smaller tiles, it doesn't matter that much if the wall is flat or plumb. However, large panels, and especially floor-to-ceiling panels require that the walls they are mounted to are flat and plumb. While this is virtually non-existent with existing construction, it is achievable by furring out the walls to create flat planes for the wall panels to attach to. This makes templating the walls easy and ensures the wall panels can be installed and that they fit well together.
Floor tiles
Floor tiles take a lot of abuse. Floor tiles need to be thick enough to prevent cracking, but very thick tiles are hard to integrate into existing construction. Generally concrete floor tiles are around ¾ to 1 inch in thickness, but smaller GFRC tiles can be made a bit thinner. As with other tile materials, properly installed underlayment and subfloor preparation are key to preventing cracks in the tiles. The subfloor should be flat and rigid. GFRC is an ideal material to make tiles out of because it is strong and flexible, so thinner tiles are practical and easy.
Making floor tiles demands precision. Most tiles are all the same size and shape, so in order for all of the tiles to fit together and have consistent grout lines you need to make sure all of the tiles are identical. Besides controlling thickness, keeping the tiles flat during curing is important, too. A curled tile won't lay flat and is likely to crack.
Pricing
Pricing three-dimensional pieces can be tricky. You can't simply calculate the square footage, and you often don't know how long the piece will take you because you've never done anything like it before. Think through every step of the project, starting with design and going through mold building and on to installation. Often all of these steps will be more complicated than a flat kitchen or bath countertop, adding up to a whole lot more time. Also, consider what might happen if the piece doesn't turn out the first time. Build in risk mitigation in the form of a higher price.
However, recognize that sometimes it is more important to build your portfolio than to make a huge profit on one project. Just be sure you get high-quality photos of the finished project. By pricing well and carefully planning the project, you can begin to build up your portfolio with impressive projects.
Troy Thompson of Surface Studios in Des Moines, Iowa, has built up an impressive portfolio by occasionally doing a few key projects of new types such as fireplaces or dramatic sinks for about half price. "I want that photo. There's nothing like showing your own work. Your passion and creativity will shine through."
Selling
Portfolio photos of non-countertop projects are a great way to sell non-countertop projects, but what do you do if you don't have photos yet? One thing you can do is simply educate clients and designers about the versatility of concrete. You might get a lead for a kitchen countertop in a high end, modern new home, but the client never even realized that concrete can be used for fireplaces. By taking a consultative approach with your clients, and perhaps a few proactive steps, you can upsell your way to a much larger and more impressive project.
James Catabia of Casting Impressions in Ocala, Fla., did just that. James was called into a project to give an estimate on a shower pan. He found out that the house had a dramatic, four-story spiral staircase encased in glass, yet the general contractor was going to have a regular precast concrete contractor create flat, gray slabs of concrete to sit on the metal stair frame. James took the initiative to create a sample of a white stair tread with a dropped edge to cover the metal stair frame. Not only did the homeowner love the stair tread idea, the example opened her eyes to all the possibilities of concrete. James ended up creating the shower pan, shower panels, floor tiles and the stair treads. A project that was to be $2,500 had gone to almost $40,000, all because James showed the client the endless possibilities of concrete.
Companies in this article