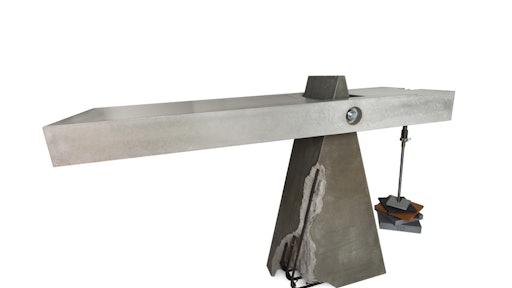 Concrete artisan Dylan Lauger created this GFRC furniture piece "just for fun." It's a table balanced on a base with handmade weights. One end of the table top is approximately 20 pounds heavier than the other end, allowing the addition of the weights to level out the top.
Lauger's counterbalanced table project was inspired by both a teeter-totter and a shelf he saw at a client's house that was made from repurposed barnwood and counterbalanced with a grapple, cable and fixed weight.
The top portion of Lauger's table weighs about 160 pounds. The bottom weighs about 180 pounds and was constructed with a foam core. Lauger created the base's exposed rebar corner by packing the mold with a heavy clay sand and pouring the concrete around the sand. After demolding the piece, the sand fell away and exposed the rebar. Lauger used a wire brush to remove the remaining sand. "The sand helped create an irregular edge around the exposed concrete, giving it a natural look, as though someone placed concrete around congested rebar and didn't bother to consolidate," he says.
Key products and equipment
GFRC mix and supplies from Blue Concrete and Fishstone Studio, Inc., repurposed hardware pieces.
About the artist
Dylan Lauger is the owner of Lauger Concrete + Design in Sturgeon Bay, Wis. His company has been offering residential and commercial concrete projects throughout Wisconsin since 1998. The company specializes in countertops, acid staining, sinks and bathtubs, furniture and objects, and fireplace and wall surrounds.