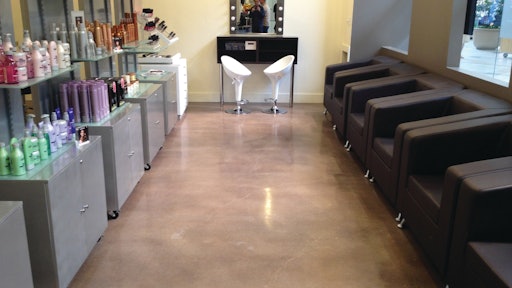 Sylvain Melloul called us about polishing 5,000 square feet of concrete floors for his hair academy, located at River Ridge Mall in Lynchburg, Va. The mall was built in 1978 and we were working with the original concrete.
When we arrived, the floor was covered in carpet glue and what appeared to be a skim coat that at one time created a smooth transition from a tile walkway to the concrete floor.
Our first challenge was to remove the glue and overlay product from the floor. We started grinding with our HTC 800 but quickly realized the floor was too soft and wavy for such a heavy machine. We ended up using a lighter 24-inch grinder. This machine didn't cut the highs of the floor as aggressively, and it had a small footprint allowing it to get the glue out of some of the lows without completely flattening the floor. Our client wanted a salt and pepper finish so it was important to not be too aggressive because we didn't want to expose a large amount of aggregate.
Once we took up the glue with PCDs (polycrystalline diamonds), we ran two different metal bond diamonds over the floor — 40 and 80 grit. Then we worked our way up the resins. Once we got to 400-grit resins, we stopped and had a meeting with Sylvan to come up with a color that would match his existing marble tile walkway. We made about 10 different samples with different combinations of Increte solvent-based dyes. We eventually settled on a color that was a combination of two different shades of brown from the Increte Vibra-Stain color chart. Sylvan proudly refers to it as "Sylvan's grey-brown marble dye."
After the floor was dyed, we applied W.R. Meadows densifier. We kept the floor wet with densifier for 30 minutes and then cleaned up all the densifier with an autoscrubber. Once the floor dried we continued polishing the floor with 800- and 1,500-grit resins.
After we completed the polishing steps, we applied W.R. Meadows Bellatrix microfilm guard to the entire floor and burnished it with a high speed burnisher.
Tim Seay owns Decorative Concrete of Virginia with Landon Banks. The company offers polished concrete, stained concrete, epoxy coatings and concrete restoration. Visit them on the web at www.decorativeconcreteofvirginia.com and follow Tim on Twitter at @dcofva.