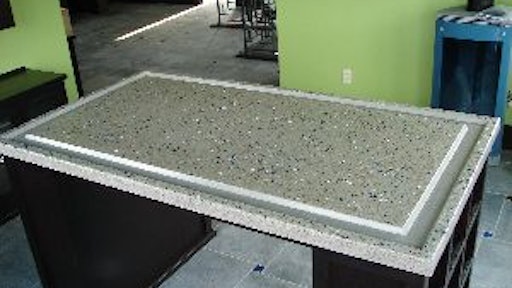 It all started with a simple kitchen countertop. Troy Thompson of Surface Studios in Des Moines, Iowa, sat down with potential clients to discuss the main kitchen in the new home. When Troy pulled out his portfolio, the clients exclaimed, "Wow! I didn't know you could do that with concrete."
Troy ended up making two kitchens, three fireplaces, multiple vanities and integral sinks for the home, for a total of $120,000 when all was said and done. He kept talking with the clients, saying, "Here's another idea" and "What about this?" Troy advises concrete countertop professionals, "Don't think about the size of the person's wallet or specifically try to upsell. Do a great job of showing them all the possibilities and educating them on how creative you can be with concrete. You never know what it can lead to."
Troy admits that his impressive portfolio is a key selling tool. He built up that impressive portfolio by occasionally doing a few key projects of new types such as fireplaces or dramatic sinks for about half price. "I want that photo. There's nothing like showing your own work. Your passion and creativity will shine through."
Troy also recognizes that these types of projects are good for both him and the client. The client gets a beautiful concrete creation for a fantastic price, Troy gets a boost for his portfolio, and everyone is happy with the collaboration.
Troy also cautions that in order to be able to do these types of projects, even the reduced price ones, and still make a profit, you must have your technical fundamentals worked out. Troy has invested in training to ensure that he understands reinforcing, mix design and sealing, and he seeks out the best products and rigorously tests them before using them on client projects.
The combination of a solid technical foundation, a dazzling portfolio and a consultative approach to selling has made Surface Studios a success.
Companies in this article