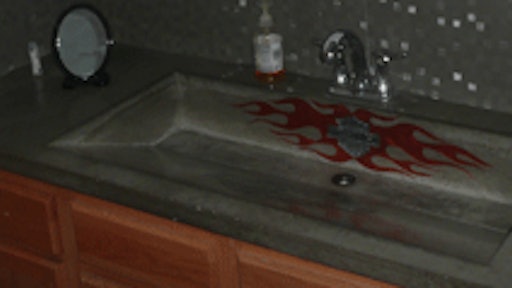 My how the concrete countertop industry has grown over the last 10 years! Knowing what we know now, it is comical to reflect back on my first permanent countertop dating back roughly 18 years. This rather crude piece was cast out of a self-leveling overlay then chemically stained complete with precast back splashes -- it actually came out quite nice despite the lack of available information. This 30-square-foot counter had a happy life of over 14 years before being ripped away from the cabinets and replaced with high-end granite. The countertop was still very functional and looked decent; however, it was time for a complete kitchen remodel at my sister's house. Once her remodel was complete, she had to be the bearer of bad news and phoned letting me know my first-ever concrete countertop now rested in peace at the bottom of the construction dumpster. Thanks, Sis!
Since that first countertop, it is hard to put a number on how many cast-in-place and precast countertops we poured through the years. What a learning curve it was and still is! On the subject of cast-in-place vs. precast, I find it is a somewhat divided topic of discussion. Some precast professionals maintain their method is by far the best method, claiming that if you are going to cast a concrete countertop in place "you may as well put a slab of sidewalk on the countertop." They add that there is no mess to clean up inside the client's home. On the other hand, some cast-in-place professionals proclaim "a good percentage of precasters don't have the necessary skills to produce a high-quality, hand-troweled surface." These are some of the comments I've heard through the years, and since I'm not trying to start a debate I will stay neutral on the subject and say I believe both methods have very distinct and unique qualities. The bottom line is you can achieve certain looks and effects via precasting, such as exotic embedments like decorative glass and certain minerals, while cast-in-place lends itself to a rich, hand-crafted look that is difficult to obtain with precast. Both methods have important considerations to take into account when pursuing the concrete countertop market.
Casting considerations
If you are considering the precast method, you need a shop large enough to facilitate the casting tables, mixers and raw materials as well as woodworking tools like table saws, routers and sanders. In addition, you also need the carpentry skills to fabricate the sometimes-delicate formwork. Don't forget that after you have successfully finished your countertop at the shop you will need to deliver the piece to its new family, which can sometimes be a challenging endeavor due to its weight and vulnerability to chipping or cracking.
I have heard horror stories of contractors shipping their award winning pieces via common carriers only to find them totally destroyed at the other end. One such story included a countertop project with a very tight schedule that required shipping the finished pieces cross country on a common freight carrier only to find out that each piece was damaged by the freight company. The contractor's client had chosen the freight carrier trying to negotiate the most economical freight rate which turned into an insurance claim and more importantly, a huge delay on the project since virtually every piece had to be re-cast and re-shipped. Dominick Cardone, The Concrete Impressionist, was so concerned with these issues that he actually hand delivered his finished counters to the Luxor in Las Vegas all the way from New York!
Although you do not have the same shipping concerns when casting in place, there are plenty of considerations to take into account. Remember, you are working inside someone's home, which can be a completely disruptive process, not to mention stressful for the client. In one instance, we were involved on a project that included the pouring of 14 cast-in-place counters throughout the homeowners' house while they were living there. You have to take into account how the forms will be fastened to the cabinets, and under no circumstance can you use the cabinets to screw into or brace off of. Our client's cabinets were very expensive distressed cabinets, which would have been next to impossible to match had we damaged the cabinets during our installation. Also, we were working over brand new finished hardwood floors, which meant we needed to totally protect them from the wheelbarrows we used to deliver the concrete from the mixing station. This required us to cover the floor with building paper, followed by a layer of plastic with a layer of carpet padding to act as a shock absorber in case anything was dropped. As added insurance, we covered the carpet padding with sheets of masonite since we were using wheelbarrows. I'm happy to report there was no damage anywhere in the house.
One of the most important aspects of a successful cast-in-place countertop is the quality of the finish. This is where a high degree of skill is required since the countertop is a main focal point of any room. If you are pouring counters with an integrated backsplash, the juncture where the bottom of the backsplash meets the top of the countertop can be tricky to finish. This area has to be perfectly level and free of dips and valleys, which requires the use of straight edges and a professional touch with the hand trowel.
In the mix
There is no one-size-fits-all mix design for the two methods. Many times, the precast method requires the contractor to modify the mix with chemical admixtures for a more flowable concrete, reducing air bubbles and voids, or reinforcement with fibers. This can be a great mix for precasting but can make for a sticky mix that it is difficult to finish in a cast-in-place application. For this reason, we usually don't add more than one admixture for our cast-in-place recipe.
As far as new technology is concerned, I recently met Mike Easterguard, owner of PreiTech. Mike and his company developed an interesting method of forming high-end, precast molds out of foam that is producing stunning results. The nice feature about his system is that it substantially cuts down the labor and material cost compared to the traditional method of using melamine. The system requires casting on a smooth sheet film with perimeter foam borders attached with two-sided tape and has an A mold and a B mold which forms out the actual sink. The typical time frame for creating an entire mold can be less than one hour without using screws. Custom shapes and designs are easily obtained using this system, like the double wave sink we did that would have been time consuming and labor intensive using the traditional forming system.
One thing is for certain with this system -- the mix design is critical. For our sinks we used bagged enCOUNTER mix modified with plasticizers, fibers and air reduction admixtures. When poured correctly, the finished surface produces a glass-like surface equivalent to a high polish.
Whether you are casting in place or precasting your counters, practice, practice and then practice some more. It takes years to become an overnight success, which is especially true in this industry. Determine which of these processes best suits your company's business structure before jumping in to it.
Good luck.
Bob Harris is founder and president of the Decorative Concrete Institute, Temple, Ga., which provides hands-on training in architectural concrete. He has personally placed or supervised the placement of more than 3 million square feet of decorative concrete and is the author of a best-selling series of decorative concrete books and DVDs. For more information, call (877) DCI-8080 or visit www.decorativeconcreteinstitute.com.