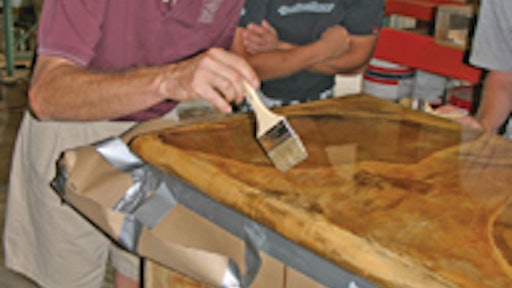 Decorative concrete is the hottest thing going right now, and the segment getting the most attention is concrete countertops.
The reasons are obvious. For contractors, it's a way to make more money with less concrete. For designers and builders, it's a way to deliver something a little different to the client.
So it's no surprise that a lot of contractors are thinking about getting into this market niche. Before taking the plunge, though, it's worth looking at what you need to know before you get started and what are some of the common mistakes.
Getting trained
The most important thing to do before starting work on concrete countertops is to get some training.
"Training is so important," says Doug Bannister of The Stamp Store. "Go to a class — go to more than one class."
With so many training options out there, Bannister recommends taking classes from more than one source.
"Go to at least two different classes," he says. "It will get you way ahead so you can hit the ground running instead of spending your time figuring everything out on your own."
Even experienced contractors can benefit from a countertop class, says Buddy Rhodes, one of the pioneers of the concrete countertop market, and president of Buddy Rhodes Concrete Products.
"Even for someone who's used to concrete, it's a different type of project," he says. "They need a little bit of retraining."
First of all, the mixes used in countertops are different than those for traditional work. That means the techniques for mixing and finishing differ, which can lead to mistakes for many beginners.
"Mixing the cement too wet is probably the most common mistake people make," Rhodes says. "Countertop mixes tend to be drier than regular concrete."
Another common problem is reinforcement. Many contractors, used to working with slabs on grade, do not put enough reinforcement in their countertops.
"The biggest misconception about concrete countertops is the structural-mechanical issue," says Jeff Girard of The Concrete Countertop Institute. "Concrete countertops that are made the way a floor is made will fail."
Contractors need to think of countertops as structural beams, with all of the proper reinforcement. That's a change in mind-set for many contractors that are used to performing the concrete work, but having it designed by someone else, Girard says.
"Contractors need to have a knowledge base of how these things are done," he says.
Some contractors use rebar; some, like Buddy Rhodes, prefer a thinner welded ladder wire for their countertops.
"I think it works better than rebar because it is smaller," he says. "It's already welded flat which allows for thinner applications."
Reinforcement is not only important from a structural standpoint. It also can help to arrest curling and cracking, two major problems with concrete countertops, Rhodes says.
One product on the market to help with crack control is C-Grid from Tech-Fab. C-Grid, a carbon fiber grid, is designed to be used as a secondary reinforcement with another product such as rebar.
"One of the things C-Grid provides is additional reinforcement for transportation of precast countertops," says John Carson of Tech-Fab. "It's your insurance policy."
As a carbon fiber product, C-Grid can also be used in thinner applications where a steel grid would cause corrosion concerns. "With this, you don't have to worry about rust stains coming to the surface," Carson says.
Managing expectations
Naturally, the expectations for the finish on a concrete countertop are different than a floor or driveway, even a decorative one.
"You have to pay more attention to the details," Rhodes says. "It's higher up, closer to your vision, so every imperfection is easier to see than it would be on a floor."
People look at their countertops everyday, and they will notice any problems.
"Many contractors don't spend enough time on the finish," Rhodes says. "This is not a quick in/quick out. Countertops require more time and more work than many contractors are used to."
That's one of the things beginning contractors are surprised by, Rhodes says. "They don't realize all the extra work involved."
At the same time, it's important to prepare clients for what a concrete countertop is and what it isn't, says Bannister.
"Concrete countertops are not a precision product — it's a handcrafted product," he says. "We stress the front-end work — making sure that is really what the client desires. Too many contractors don't prepare their customers for the end result."
A different type of business
It's not only the technical aspects that make concrete countertops different. The industry also requires a different mind-set from a business standpoint, Girard says.
"Contractors need to understand that there's more to this than 'How do I make the thing?'" he says. "They need to understand sales and marketing. They need to know what the needs of their market are."
Many contractors see the prices people are paying for countertops — $100 or more per sq. ft. — and get dollar signs in their eyes. What they need to understand, though, is the scope of the work, Girard says.
"Fifty sq. ft. is an average job," he says. "That's a $5,000 average job, and many are smaller. The square foot cost lures a lot of people to the business, but they have to realize the jobs are a lot smaller than a patio or floor."
With the extra time and effort that goes into countertops, it may not be as lucrative as many people expect.
"It can be a rude awakening for many people when they realize the difference," Girard says. "You need to do a large amount of work in a very short amount of time to generate the volume you would with other types of decorative concrete."
It's important to take time before jumping into the market, Bannister says.
"You have to slow down and plan everything very thoroughly," he says. "Make sure you have the right tools, the right information and the right guys to do the work."
Have a skeptical eye
With the rapid explosion in the market, it's no surprise that there have been some subpar products entering the market. So it's important to check out the companies you are doing business with to make sure the products they produce are right for what you want to do.
"You need to ask questions when buying a mix," Bannister says. "What's the water demand? Will it crack? Does it curl? What about stain proofing? Do they have a product to touch up rough edges? If they can't answer those questions for you, you probably want to work with someone else."
When choosing a mix, it's also important to know whether you are planning on creating precast or cast-in-place countertops (see sidebar, bottom of page). Many mixes are specifically designed for one method and may not work as well when used for the other. Another problem is that some so-called countertop mixes are actually just repackaged mixes for other decorative concrete applications and may not get the job done.
"The person getting into the business needs to be very skeptical of training, materials and information," Girard says. "They need to make sure what they are using is truly appropriate for concrete countertops."
For more information:
Buddy Rhodes Concrete Products
The Concrete Countertop Institute
The Stamp Store
Tech-Fab
Countertop starter kit
When getting started in concrete countertops, it's important to have the right tools and accessories. Here is a list of items that the Concrete Countertop Institute recommends.
Portable electric drum mixer
Wheelbarrow
Vibrator
Curing blankets
Forms
Miter saw, table saw and jig saw
Cordless drill
Router
12-in. disk sander
7-in. variable-speed grinder
Dust muzzle
Concrete wet/dry vacuum
Dry grinding pads, flexible backing pad and diamond hand pads
Diamond hole saw
Electronic bench and floor scales
Trowels, floats and other concrete tools
Precast vs. Cast-in-place
When it comes to concrete countertops, a contractor can either "precast" them in a shop and then install the finished piece or cast them in place right on the jobsite. Many contractors swear by precast and would almost never cast a countertop on-site. There's just as many that feel precast is a huge mistake. In the end it comes down to whatever makes you most comfortable, but here are some of the major reasons contractors cite for and against each method.
Reasons to go with precast
Less danger of damaging existing cabinetry from concrete spillage
The work can be done without the owner looking over your shoulder
More projects can be undertaken at once because you don't have to run from jobsite to jobsite during production
You control the environment in which the work is done and don't have to worry about the owner or other trades damaging the countertop before it is sealed
Reasons to cast in place
Work is done on-site, so don't need as big of a shop
Can be done as a continuous pour, eliminating seams on longer runs
Don't have to worry about transporting finished countertop to the site
Many contractors say it allows them more flexibility and creativity in design