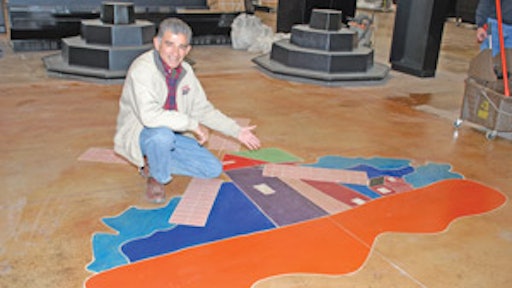 In 1986, Julio Hallack was laid off from a construction supervisor position in Texas. After a move to California he found himself without a job but with a pressing need to provide for his family. He started doing landscape work and found himself on the road to finding his true calling in life. "I found out that I like working outside and wearing blue jeans instead of being inside and wearing a suit. I like reading blueprints instead of telling people what to do. I like being in contact with Mother Nature. I felt that working outside was what I wanted to do," Hallack remembers.
Soon after, Hallack became a licensed contractor and started his own landscaping business where he worked closely with landscape architects and designers. From the beginning, Hallack implemented ways to establish a strong business. He put his company name and phone number on both sides and the back of his truck, and his employees wore uniforms sporting the company name and phone number. A few years later he was introduced to colored concrete and found another way to strengthen his growing company - through diversification.
During the 1990s, Hallack's decorative concrete jobs increased, and in 1998 he decided to close the landscaping portion of his company and focus solely on decorative work. Today Concrete Innovations by Hallack in Turlock, Calif., performs concrete restoration, decorative countertops, pool decks, stamping, staining and intricate artwork. Hallack has nine employees and performs just under $1 million in annual sales. Currently, 70 percent of his business is commercial work and the remaining 30 percent residential.
Staying ahead of trends
Concrete Innovations by Hallack continues to thrive because of Hallack's dedication to the craft and his endless effort to stay on top of industry trends. "Every time I travel with my wife I've got my eyes on the ground, looking at the different styles of concrete floors at the resorts and other places we visit," he says. "I take my camera with me and come back home with more ideas."
In 1991 Hallack purchased a 3-acre estate for his residence and business. It houses an 8,000-sq.-ft. showroom and mark-up samples for customers. It also serves as Hallack's testing facility.
"When I got involved with coatings I started out by mixing formulas, splashing and spraying, coming up with my own creations," he explains of his artistic process. "Suppliers send me products to try out and I like to use them to extremes. I get a lot of my ideas by not being afraid to experiment with products. I add a bit of this and that to see what it will give me."
One unique project he has been experimenting with is decorative shower stalls. Hallack says a cement finish can provide a more desirable look than the usual tile. "Our company will install hardibaker, followed by a waterproof membrane and several thin coats of microcoatings to a smooth finish. Stains are applied using rags to create a Tuscan look. A good quality sealer follows," he explains.
The importance of education
Hallack doesn't just take his personal education seriously, he believes in teaching all his employees everything he knows. Over the years Hallack has assembled a talented crew of employees and keeps his turnover low by paying top wages for the industry, offering paid holidays and giving bonuses based on company performance. "If the company does well, everyone gets a bonus. If the company doesn't do well, no one gets a bonus. This way employees take care of each other," he explains.
Hallack doesn't allow smoking or alcohol on the job, requires drug tests, and expects his employees to maintain a high level of professionalism. "If someone has tattoos, they have to be covered on the job. If someone has piercings, they need to come out on the job. I want to build confidence with the customer," he says.
Hallack believes in widespread training of the industry, especially for Hispanic workers. Hallack leads an all-Hispanic crew, with some of his employees speaking only English, others only Spanish and some bilingual. A year ago, Hallack started working with L.M. Scofield to translate educational and training material into Spanish. Last year he held six Spanish-language training courses around California, and during the 2007 World of Concrete, Hallack translated during several demonstrations at L.M. Scofield's outside booth.
"The bilingual training courses are very beneficial, because you can have everyone on staff attend the same seminar, regardless of whether they speak Spanish or English," he says. "I think training and education helps give people pride in the work they do. If we can mass educate our workers, the industry will succeed and grow."
Looking ahead
Hallack has worked some high-profile jobs over the last 20 years, including a restoration project at the historic State Theater in Modesto, Calif., installation of a mini sports complex for an owner with a lot of professional athletes as friends, and two labyrinths which demanded precision work to create a 13-circuit design that the owners use as a substitute for a religious pilgrimage to Jerusalem.
Over the years, business has been great for Hallack. This winter is busier than usual and he plans to add more staff in 2007. And he's not limited to his geographic area. Hallack has already traveled to Hawaii to consult on jobs, and is looking to some training opportunities in Mexico and Central America. "This [decorative] market is so huge I can see the possibility for a lot of travel in the future," he says. "I could stay locally, but see myself going to the moon if I have to."
Hallack looks forward to winning powerful contracts with clients who seek high-quality work from a dedicated and professional company. And Hallack sees a strong future for the concrete industry in general with the rise in popularity of decorative work and the need for restoration. "There is so much concrete to be restored, it's a multibillion-dollar industry," he says.
On the job with Concrete Innovations by Hallack
In recent years, Julio Hallack and his team at Concrete Innovations by Hallack have had the opportunity to perform stained concrete floors and artwork accents on nine Save Mart Supermarkets in central California. These roughly 40,000-sq.-ft. projects require a skillful crew that understands the process of working on a job of this size. Save Mart allows Hallack only one week for project completion - no excuses. "After seven days there are people bringing in crates and refrigerators," he says. "If we don't meet those dates, we are fined thousands of dollars. We could also lose a client."
During a recent Save Mart project in Ripon, Calif., Mother Nature threw the usually sunny state some unusually cold weather. Despite the low temps, Hallack's team turned out a successful job.
Prep work
Before Hallack starts in on a large commercial project, he does a little preprep work. "Once you take on a 40,000-sq.-ft. job, you need to make sure you understand the floor, the floor conditions and the chemicals that were applied by the concrete contractor on top of it," he says.
For Hallack, this means establishing a relationship with the general contractor on the project. "There are many curing compounds in the industry that can become the biggest failure on any staining job. We work closely with our general contractors, recommending to them the curing compound they need to use, and these are water-based curing compounds because we need to remove them," Hallack explains.
In addition, two to three weeks before doing the actual work, Hallack visits the jobsite to do several mock-ups on the slab from start to finish, including prepping, staining, stripping and applying the sealer.
When construction is completely finished, Hallack and his crew take over the jobsite and start in on cleaning up months of construction debris that has collected on the slab, taking up to two full days for cleaning on a project of this size. Hallack says his crew pays close attention to details, such as tire marks which can sometimes be a major challenge.
Hallack utilizes quality cleaning equipment - high-pressure washers, auto scrubbers and nylon brushes. "The equipment is a major part of the success of the cleanup and preparation," Hallack says. "If you don't take precautions when cleaning your floors, you can get a tremendous amount of delamination from the stain and sealers. I've seen this when people call me for consultations. They ask me why their stain doesn't look very good and the sealers look like a piece of skin. Nine out of 10 times, it was because the contractor did not prepare the subgrade to specifications."
Turning gray to great
Hallack doesn't waste time jumping into the delicate artwork littered throughout the store since it takes about three to four days to complete the template work, cutting it and applying the colors one at a time, in two or three layers. Hallack puts two or three of his most artistic employees on the artwork. "I don't give them a time frame; I let them take their time because it's about pride, and it's the lasting piece of the project," Hallack says.
On the Ripon Save Mart project, Hallack's team installed an elaborate windmill and greeting near the entrance and artwork in the baby food aisle using 11 colors of the water-based Tintura stain from L.M. Scofield. For the floor staining Hallack used four colors from L.M. Scofield's Chemstain Classic line.
While staining 40,000 sq. ft. of concrete might sound like a daunting task, Hallack has created his own system for commercial projects. "When I started doing Save Marts we used backpack sprayers, with about a 3-gal. capacity," he says. "But we had to have four sprayers, with four employees handling them."
Hallack knew there had to be a better way. At a local farming supply store he found 25-gal. sprayers. Because the equipment would be used with an acid-based stain, Hallack had to replace all the metal and copper parts with plastic, and then adopted a dolly with a pull system. "Instead of four employees with four pumps, I have one employee pulling the 25-gal. sprayer and one person spraying it," he explains. Hallack says with this system he can normally stain 40,000 sq. ft. in six to eight hours.
This is the part of the project where Mother Nature's icy breath affected Hallack's job most. Usually manufacturers recommend that chemical stains are applied above 50 degrees F, but on Hallack's project, temps were in the low 30s. Without time to wait for temps to rise, Hallack left the stain on the slab for two days, twice as long as normal. He also employed the use of heaters, both to warm up the areas where the artwork was applied and to keep his workers comfortable.
Preserving the color
Spraying the stain and applying the multicolored artwork can be a tedious process, but Hallack says neutralizing the floors is one of the most challenging parts of a chemical staining application. His crew uses a soap neutralizer, scrubs the floors with nylon brushes and follows up with the auto scrubber to suck up the soap and water. They repeat the process until the wash water is clean. Once the floor dries, Hallack administers one last test. "We apply a piece of tape that we leave there awhile; then we pull it up. If the tape is still contaminated, that will tell us if the floor is still not clean," he explains. "It is the key to successful floors."
On this particular floor, Hallack used heaters and blowers to speed up the drying process in the cold weather. Hallack typically allows his floors to dry 24 hours before applying the sealer. Luckily, temps were warm enough to allow him to proceed with the sealer application process.
Hallack says he normally applies two basecoats of sealer to protect the stain, then several finishing coats on top. The sealer is applied using a mop, except in the produce section where Save Mart specs broom finish for a nonskid surface. Hallack explains he sprays the sealers over the broom finish to prevent the rough surface from pulling fibers out of the mops.
Between the first two coats of sealer, Hallack fills in about 10,000 lineal ft. of expansion joints with tile grout. Instead of the usual 16-ft.-on-center joints, Save Mart requests joints cut every 8 ft. to give the store a decorative look. On the Ripon Save Mart project, Hallack used three colors of grout - black, tan and white around the artwork, which Hallack says gives beauty and definition to the saw cutting.
Be prepared for large jobs
Hallack says that contractors who take on decorative jobs of this size have to be prepared and trained, and warns against taking on a project of this magnitude if all you've ever done was small residential projects.
"Many contractors take on some of these big jobs and end up doing them two or three times, and in the end there's no profit left because there isn't much leniency on these projects," he says. "If they don't know how to do it right, they need to hire a consultant, another contractor who has the capabilities and skills to help them."