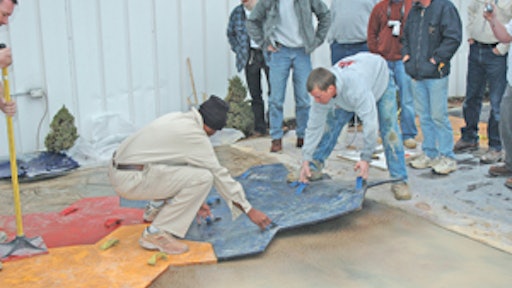 At a recent stamped concrete class in October, at the Decorative Concrete Institute in Georgia, I was reminded of the importance of having an understanding of different mix designs as the seasons change.
It was a tremendous learning experience for the students as the temperatures fluctuated as much as 35 degrees from day to day. Concrete isn't a generic product that is exactly the same every time you order it. There will always be variations, however slight. Sometimes those variations are intentional so you can tailor the concrete to meet the specific project requirements. Most professional stamp contractors have several mixes they like to use under different circumstances, often based on weather conditions and the size of the project. They may have a summer mix and a winter mix or even a floor mix for interior jobs.
Just because a certain mix works well for a contractor in certain regions of the country is no insurance that the same mix will produce the results you need in your environment. The best mix is the one that works in your area for your purposes and gives you predictable results.
The first day of the seminar, our first 4-yd. pour was at 9:30 a.m. The temperature was approximately 38 degrees F. I ordered a mix that consisted of a 2-percent non-calcium based accelerating admixture (NCA). A dry shake color hardener was used with the first chosen color covering the entire surface with 100-percent coverage, and then a contrasting color hardener used as an accent color. We finished the final stamping and touch-up at approximately 12:30 p.m., roughly three hours later. Our next 4-yd. load was the same day and the same mix poured at 1 p.m., but only consisted of 1-percent NCA. The temperature was approximately 60 degrees F at the time of placement. We completed our stamping and final detailing by 3 p.m., but the mix had less accelerator in it. The students were amazed by the effects ambient temperature had on the setting time of the concrete and ultimately the time to stamp the pad.
The second day consisted of pouring and stamping an 8-yd. pad. We poured the concrete at 9 a.m. with temperatures approximately 55 degrees F at the time of placement. This was the same mix design as the previous day's concrete, but because of the temperature and area to be stamped, we did not order any NCA in the mix. This area never received direct sunlight because of an overhead awning, and we were finished stamping and detailing at 12:30 p.m. with temperatures exceeding 65 degrees F. Our next 4-yd. pour was at 1 p.m. in direct sunlight with a temperature of almost 70 degrees F. As a test, we included 1-percent NCA to evaluate the setting characteristics. After using 100-percent color hardener in a multitude of colors as our coloring method, we used liquid release and seamless texture skins. We finished in just under two hours.
I shared with the students an experience we had two months earlier using the same mix design with a mid-range water-reducing admixture and retarder added at the jobsite to help slow the setting time because of excessively warm conditions (above 95 degrees). The fact that the mid-range water-reducing admixture had a slight retarding affect on the concrete in addition to us adding additional retarder proved for a challenging experience. In this case, the underlying concrete was not setting at the same rate as the top surface of the slab, resulting in a crusting effect. When we stamped, the end result was little tears along the edges of the stones, similar to plastic shrinkage cracking due to rapid drying and little moisture at the surface.
On all four mixes we poured at this seminar, there were virtually no problems because the concrete set at the same rate from the bottom to the top with the end result being little, if any, surface blemishes after the final cleaning.
As a stamped concrete professional, you have to have an understanding of concrete mix designs so you know what to expect and what not to expect. I recommend setting up a meeting with your ready-mix concrete salesman or a representative from the concrete producer and explain the type of work you are installing and the necessary performance criteria of their mix. Make sure that your ready-mix producer assigns designated mix codes in your company's profile so when you call to place an order, they can simply reference your account, making sure you receive the appropriate mix.
Be specific when ordering your concrete! Don't simply call the ready-mix producer and say, "Send me a 4,000-psi mix," but rather, "Please send me 40 DSC, nonair mix with 1-percent NCA, at a 4-in. slump on the jobsite to be delivered at 7:30 a.m.," as an example. This will make your relationship with your producer more efficient.
One last tip: When the concrete truck shows up on the jobsite, wait for your driver to get out of his truck and politely ask him to show you the batch ticket making sure that whatever you ordered was in fact delivered.
For more on concrete mix designs, one of the best resources I recommend is the Portland Cement Association's Design and Control Of Concrete Mixtures. This book is an excellent reference and one that I use on a regular basis. You can also visit PCA's website at www.cement.org.
Best of luck with your successful stamp concrete installations.
Bob Harris is the founder and president of the Decorative Concrete Institute, Temple, Ga., which provides hands-on training in architectural concrete. He has personally placed or supervised the placement of more than 3 million sq. ft. of decorative concrete and is the author of a best-selling series of decorative concrete books. For more information, call (877) DCI-8080 or visit www.decorativeconcreteinstitute.com.