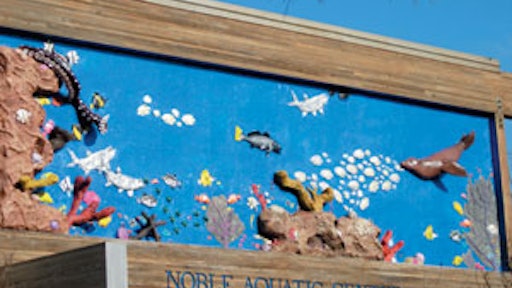 When the Oklahoma City Zoo received a large donation for its aquatic center, officials knew they wanted to do something special to honor the donors.
That's where Stan Pace and FossilCrete came in. Zoo officials thought of Pace because he had done an earlier, smaller project as a donation for the Junior League of Oklahoma City.
"They had just a plain piece of cedar fencing over the entrance, and they wanted something really different," Pace says. "They asked if we could do something with an underwater scene."
First, Pace sketched out the design with input from the zoo. Once they decided on the elements to be included, they had to create the necessary stamps and shapes. For the rocks, Pace used standard FossilCrete stamps. The other shapes were created with new stamps. For example, for the coral in the lower right of the mural, Pace created a stamp using a dried out cactus.
The sea lion was carved out of foam, except for the fin, which was steel so it wouldn't break off. The octopus and coral were made of stucco mesh that was rolled out and kinked into shape. Then the fish, coral and other elements were covered with about an inch of FossilCrete "mud." Coloring was done with FossilCrete's line of stains. All told, about $1,000 worth of materials were used in the project.
The biggest challenge, Pace says, was making the mural realistic.
"It was a surprise to me how difficult it was to put it all together," he says. "We wanted to convey that all the animals are interacting."
The project, completed last fall, took about 120 hours of work, although it lasted about two and a half months because Pace completed the work around other projects and the other duties of running his business.
For more information on FossilCrete, visit www.FossilCrete.com.
Have a good project for a Closing Concept? Contact editor Jonathan Sweet at Jonathan.Sweet@cygnuspub.com or (920) 568-8321.