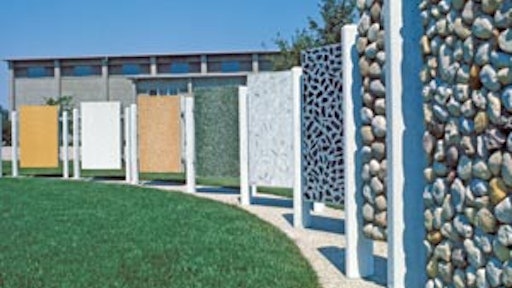 When it comes to architectural concrete, a common concern raised by potential clients is its durability.
This is especially true in the Northern part of the country, where many worry whether or not decorative finishes can survive the harsh winters and annual freeze-thaw cycle.
The answer to that can be found in the results of a 40-year study recently completed by the Portland Cement Association, which shows that architectural concrete panels can survive years of exposure in the severe Chicago climate.
In the early 1960s, the PCA Research and Development Laboratories created a circular outdoor display of 60 panels at its Skokie, Ill., headquarters. In 2001, the display was removed to make room for development of the property, and all of the panels have since been studied to see the effects of 40 years of exposure to the elements.
The display consisted of seven sections, each showcasing a different application including exposed aggregate, form liners, integral color, sandblasting, and grinding and polishing.
All 60 panels were assigned a rating of excellent, good, fair or poor, with 93 percent of the panels receiving an excellent or good rating, even after 40 years.
The integrally colored panels fared the worst, with one panel being rated fair and the other three rated as poor. The fair panel was made with a yellow iron oxide pigment and still retained some of its color. However, the other three — which had been black, green and blue — all faded to gray. According to the researchers, the performance does not reflect modern coloring techniques because only one panel was colored with an iron oxide pigment, which is what many producers use today.
As for the rest of the panels, almost all turned out to be in very good shape, especially once they were cleaned. Most of the defects were due to techniques or materials that have since improved, the researchers said.
Have a good project for a Closing Concept? Contact editor Jonathan Sweet at Jonathan.Sweet@cygnuspub.com or (920) 568-8321.