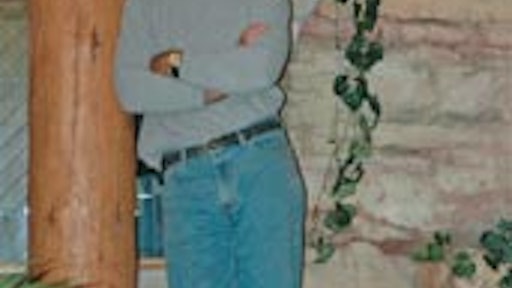 Tom Graf has always been focused on staying ahead of the competition. From the time he started Graf Concrete 11 years ago, he immediately offered decorative concrete, despite there not being a huge demand for it in northern Wisconsin and Minnesota.
"We do more decorative concrete in one week now than we did in our first year," Graf says. "So we had to do traditional concrete work, too. But I knew the decorative work was where my passion was."
From that small beginning, Graf has grown to a $8-million-a-year company, with about half its business coming from decorative concrete. And as decorative concrete has become more prevalent, the company has established itself as a market leader by focusing on customer service, marketing and innovation.
"Right away, we focused on keeping our customers happy," he says. "We've always had a great repeat customer base, so we established an identity and carved out a nice market for ourselves."
Besides feeding his passion, offering decorative concrete also gave the company a way to differentiate itself from the competition.
"We could show customers and builders something they hadn't seen," he says. "People were amazed by what we could do with concrete."
Now, as decorative concrete becomes more common, Graf is continuing to set the company apart by focusing on more demanding applications.
"Stamped concrete is not a niche anymore," he says. "It's mainstream. Prices are really coming down, so we have to look at how we can continue to stand out."
Several years ago, Graf made the decision to split the company into two divisions. Graf Architectural Concrete focuses on traditional work and Concrete Arts installs the decorative concrete. Now, he has recently launched Lifetime Syntegrity, a division that focuses on very high-end flooring.
"We have to stay ahead of the competition," Graf says. "And we only do that by continuing to be innovative."
Research and development
That dedication to innovation is more than empty talk. Graf has done something rare for concrete contractors: He's invested in a full-time research and development department. A few years ago, Graf hired Jack Jorgensen, a former science teacher, to research mixes and come up with innovative ways to work with concrete.
"People have seen a lot of these applications, so now it's about coming up with unique things that we can do for them," Jorgensen says.
A big part of his efforts has been focused on precast countertops, introducing 3-D elements, such as aprons and backsplashes with exposed aggregate. He has also worked with fiber optics and passive light transmissions to create countertops that will stand out from the crowd.
"We can create a starlight effect that really impresses people," he says. "It's all about creating something for people that nobody else has."
Graf estimates that the company spends about $100,000 a year in materials alone on research.
"We learn everything we can about a product before we send it out to the marketplace," Graf says.
Making an impression
With so many people getting into the decorative concrete business, Graf knows the company can't compete on price, especially on smaller jobs. Besides coming up with innovative applications, the company has an extensive marketing program.
Graf, who worked at an advertising agency before starting the company, knew right away that marketing would be important for him to succeed.
Company employees wear shirts with the Graf logo and drive trucks with the company's website and phone number. The company has invested heavily in brochures, guides and other print advertising. And Graf has produced several "giveaways," such as key chains, pens and drink holders with the company name and contact information. Every month, the company hosts box lunches with architects, builders or designers to keep them up to date on everything the company can do.
But the most important part of their marketing efforts was the decision to build a showroom, which opened four years ago.
"When we started out doing this, we could sell a job with pictures and little samples," Graf says. "That just won't get it done now."
The showroom is open Monday through Friday, and Saturdays by appointment. About a dozen walk-ins come by each week, but the employees try to encourage appointments because the average person spends 30 minutes to an hour.
The decision to open a showroom came because the company needed more space, and Graf wanted to make the most of it. The indoor displays feature floors, countertops and more unique elements, such as waterfalls. Graf also made the decision to use the parking lot as an outdoor showroom, demonstrating dozens of different designs and applications, such as acid stains, stamped concrete and integral colors.
"We had to have a parking lot anyway, so we decided to make the most of it," he says. "It's a great example of what we can do. I never expected in my wildest dreams to get as many sales off of the parking lot as we have."
Building the showroom and outdoor displays took a large investment in not just material costs but time away from other projects. Graf estimates there were nearly 50 individual pours for the displays. His only regret is that he didn't do it sooner.
"It's helped us tremendously," he says. "It shows people that we are an established, professional company. A lot of our competition comes from small pickup truck companies or guys doing weekend side jobs. This lets us stand out."
The company is now completing a second floor of offices and meeting rooms that it left unfinished when they built the showroom. Those areas are being used to display some of Lifetime Syntegrity's new floor designs.
"People get very excited when they come out here," says Phyllis York, the company's business development manager and the one who handles much of the showroom traffic. "Clients can really see what we can do and get the feel for it."
Managed growth
After the phenomenal growth of the last few years, Graf now faces the challenge of making sure the company stays manageable.
"The biggest challenge is really dealing with the infrastructure – being able to keep up with the personnel, the accounting systems, the software," he says. "If you want to be successful you have to have the infrastructure to do it."
Sometimes, that means limiting your growth.
"We could sell double the volume we're doing, but we don't have the resources in place to do that," Graf says. "We have to not outpace ourselves. Too many companies go out of business from growing too fast."
The company sticks closely to its business plan and growth goals, which our revisited on an annual basis, as well as in weekly meetings with the crew leaders.
"We have a reputation of quality work and we don't want to endanger that by growing too quickly and doing shoddy work," Graf says.
Growth has also meant having to create systems and delegate responsibility to get the work done, something many contractors are never comfortable doing.
"A lot of contractors don't get over that hurdle," Graf says. "One guy can probably micromanage a company of 15 to 20 employees, but after that you have to delegate or things will fall apart."
The important thing is that an owner be honest with himself about where he wants the company to go and how big he wants to get, Graf says.
"It takes a tremendous amount of effort and sacrifice to grow a business," he says. "You don't have to be huge to be successful, and I think a lot of people lose sight of that."
Company growth has also presented more opportunities for employees. As the company grows, those that want to have been able to move up and take on more responsibility.
"We give them an opportunity to grow," Graf says. "The biggest reason the company has been successful is that we identify the strengths of a person and work to bring out their best."
Those opportunities and Graf's dedication to quality have led to a lot of employee loyalty, York says, with most having been with the company for at least five years.
"The employees really respect Tom," she says. "We see his hard work and dedication and know he cares about us and what we do."