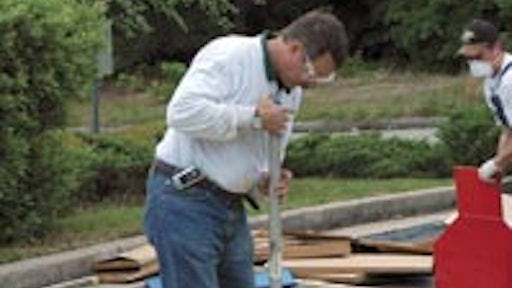 In today's competitive marketplace, finding an untapped niche can be the secret to staying in the game. Particularly for smaller independent rental businesses, offering the customer something he or she can't get elsewhere can be key to survival. So where can you find this so-called untapped niche?
If you've watched HGTV or The Learning Channel anytime in the past couple of years, you might have seen home decorating shows highlighting decorative concrete. According to Clark Branum, technical director for Brickform Products, a company which manufactures decorative concrete products, this emerging trend represents seven to 12 percent of the concrete industry and could rise as high as 20 percent in five years.
To back up a little, decorative concrete refers to an array of techniques used to make the usual gray slab of concrete into something closer to a work of art. Through the use of special tools and treatments, concrete can be made to look convincingly like anything from marble to cobblestone.
And while those in the decorative concrete industry are quick to caution the novice about diving headfirst into an arena best left to the experts, most will admit there are certain products which could provide a potential new revenue stream for your business, provided you obtain the proper training.
An emerging trend
You might not realize it, but just about everywhere you look you can find decorative concrete. Often you might find it difficult to believe that what you're looking at started out with the same basic ingredients as the everyday gray slabs of concrete we have grown accustomed to seeing.
Decorative concrete is growing in popularity for several reasons. For starters, there is the fairly recent trend of "cocooning."
More and more people want their homes to be an oasis, a place to get away from it all, so they're spending more money on beautifying their surroundings. In tandem with this drive for esthetics, today's consumers also want to set themselves apart and have something no one else can duplicate.
Decorative concrete presents an accessible means by which to achieve a beautiful and unique domestic environment. Concrete is less expensive, in most cases, than stone, marble or pavers. In fact, stone or marble are more expensive than concrete by a factor of one and a half to three times. Decorative concrete allows consumers to enjoy the beauty of expensive materials without the cost.
Getting it done
The vast majority of decorative concete techniques are too complicated for anyone but a seasoned professional to handle, but there are some projects which could be managed by a do-it-yourselfer or small contractor, provided they have the right equipment and get the right training. That's where you come in.
If your rental business already rents mixers, screeds, finishing tools, grinders and the like, it might not be a big leap to also start including some stamping mats and tampers. These are tools used to create a unique texture on concrete. For example, with the right stamping mat, you could make a typical concrete walkway into something that looks like cobblestone or flagstone. There are hundreds of stamping patterns available and they range from simple brick patterns to dinosaur footprints.
Another method of turning concrete into artwork is to color it. There are numerous products on the market that can change the appearance of concrete permanently. Some involve integral colors, which are added when the concrete is mixed, and others are stains that work something like those used on wood, meaning they are applied to the surface of already set and cured concrete.
If you are able to create a decorative concrete niche for your rental business, these chemicals could create a lucrative revenue stream in consumables. Other supplies include color hardeners and release colors, sealers, plastic stencils, retarders and special aggregates.
Tools of the trade
To effectively serve the decorative concrete market, the first thing you need is equipment. Fortunately, much of what is used in decorative concrete are items commonly found in many equipment rental yards. Since concrete is just concrete before it becomes decorative, many of the same processes used in traditional concrete work apply when creating a decorative effect.
For example, buggies and concrete pumps are used to place the concrete, followed by vibrators and screeds to finish it. Other items include bull floats, edgers, groovers, hand floats and trowels.
In addition to the above equipment, it might also be helpful for you to stock concrete breakers, grinders, scarifiers, scabblers and shotblasters, not to mention concrete cut-off saws and diamond chainsaws.
Jay Fangman of Colorado Hardscapes notes it's not just concrete equipment, per se, that is used when creating decorative concrete. Other equipment includes compactors, pressure washers, wheel barrows, assorted rakes and shovels, pump sprayers and more.
"I believe that most rental shops rent or sell some of the equipment necessary for the decorative industry," says Fangman. "With the rapid growth of the industry, a rental shop that can dedicate a person and space to that industry and carry all of the equipment and supplies for the industry can be successful if the area will support decorative concrete."
Education is key
Having the right equipment is only half the battle to serving the decorative concrete market. To be successful, you must first educate your staff on the processes involved with decorative concrete. If you can do this, you might have a shot at establishing a profitable niche for your business. That being said, decorative concrete is not for everyone and it would irresponsible to suggest to customers that it can be done easily or on a whim.
"DIYers watch HGTV and see someone doing their own sidewalk. Suddenly they want to rent all the equipment do their own walkway or patio, but then they muck it up and it hurts the industry," cautions Bob Harris, founder and president of the Decorative Concrete Institute in Douglasville, GA,. "Having said that, it can be feasible [for a rental business to get into] if it's done properly. You need to educate yourself; you need training. You should not just jump into this without knowledge."
Fortunately, there are some very helpful resources that do a fine job of explaining what's involved in creating decorative concrete, the equipment needed and the methods to use when creating it. For its part, the Decorative Concrete Institute offers a number of training programs and seminars. For more information, visit www.decorativeconcreteinstitute.com.
Harris notes that with the right training, a rental business that already serves concrete paving contractors might be able to make the leap into decorative concrete as well. The equipment, such as stamping patterns and consumable items such as concrete stains and additives, do not involve a huge capital outlay. The biggest investment would be in the time and commitment involved in getting the necessary training.
Can it be done?
Establishing a new niche for your rental business is no easy task, particularly if the niche you've chosen is an area that is new to you. If your market can support it, however, there's no reason to balk at the idea of becoming educated on a new line of equipment and the processes it is used in.
Harris at the Decorative Concrete Institute cautions rental businesses contemplating getting into this line of business that there are some in his industry who would like to keep the art of decorative concrete left strictly to the professionals.
"There are some professionals who take offense to DIYers getting into it," he says. "They can gripe and complain or they can try to be an agent for change. Either way, you can't stop the DIYer."
Regardless of whether it's a seasoned professional or a weekend warrior doing the work, it looks like the face of concrete has changed forever, so it's up to you to decide if your business can benefit from the trend.
"The design community has been the key to the rapid growth of the decorative concrete industry and with many qualified, innovative installers around the country, that rapid growth can continue," says Fangman. "Decorative concrete is firmly entrenched as a paving/flooring choice within the building community now."