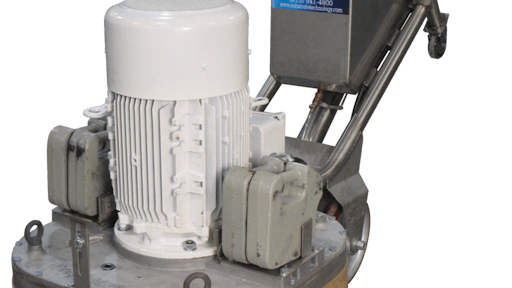 What began as a contractor creating his own processes and machines to complete different projects has grown into a worldwide manufacturer of commercial concrete grinding equipment. Bill Jones formally opened Substrate Technology, Inc., in 1995 after about five years of creating machines for a niche market in Chicago.
"Basically what we have done over the years all goes back to when we were contractors," says Josh Jones, vice president of Substrate Technology and son of the founder. "It is probably the worst environment you can be in, when you are on the job trying to get something done on a tight schedule and everyone around you is trying to do the same thing. That is really what led to the most innovation in the products we have — production and durability."
Jones believes that it is the staff of 12 people working behind the scenes and on the front-lines that help make Substrate Technology great.
Substrate Technology's Equipment
Substrate Technology offers the Prep/Master line of grinding equipment, floor polishers and diamond pads. The diamond pads Substrate Technology offers are exclusive to them, and Jones believes the greatest success is found through using the products as a system. "We've always offered our products in the sense of a system," he says. "With our diamond system and our machines together that's what gives us the great result."
The Prep/Master 3030 is Substrate Technology's best selling piece of equipment. Ideal for polishing projects greater than 10,000 square-feet, it is a 30 square-inch machine with 30 hp motor. "Guys can do 2,000 square-foot projects or 20,000 square-foot projects, and it's not so large that it can't get into those smaller projects and achieve higher production," Jones says. "We do make models that are smaller and one that is bigger, but when it comes to the most all around, versatile machine it is the Prep/Master 3030."
Along with offering a variety of grinding equipment and floor polishers, Substrate Technology completes both domestic and international training sessions.
Jones travels internationally to make sure clients are using the equipment properly. He believes that seeing a picture or reading a step by step guide helps, but it is best to get on the job to understand the way it operates. "The machines are consistent and the diamonds are consistent, but the thing that isn't is the jobsite," Jones says. "Even if it is training in the facility, it gives us the opportunity to show them things you can't do any other way."
The domestic training is a little more structured and takes place at the Substrate Technology facility. Jones will have people come to the facility and show them how the products work.
Why join the CPAA
A founding member of the Concrete Polishing Association of America, Substrate Technology believes proper training is one important focus of the CPAA. "They are all about best practices and education of the people that use products like ours," Jones says. "They formalize what our approach has always been. It has been to the benefit of our company to have proper training, to have people understand how things work and not just try and get something done as quickly as possible."
Along with proper training, Jones believes that the education by the CPAA is beneficial to the industry as a whole. "The goal is to educate people to do a better job and support the premium products and processes," Jones says. "But it's also to elevate the level of integrity or at least not lose anymore ground." 
Companies in this article