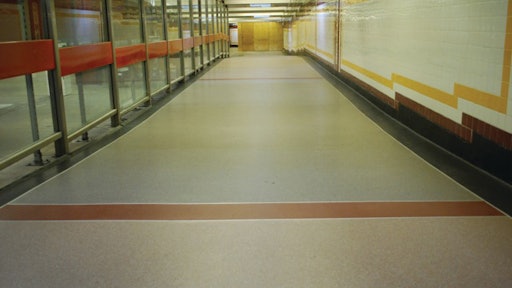 Article contributed by Coatings for Industry
Working in public spaces is always a challenge, but installing new flooring in a major rail hub is particularly tough, especially when your products don't cooperate.
That was the case for Permafloor, a New Jersey contractor charged with rehabbing the floors of a highly trafficked Philadelphia subway station.
The Delaware River Port Authority, flush with economic stimulus cash, sought to upgrade the stations along its PATCO line, the rail link connecting Southern New Jersey and downtown Philadelphia. That meant new wall tiles, glass panels etched with the PATCO logo, new lighting, and even more attractive trash cans and benches.
But the flooring was a priority. In a space susceptible to exhaust from diesel trains, the floors had become dirty and dingy. Decades of heavy pedestrian traffic and other abuse caused significant cracking. The Port Authority's general contractor called on Howard Ackerman of Permafloor to tackle 15,000 square feet of floors and stairs in the heavily used Center City station known as 8th & Market Street.
"I knew this was going to be a complex and more time consuming job than normal simply because this station sees so many commuters daily," says Ackerman, a flooring contractor since 1984. "In fact, we had to do small sections and constantly reroute foot traffic. We had eight or nine different phases, and each took one week."
Like many jobs, the new surfacing involved a series of steps. First, Permafloor patched all the cracks and prepared the concrete. Then, Ackerman's crew applied a trowel-down decorative mortar system - in this case a decorative quartz aggregate.
Following that, Permafloor applied three topcoats. The first two were epoxies and went flawlessly. Then problems arose.
"DRPA wanted a satin or flat finish on the floors, and the project specifications called for a major manufacturer's water-based, two-part polyurethane. We did a small area before realizing the performance was horrible," Ackerman says.
The topcoat didn't cure properly, he says. And when it did, it showed roller marks and streaks. DRPA wasn't happy with the result.
That's when Ackerman went to Coatings for Industry, a Pennsylvania manufacturer that sells industrial coatings directly to application contractors and whose products he'd used many times before.
"Kevin Klotz, the company president, arrived at the jobsite that day, with a drum of their Wearcoat 3015," he says.
Permafloor laid down about 300 square feet of the Wearcoat product, a one-part water-based polyurethane. Then Ackerman went to lunch with Klotz and his job foreman. By the time they returned, the topcoat was dry, and it was what Ackerman called a "perfect satin finish." Total cure time: one hour and 12 minutes.
The project's architect loved the result. The tweed-looking floor under the finish was a hit. The client loved the floor's durability – Ackerman returned 18 months after the installation and it still looked great. It's also very easy to keep clean.
"The Wearcoat is very installer friendly," Ackerman says. "It doesn't leave roller marks, doesn't mess up on you. What it does do is satin out consistently. It hides a lot of undulations in the concrete."
Companies in this article