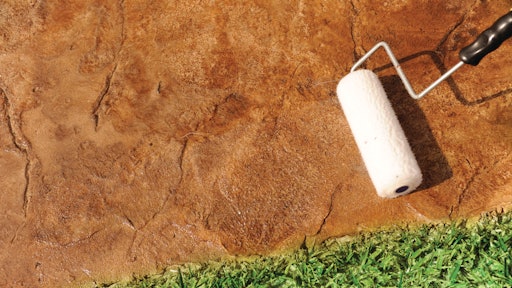 There is no "one size fits all" decorative concrete sealer. Instead, contractors need to weigh a host of factors to determine the best product for the job. It's not an easy process. Just ask Marc Di Zinno with Westcoat Specialty Products. "We have more than 600 products, from waterproof deck systems and epoxy flooring to stampable overlays, acetone dyes, acid stains and water-based stains. But our No. 1 callback for the 9 years I've been with this company is with sealers," he says.
There are three main sealer types to choose from for outdoor decorative applications. You can find both water- and solvent-based acrylic and polyurethane sealers in a variety of sheen levels. Penetrating sealers are undetectable on the surface, offering a natural look. Do not use an epoxy sealer on exterior concrete; they are not UV stable.
Factors to consider
Below are some factors to consider when choosing the right sealer for your outdoor decorative concrete job. You will undoubtedly need to weigh several of these factors and maybe more in your decision-making process. This list is not all encompassing. It is critical that first and foremost you reference your sealer manufacturer's technical specifications and recommendations for usage, performance and application technique before making a final decision.
Sheen. Does your customer want a glossy look, a natural look or something in between? Pair your customer's expectation with an appropriate sheen level. "Sometimes when you put down a high-sheen product it can look out of place and shiny," says Darin Nelson, SealSource International. "Some people want a natural look that blends in with the environment."
Color.  Find out your customer's preference on color. Jeff Wells, H&C Decorative Concrete Products, says generally solvent-based sealers will enhance colors, making them "pop" and add mottling. "If I'm looking at a situation where there is a smooth surface and the customer likes the color that was put down, I'll tend to recommend a water-based product," Wells adds. "As long as the surface is clean, water-based sealers will hold a color closer to the original color you had when you applied that system."
Anti-slip additives. On stamped or textured surfaces, coefficient of friction isn't as much of an issue since those surfaces already offer a level of slip resistance. Flat surfaces are a different story because they can become slippery when wet. Your customer might request a grit additive in the sealer, especially on a commercial or multi-family project. In those situations, you most likely are going to choose a solvent-based sealer because they are more rigid and applied with more build, typically two to three coats rather than two coats of a water-based sealer.
Longevity. When it comes to sealer longevity, the old adage "You get what you pay for" rings true. With solvenated sealers, higher solids content offers longer life but comes with a higher price. Wells says generally a solvent-based sealer will last between 3 to 5 years, while water-based sealers get 1 to 2 years.
"The main thing that breaks down sealers is direct UV. If someone gets partial sun rather than full sun, that sealer might last on the longer end of the scale," Di Zinno says. "A contractor should communicate in writing to the customer that they should have someone come out and look at their concrete to determine if it needs sealer re-application every 3 to 5 years."
Moisture. There are some moisture factors you can control and others you will need to work around. A sprinkler system, for instance, can be turned off. And you can tell a homeowner or property manager to avoid watering grass and plants around the concrete before, during and after a sealer application. Check weather reports for rain and reschedule a sealer application if it will interfere with your application and curing plans. "With a water-based stain, there is a timeframe after a contractor puts it down in which the surface needs to stay dry or you will have whiting or blooming," Nelson says. Solvent-based sealers can also be negatively affected by water. Depending on how well moisture factors can be controlled, contractors might want to choose a sealer with a faster cure time, Nelson adds.
High humidity and moisture in the concrete take a little more consideration. Water-based sealers are more sensitive to humidity, which will increase cure time. However, water-based products allow the surface to breathe. "If there is a moisture issue, a solvent-based product is more likely to lose its adhesion versus a water-based product," Wells says.
Temperature. Sealer manufacturers recommend application between 50 and 90 degrees F. "The sealer needs to be allowed to cure within that temperature range, too," adds Di Zinno. Anything outside of that temperature range can result in failure. Di Zinno says contractors working in environments on the high end of the temperature scale can do a few things to increase success with a sealer, such as keeping the product in the shade and applying it in the early hours of the day. "Water-based sealers are incredibly user friendly, so I recommend those a lot if a contractor is working in the upper end of those temperature guidelines," he adds.
Wind. Solvent-based sealers are more susceptible to wind than water-based sealers because wind will speed up solvent flashing. "If there will be 10 to 15 mph winds, it's probably not a good day to put on a sealer," Wells says.
Salt. Solvent-based sealers tend to hold up better on surfaces that will be exposed to de-icing salts and chemicals better than water-based sealers. Penetrating sealers are a good choice for these environments.
At the end of the day, if you're still unsure, remember you are not alone. Call your sealer manufacturer for advice. They are all willing to talk through your client's desires and your application situation to recommend the best sealer for your project.
Companies in this article