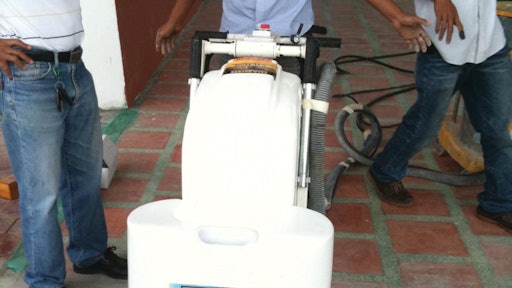 Fifteen hours, Chicago to Hong Kong, China. Twenty hours, Chicago to Phnom Penh, Kingdom of Cambodia. Fourteen hours, Chicago to New Delhi, India. Eight and a half hours, Chicago to Frankfurt, Germany.
Many friends and colleagues often comment about my travel and how awful it must be to sit on an airplane for so many hours. My attitude is one of gratitude. As a training technician for a manufacturer of concrete polishing equipment and accessories, I am thankful to have the privilege to help customers in their polishing endeavors wherever in the world they may require service. There are people all over this green and blue marble who have a need for polished concrete. Give me a project where low-maintenance, attractive shine and low life-cycle costs are desired of their flooring and I will book the ticket to assist.
Worldwide there is a need to reduce costs and conserve natural resources — "Get on the Green Train or get run over by it" as the saying goes. Polished concrete satisfies this need on most fronts. Sure, chemical attack is not something polished concrete can protect against, but any other abuse one can think of is no match for a properly processed and maintained concrete floor. And don't forget to consider the cost of doing business anywhere in the world along with reduction of water use, labor and capital investment.
Polishing in Thailand
I recently had the opportunity to consult and train on a project in Bangkok, Thailand. The facility was a new manufacturing plant that required polished concrete in its administrative offices while a topical screed was needed in the manufacturing area due to chemical assault as a part of manufacturing their product.
While there I was struck by the similarities and differences of their ways of getting things done. Labor as a cost component of any job in Southeast Asia is quite low when compared to labor costs in the Western World. As such, hand grinding and polishing is commonly used to complete an entire project of 1,000 square feet. This is totally different than what North Americans are used to, but it is understandable since a good laborer in Bangkok costs $10 USD per day.
The purpose of my visit to Bangkok was to offer training on a new machine that would get the laborers off their hands and knees and polish the concrete faster and better than any hand grinder could. Upon presentation and training on the machine, the looks on the workers' faces were not looks of relief that they could now stand to do their work but actually looks of wonder. Exposing them to the new technology of productive machinery was very gratifying.
Exporting Western, mechanical technology to provide a green, low-maintenance product is important to the future world supply of natural resources and something I am thankful to have the opportunity to provide. This is why I always accept an invitation to offer concrete polishing training when it is needed, wherever in the world that might be.
Companies in this article