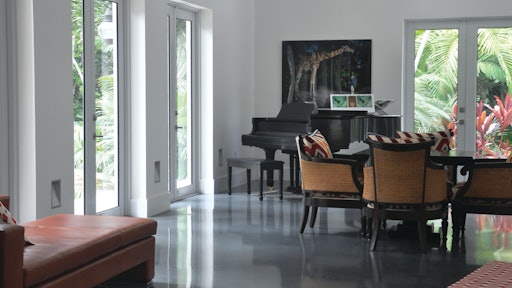 Polished concrete continues to gain popularity, especially in the remodeling wave that has followed the economic downturn. This includes floors in many older buildings, and contractors like me have learned to deal with a wide variety of bad slab conditions.
A recent house remodel I worked on was in a 55-year-old, luxurious, two-story residence in Coral Gables, Fla. It had a 7,200-square-foot footprint and had cost the owner $6.5 million. Its floors were terrazzo, then marble, then granite. It was a mess.
The answer to giving these old floors a new look was to overlay the existing floor with Rapid Set TRU Self Leveling Overlayment. The owner gave me a sample of stained glass to match for the floor color, but I couldn't match it on my own. I sent it to AmeriPolish, and they came up with a combination of AmeriPolish OS Integral Color and AmeriPolish OS Dye to make the match. The AmeriPolish OS line is formulated specifically for use with a polishable overlay.
First, I shot-blasted the old surface down to good, solid substrate and did moisture testing. The slab had moisture problems, so I applied a moisture mitigating epoxy. (At the time the job was started, there was no available epoxy primer from Rapid Set.) After addressing the cracks and joints, I flooded the floor with MAPEI Primer E epoxy primer with no sand, and a second coat with sand. Since the client wanted no joints, I then poured TRU mixed with AmeriPolish OS Integral Color in Black at 1 percent dosage throughout the entire 3,650-square-foot down stairs area.
I allowed the TRU to cure over the weekend before grinding. I used HTC SF 40 soft bond matrix diamonds to get through the skin of the TRU layer. TRU is designed to form a tough skin as it cures. Then I used a KGS 11-inch segmented disc for polishing, a new type of resin bond that's only been available for about 3 years. It features a high diamond density which results in scratches that are very close together.
The second part of the color treatment was an application of AmeriPolish OS Dye in Blue after the 200-grit grind. This completed the color match, resulting in a cool steel grey that makes warm colors in the décor pop pleasingly.
Once the dye fully absorbed I densified heavily, deliberately over-applying and keeping it soaking wet for 35-45 minutes. Then I cleaned it with an autoscrubber to prevent whiting. Even lithium silicate can white out if over-applied.
Once densified, I polished the floor up to a 1,500-grit finish; gloss meter readings were in the high 70s.
In the fully decorated residence, spacious rooms with clean modern lines and plain white walls seem full of color because of the floor. Rich reflections of the exterior gardens complement the brightly colored rugs and furniture. This perfect gray floor is a lustrous mirror of everything around it.