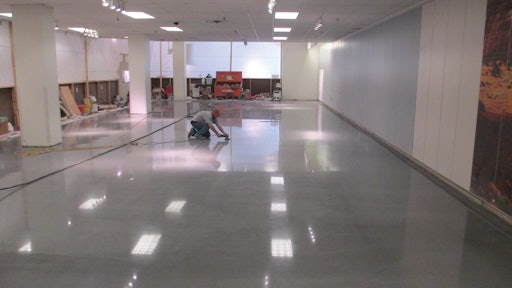 I am one of the contractors working on the massive J.C. Penney remodel program that is rolling across the country. I deal with a wide variety of slab conditions. Some floors have a lot of history and bear the scars to prove it. But all of them, new or badly used, need to be finished to the same high standard. In some of these older malls, the floors generally have a lot of mastic, there is trench patching and they are in rough shape.
Artistic Surfaces completed 3,500 square feet of polished overlay work at the Levis Shop in a Jacksonville, Fla., J.C. Penney, which has one of the largest Levis men's departments in the country. I started the work by scraping off glue and some damaged underlayment with a tungsten-carbide tool on my grinder. I ground the floor with 25-grit diamonds. The concrete was prepped for an overlay application with epoxy primer and sand.
Then I poured out the floor using CTS Rapid Set TRU Self Leveling Overlay, colored with AmeriPolish OS Integral Color Black at 1 percent dosage. I generally let TRU Self Leveling cure at least 12 hours, often 24 or more. The AmeriPolish OS System is designed to be used with a polishable overlay and approved for compatibility by CTS Cement for use with TRU Self Leveling.
In the first step of the polishing process, I ground off TRU's polymer skin with 25-grit diamonds. Then I began a complete grind and polish sequence from 40-grit to a 1,500-grit finish.
I applied AmeriPolish SureLock densifier after the 200-grit grind, then continued up to 1,500. The gloss meter readings were in the high 70s. The finishing touch was, of course, strong stain protection with AmeriPolish SureLock Stain Protector. Stain protection is an absolute requirement to protect and preserve any polished concrete floor.
Key Products and Equipment
CTS Cement Rapid Set TRU Self Leveling overylay; AmeriPolish OS Integral Color, SureLock Densifier and SureLock Stain Protector; KGS Diamond Group 11-inch RD segmented resin-bond discs; HTC Professional Floor Systems metal-bond tooling; HTC Professional Floor Systems grinders.
About the author
Sam C. Godbey is the director of operations in the decorative concrete division at Artistic Surfaces, Pompana Beach, Fla. The company specializes in cementitious flooring options, including polished concrete and terrazzo, for commercial and residential clients.