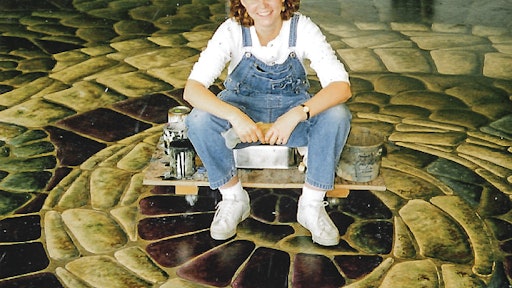 Ludington, a small Michigan town along the north eastern shore of Lake Michigan, is where John Stapleton decided to open his own small restaurant — it was time. He had worked as a chef for two of the larger restaurants in town and also a grocery store chain, preparing hot food for customers on order. He says he was fired from that job for being too customer oriented — hence the decision to open his own place. That was in 1998 and "Chef Johns," the name of his restaurant, has been serving the area ever since.
Stapleton rented a storefront building space that semi-trucks once backed into, so he knew the concrete floor was thicker than usual. The last owner, a gymnastics studio, glued grass carpet to the floor, making it impossible to know the condition of the floor, but the concrete turned out to be in good shape.  
Stapleton didn't really have any ideas about how the customer side of the restaurant should look. About this time he met Laurie Carey and her friend Shirley Reed at a local entrepreneur class. Carey is a professional local artist who works in several mediums and has done a lot of work in the area. She was interested in doing concrete floor artistry so she volunteered to do the work at no charge if she could have artistic control, something Stapleton readily agreed to. Carey and Reed working together designed the wall spaces and the bathroom and also did the work. They rounded up the materials they needed from garage sales and other places. The result is unique, everything coming together to provide a nice atmosphere.
The restaurant opened with three tables from Stapleton's house, allowing 15 customers at one time. Later on, when he added another bathroom, the health department permitted the occupancy to go to 50 people. So customers and friends brought in their old dining room tables, chairs, and table cloths. Nothing matched and that became part of the charm too.
Preparing the floor
The first challenge was to remove the grass carpet left by the previous occupant of the building. Stapleton ripped it off the floor and planned to grind off the troweled adhesive but Carey asked him not to, thinking that it might help make the joints between her paving stones look dirty and more natural. So the only preparation ended up being the removal of the carpet and anything that prevented a flat installation. Working alone, Carey did the rest of the work.
Doing the work
This project was Carey's first attempt at faux decorative concrete work and she was free to design what she wanted. She envisioned a three dimensional large spiral paving stone pattern on the approximately 1,000 square feet of floor. To install the work she built a small platform on wheels about 4 inches off the floor, big enough to hold herself and her cans of paint. With this she scooted herself around and add color to the floor. Because it was a voluntary project being done for a friend, she was able to work during off-hours — no workers to walk on her fresh paint and all areas being accessible.
Carey decided to use regular water-based interior latex house paint to do the work and she recalls painting six colors to achieve the three-dimensional effect. Work started by chalking the pattern on the floor. So she painted over the chalk marks and left over carpet adhesive, going over each area several times adding different colors until she got the look she wanted.
Final seal and maintenance
Ideally, floor traffic should walk on the floor maintenance system and not the decorative floor finish. Stapleton was concerned that foot traffic would quickly wear through Carey's work. He also needed a sealer that didn't soften or absorb oils from food spills. So he sealed the floor with water-based urethane. His regular maintenance involves sanding the floor every year with 300 grit sandpaper and applying a new application of urethane. This regular maintenance has preserved the original work and the floor looks as good as it did sixteen years ago when it was installed — no significant amounts of spalling or scaling finish.
A word of caution
Water vapor naturally moves from the sub-soils under concrete slabs through the concrete and into the air. This can be prevented by installing vapor retarders between the soil and concrete at the time of construction but it's doubtful one was included when this floor was placed in the mid 1970's. Using non-breathable sealers and products on these floor surfaces can be risky, resulting in discoloration and sealer failure. In rare cases trapped water vapor can even cause concrete to scale. However, products allowing water vapor to pass through, while not allowing liquid water to penetrate, helps to prevent these kinds of problems. Still, concrete doesn't always follow the rules, and this can have both positive and negative consequences. Before attempting a decorative floor project it's good practice to be sure the products being used are breathable.
The restaurant today
Stapleton sees new customers frequently argue about whether the paving stones are real or not. Many people lean over in their chairs and feel the floor to be sure it's flat — feeling is believing. People also have a tendency to step on the center of the large stones so their feet don't catch in the joints; Carey's pavement is very realistic.
If you have the opportunity to visit Ludington, be sure to stop at Chef Johns for breakfast or lunch. Check out Carey's work, and the homespun creativity that provides great atmosphere. Be sure to look at the bathrooms too, you'll never see anything like them.
Be sure to greet John Stapleton also, he can be found in the kitchen area where he makes ten different types of bread each day, pastries and cinnamon rolls, and soups which he is locally known for. Both Carey and Stapleton are recognized for their artistry in the Ludington area.