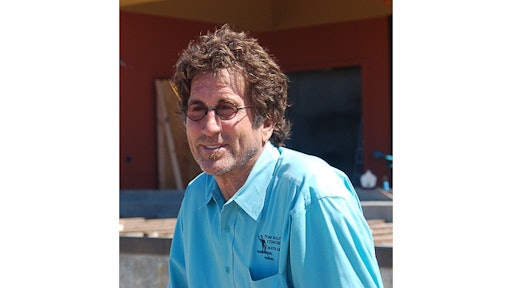 CC: Given the custom nature of decorative concrete work, what types of projects are your customers asking for?
T. Ralston:
Concrete interior floors have been a good selling product over the last five to seven years. Here in Northern California, the interior floors have radiant heat in the floors. We are pouring concrete over the top of the heating elements and finish these floors in a variety of ways.
We've been using our Monet hard trowel finish, a process where we use a misting of water and use small pool trowels to get a lot of color movement and variegation. It makes the floor look almost like an oil painting.
Sand wash finishes have also been popular. We don't like to do this in the interior spaces, but we do a light sanding with a floor machine to expose the sand and it looks more organic.
CC: What colors seem to be the most popular?

T. Ralston: Overall, I'd say the majority of people are looking for earth tones. These are colors that offer a calm, aesthetic effect. Earth tones are in. However, there is that percentage of folks who want something out of the norm, something flashier – blues, greens, reds.
Floors seeded with glass are also becoming more popular.
CC: One of the largest issues facing the concrete industry is finding qualififed laborers. Can you discuss the skill set required to be a decorative concrete contractor?
T. Ralston: Being a concrete contractor in general is a risky proposition because we're all working with a perishable product. And when you throw decorative components to the mix, i.e. peculiar textures, blends of colors, or acid stains, the risks for this perishable product rise exponentially.

It's imperative the skills and craftsmanship of the people working for you are really high. Craftsman need to have great hand-eye coordination, a great feel for their craft. It's an art to try and predict how much concrete is going to retard or accelerate and you have to try to counter that with chemicals.

That's not to say being a decorative concrete contractor is the only area that require a skill set. There are lots of skill levels in the concrete industry. If you ride on a machine, or run a laser screed, those are skill sets too.


CC: If a contractor was looking to expand into the decorative concrete segment, what advice would you offer for success?

T. Ralston: Make sure you are prepared! It is a different animal. Lots of concrete contractors test the waters of decorative concrete and then get out after they see how difficult it is . . . how much money is lost trying to hone in the skills; how fickle and demanding clients can be once the "decorative" component is added. Performing decorative concrete work requires us to have the best finishers and craftsman we can get on site. You need a crew that are artfully minded and have the skill set to address the various challenges that come up on a daily basis.

CC: Polished concrete continues to be popular. Do you see this trend continuing in the future?

T. Ralston: Absolutely. Polished concrete floors will continue to be popular because it's a cheaper way to produce a floor with low maintenance. The end result looks great and organic. It also looks modern and something that might be considered a "funky" floor. Even if it has some imperfections, those are "cool" imperfections.

CC: Look into your crystal ball, what do you expect to see in 2015?

T. Ralston: As far as Tom Ralston Concrete is concerned, I see a lot of opportunity for interior floors. It's a hot market and it's in our wheelhouse. We're good at designing and building, backyard patios. I just wrote a book, "Sculpting Hillsides with Decorative Concrete." We have clients who seek us out for this type of work.
I see our company continuing to grow its efficiencies and continuing to develop the processes and procedures we have in place and some new, which we are developing so our products can be consistently excellent. We will continue to hone in on what has made us good and what makes us better.
From an industry perspective, we'll continue to make gains with products that are better and stronger. I think it's the general call in the industry.
But the big, hot ticket item, is trying to make a cement that does not require burning carbon or fossil fuels to produce. If we could make a "clean" cement that doesn't produce off-gassing and be green, it would be a billion dollar seller. That's where the thrust is for some of the brightest minds in the industry. It has the most financial gain. Remember, concrete is the number one building material in the world.
There will be continued developments in different admixtures. I'm experimenting with some different mixtures and designs myself. We're all developing innovation at different rates of speed, but we're moving in the same direction. Concrete that is less prone to cracking and deterioration, less prone to curling and less prone to all the other problematic aspects that concrete presents.
Concrete contractors should get involved with their industry associations. The American Society of Concrete Contractors (ASCC) has got a wonderful handle on what is needed for the future. And one of those things is networking. Together we become stronger by sharing information (which is easier when you are sharing) with people who are non-competitors. It allows you to make progress in your company and allows you to share things you have done with this fickle product called concrete. This process also helps to develop the trends in concrete. After a while, you keep doing things differently that work and look great. The more exposure you get and the more people see these new twists on products — and like them — the more likely you are to start creating a trend. Bascially, you're becoming the trend setter!
If we can continue as a group and employ principles that will help us grow and understand what we are really doing, we will have a better capability of getting some new things that will become trends. It's going to be an industry wide effort and effect.

On a related matter, I'm always asking – 'What are your internal processes to document the information you discover on a particular pour? How have you been noting that and what can you learn from it? Use those principles to become more intelligent and knowledgeable. You see little pockets of this throughout the industry, and we just become better and better.
Ed. Note: Tom Ralston is a third generation, award winning concrete contractor, based in Santa Cruz, California. He has a Bachelor of Arts degree from the University of California at Santa Cruz California. Ralston was inducted into the Decorative Concrete Hall of Fame in 2011. He has been a frequent speaker at the World of Concrete and his newest book is "Sculpting Hillsides with Decorative Concrete" with Schiffer Publishing.Visit http://www.tomralstonconcrete.com/ to see more of his work.