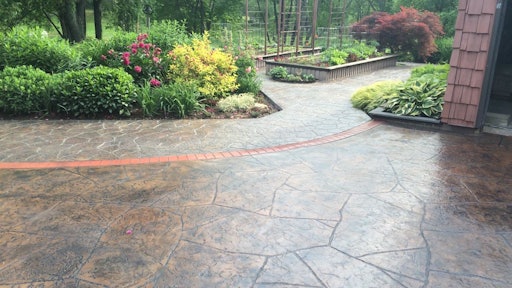 What if you could offer and deliver a pattern design replicating Ashlar or flag stone without having to tool out the noticeable raised grout joints that form when two mats are butted together? That type of technology would obviously save on the labor required to correct the look of those noticeable butt joints and it certainly would enhance the overall look of the finished project.
Proline first demonstrated its new Seamless Pattern Stamps (SPS) at the World of Concrete 2016, and has since been perfecting the product, building manufacturing equipment to mass produce the product, and working with distributors to educate contractors on the application of the product.
"Our seamless texture skins have been a popular product because there's no grout pattern to match and it allows contractors to create a random seamless texture design by simply rotating the stamp when you move it," notes Tyler Irwin, Proline sales manager. "We wanted to provide the same type of capability for pattern designs, allowing contractors to deliver a seamless stamped pattern option as easily and as quickly as they can with a seamless texture design."
For the past year Proline has been tweaking the SPS product to make them lighter and more durable, as well as building the production equipment required to mass produce the 4-by-4 foot stamps.
"We've built our business on being able to deliver a quality product in a timely fashion," Irwin says. "If a customer orders a basic set of stamps today, we'll ship them out the next day."
Fifteen to 20 years ago, a basic set of decorative stamps consisted of six 2-by-2 foot stamps. Over the past 10 years, stamps have increased to larger sizes, allowing contractors to complete projects faster. Today, stamps are now available in 4-by-4 foot dimensions that again increase a contractor's productivity. Larger stamps weigh more, which is why Proline has been working with high-quality urethanes to reduce the weight, while maintaining the durability of the new SPS product line.
"We've basically spent the past year working out our entire manufacturing system in order to deliver the right product," Irwin notes
Making the Right Product Work Right
It's easy to understand why the development of the new SPS product has taken as long as it has; it's all about delivering a consistent quality job each and every time the stamps are used.
The stamps are designed to be overlapped 6-12 inches to create a seamless pattern. The embedded magnets in the overlapped stamps register and lock in place. Even when the stamps are rotated a quarter turn to create a random pattern, the magnets register to maintain a seamless design.
"Whether it's the seamless texture designs that have no grout lines, or the seamless pattern design with grout lines, you cannot tell where the two stamps meet," Irwin says. "With conventional pattern stamps, even with the best work of tooling out the excess concrete that squeezes out between stamps when butted together, it's still noticeable where the stamps meet.
"We always strive to develop products that will emulate natural stone and the SPS technology advances the look and feel of the final project," Irwin adds. "And the ability to create random stone patterns by simply rotating a stamp a quarter turn adds to the unique and authentic design that can be created."
Standard pattern stamps typically offer four to five stone pattern options. Proline's SPS magnetic technology creates the possibility of 30 different stone designs simply by rotating the stamps to create all the various designs. Using a different pattern design of the same stone can double the options of how the final project looks.
For commercial and residential decorative concrete contractors, the SPS technology could very well make their old stamps obsolete by delivering a higher quality project and much higher profit margin simply be reducing the labor required to correct grout joints. It allows contractors to produce a high-quality stone design in same time it takes to produce a seamless texture design.
Field Tested
Proline knows its products are only as good as the market says. Enter Jason Geiser, owner of Deco-Crete Supply, an Ohio decorative concrete products distributor who provides demonstrations and training on the industry's latest offerings.
Geiser started working as a decorative contractor in 2000. He transitioned to distributor in 2007, using his contractor experience to field test and demonstrate new products at his Orrville, Columbus and Cleveland locations.
"I've poured over a half million yards of decorative concrete and 75 percent of my employees have field experience," Geiser states. "My front parking lot is our testing grounds. We're always testing and demonstrating new products and techniques."
For Geiser, the time saved and the improved quality produced are the two primary benefits of the SPS product line.
"With the overlapped grout lines locking into place, that alone is going to save so much time on a project by eliminating cleanup of a grout joint," he states. "And, I've been in this business long enough to where I can pick out a pattern just by looking at a finished project. I can't when the seamless pattern stamps are used."
Time saved and improved quality achieved with the 4-by-4 foot stamps enables contractors to complete more work in a given day.
"If you're using standard smaller stamps, you really have to plan out your pour, and you'll probably have to break up a project into several pours," Geiser says. "With the larger stamps and the seamless pattern capability, you can keep moving at a much faster pace without worrying about cleaning up joints.
"We have contractors who have rented the stamps we have for testing and demonstrating, and a lot those guys are ready to go when the final refined stamps are introduced to the market," Geiser says. "We have contractors and their customers who like seamless texture finishes and we have contractors and their customers who prefer a stone pattern, like flagstone. This product will help contractors meet the decorative concrete industry's stone pattern demand in a cost-effective way that's good for contractors and their customers."