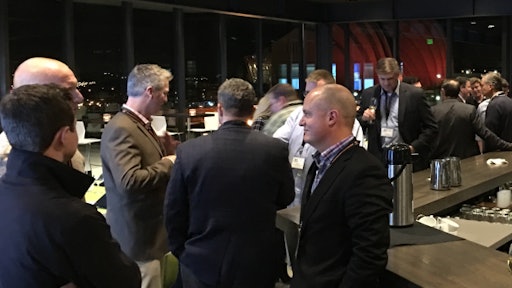 The Decorative Surface Solution Group (DSSG) welcomes new member suppliers United Terrazzo Supply and Laticrete to the organization, increasing its coverage across key product areas for members.
"DSSG continues to attract best in class suppliers and we are pleased to welcome two more - industry leader in the green flooring and façade market, Laticrete, and in the terrazzo supply business, United Terrazzo Supply Company, to our elite group." says Curt Thompson, President and CEO of DSSG. "These businesses are both long-time family owned businesses that have a special dedication to their products, customers and employees. We think they bring a tremendous amount of value to the DSSG membership."
Market Continues to See Strong Growth in the Decorative Flooring Category
The Decorative Surface Solutions Group (www.DecorativeSurfaceSolutions.com) is heavily focused on the rapidly expanding architectural concrete and decorative flooring solutions market. DSSG members typify top quality flooring contractors which include polished concrete, concrete topping slabs, terrazzo, epoxies, and other hybrid flooring choices. DSSG's contractors are hand-picked by the Board of Directors and are considered the elite-of-the-elite. That's why members get special access to key supplier member executives as well as their in-house technical gurus. Those connections combined to form a very powerful network to learn from, enjoy mutual growth, and participate in charting the course of this market segment.  
"We joined DSSG because we believe in the mission of the organization," says Eric Pucilowski, Director, Specialty Products Division at Laticrete International, "and want to be a part of their network. DSSG is a very strategic organization and we like the thoughtful way they approach building relationships with members and suppliers in a way that's personal and mutually beneficial."    
While focused on bringing some of the most innovative and important suppliers to together, DSSG is also focused on and very much set up as a group buying organization combining the benefits of buyer aggregation and loyalty to the supplier partners. "We know there are direct business advantages to suppliers and to the contractor members," notes Mike Scanlin, CEO of United Terrazzo Supply. "When we work closely together we provide access to latest materials and techniques that allow contractors to go after new business. In turn they reward us with loyalty and additional growth for us as well."
"Our focus is identifying and developing meaningful relationships with the top players in the decorative flooring contractor world," says Mike Price, CEO of Bay Area Concretes during an interview with Construction News Tracker at World of Concrete in Las Vegas (view interview here http://bit.ly/2jEYp43). "BAC is a founding member of DSSG and we are thrilled to be a part of bringing together these seasoned business professionals from a cross section of specialties within the decorative flooring market. We'll work with the rest of the membership to identify and recruit the right contractors in territories and areas where we want to establish market coverage, giving us national reach and little competition amongst our members."
If you would like more information about the Decorative Surface Solutions Group, please contact Curt Thompson at (925) 964-6377 or email him at ct@dssgteam.com.