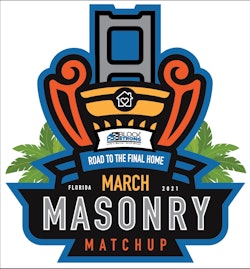 Block Strong
What is the most popular concrete block home design in Florida? The coastal-inspired look or perhaps the classic Mediterranean? Block Strong wants to know and is letting the public decide during "March Masonry Matchup."         
While concrete block is known for its strength and durability, many homebuyers might not know it is also one the easiest construction materials to design with. It comes in a variety of shapes and sizes, all just right for the latest in design and style.
Starting March 3, the sweet sixteen concrete block home designed will begin the "road to the final home" in a bracket-style tournament. Visitors will be able to vote for their favorite design with the most voted choices advancing to the next round. Visitors are welcome to vote as often as they like.
Participants are able to vote online at the BlockStrong.com/masonry-madness-matchup website or on Block Strong's Facebook and Instagram pages.
Where to Vote
Each round will last one week. Winners from one week advance to the following week until the Masonry Matchup Champion is crowned on Wednesday, March 31. The 16 entries in this year's program were pre-selected by the Block Strong social media team.
The March Masonry Matchup bracket challenge is hosted by Block Strong. Block Strong is an awareness program designed to help consumers, construction professionals, and designers understand the vital link between quality building materials and the health and safety of those people living in the homes and structures that they design and build. Block Strong also serves as an information source for aiding prospective homebuyers as they go through the various steps of the home-buying journey.