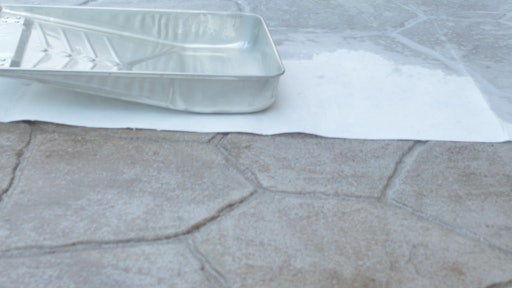 Nox-Crete
The dog days of summer are back, blessing us with ample sunlight hours. If your concrete patio has seen better days, now is the perfect time to give it a makeover.
Sealers past their prime can show up as chalky, cloudy or blistered. If you're hoping for a quick facelift, the temptation might be to simply reapply a sealer. However, for the best, longest-lasting results, you need to strip the old, worn-out sealer and start fresh.
Old School Methods
Three of the most common methods for stripping old sealer include solvents, stripping gels and hot water pressure washing. 
Solvent removal involves mopping xylene onto the surface, allowing it to soak into and dissolve the old sealer, and then mopping it up.  While this method is effective at removing old sealers, the practice has not stood the test of time. Xylene is flammable, has been identified as a potential carcinogen, and poses a danger to pregnant women. In addition to these risks, spent solvents used to remove old sealers (and any rags used to clean it off the surface) are considered hazardous waste by the EPA and must be disposed of by a licensed hazardous waste disposal company.  
Another established technique for taking off worn sealers is achieved by applying a coating stripper with gel-like consistency and distributing it with a mop or squeegee. Once the substance is allowed to settle in, it will soften the aged coating. If your surface is smooth, you may be able to use a tile scraper to remove the softened coating. However, if the concrete surface is stamped, textured or exposed aggregate, you'll likely have to use a scrub brush and a decent amount of elbow grease for successful removal.
Hot water pressure washing from a wand or orbital walk-behind pressure washer has also been a reliable method for some looking to lift off their old concrete sealers. However, this method may not guarantee that the old sealer is removed in its entirety. In addition, unless you have access to a hot water pressure washer, it may require costly equipment rental fees. This method also puts water back into the concrete surface, which is not ideal if you're looking for a quick turnaround to begin resealing.
While these "old school" options are still viable, two new methods have recently been developed using biodegradable solvents that do not create harmful waste or require scrubbing, specialized equipment or extended dry times. 
Biodegradable Solvents
The first method uses slower-drying biodegradable solvents that soften worn-out acrylic sealers so that they can be easily removed with a standard pressure washer. This application method is straightforward and doesn't require special equipment other than a pressure washer. With lower costs for the product and complete removal achieved within one application, this method is also an economical choice.
The second method incorporates a cellulose blanket that is laid out on top of the worn-out acrylic sealer. This is followed by the application of a blend of fast-drying, biodegradable solvents that quickly dissolve the acrylic sealer, allowing it to be absorbed into the blanket for quick and easy removal. The "blanket method" is environmentally friendly, making it safer than older, more hazardous methods.
Water- vs. Solvent-Based Sealers
Narrowing down your sealer selection involves choosing between water- or solvent-based versions. Water-based versions are a better fit for indoor projects because they are less odorous than their solvent-based counterparts, require less drying and clean-up time, and are not as flammable. Solvent-based sealers offer the ideal durability and appearance requirements for outdoor projects.   
Keep a Foothold: One downside of acrylic sealers is their tendency to become slippery when wet. An "anti-skid" additive in the form of polypropylene, which floats in the surface mixture, can be applied to your sealer to counteract this effect. Adequate mixing is required to ensure proper dispersing. A second anti-slip option is aluminum oxide, which is broadcast across the sealed surface and then back-rolled for adequate surface coverage.
Due Diligence: Acrylic sealers vary widely depending on how they are formulated. Differences in the acrylic resin, molecular weight and solvent composition can impact penetration, adhesion and breathability. The amount of solids present will vary from sealer to sealer, as well—and more does not always mean the product is better. It's also important to be aware of the acrylic sealer's resistance to yellowing and chalking, which can vary widely between products.
To ensure you've got the best sealer for your project, combine references on the product's performance and manufacturer's reputation in the field with advice from a sales technician. Avoid the urge to buy solely based on the price point; you can't be sure what the manufacturer might be sacrificing to offer bottom-dollar pricing. 
RELATED:
Top Applicant
Make the most out of the time and energy you've invested in stripping off your old sealer by applying the new coating in a technically precise manner. Here are a couple suggestions:
Don't Cloud Over: Moisture vapor transmission (MVT) refers to the breathability through a coat of sealer. Poor MVT can result in cloudiness or fogging between your concrete and sealer, commonly referred to as "whiting." When it comes to sealer application, less is truly more. While it might be tempting to apply one thick coat and have the job finished, taking the time for two thinner applications is a much better alternative, allowing for maximum breathability.
Expert Advice: It's important to invest the time and attention to reading the application methods the manufacturer of your sealer suggests. Following these steps correctly ensures that you've got the know-how to maximize the appearance of your concrete surface and protect it from elements of weather, surface staining from oil, grease and other substances.
With these helpful hints at your disposal, stripping off your old sealer can be quick and effective—and adding a fresh replacement can provide long-lasting protection for years.
Marty O'Mara is the decorative market segment manager for Nox-Crete, which offers chemical solutions to concrete problems, including tilt-up construction, precast concrete, cast-in-place, poured wall foundation, flooring and decorative concrete.      
This article originally published on July 25, 2019.