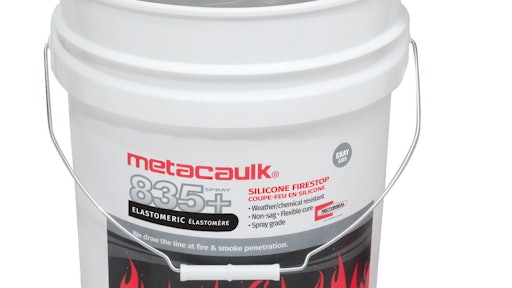 The Metacaulk 835+ Spray is one of the construction industry's most quick-curing and resilient silicone-based firestop sealants with elastomeric characteristics that aren't compromised by seismic movement, rainfall, weather and other jobsite conditions.
The easy-applying Metacaulk 835+ Spray is the perfect balance between spray-ability, pot life and flow-able viscosity. It outperforms the competition with its non-sag characteristics, resiliency, 30 to 60-minute tack time and quick 24-hour cure time (depending on ambient temperature). It's manufactured in a concrete-matching gray color and is available in a five-gallon (19-liter) pail.
Metacaulk 835+ Spray carries a Class I W-rating and is tested in accordance with ASTM E1966 (UL 2079), ASTM E2307, ASTM E90 and ASTM E1399. It meets Type S, Grade P, Class 25, Use NT, M, G, A, O.  Metacaulk 835+ Spray can be applied on any interior/exterior curtain wall joint. 
After the curtain wall joint is prepared and filled with mineral wool, the sealant is applied with an airless sprayer and features a non-slumping formation with a delayed reactivity onset for improved workability. Applications don't require priming on most building materials. Metacaulk 835+ Spray is tested and proven to seal joints from fire and smoke.
Other benefits of the Metacaulk 835+ Spray include:
Future product developments will go beyond curtain wall and include other joint applications
Recommended spray equipment, tips, cleaning and instructions are available on the RectorSeal website
Shelf life is 18 months when stored in a clean, dry, temperature-controlled area
Designed to last the sustainable lifecycle of the building when applied per manufacturer's requirements
Request More Information
Fill out the form below to request more information about
RectorSeal Adds Spray Version of Metacaulk 835+ Elastomeric Firestop Sealant