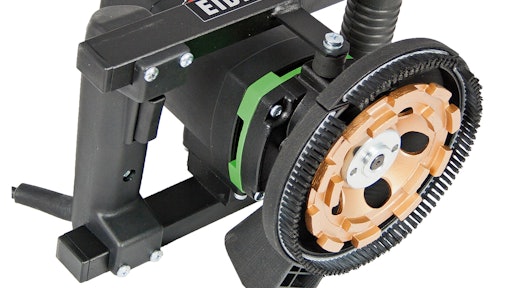 CS Unitec's EBS 125.5 D grinder, with its rugged 14.5 amp motor, is one of the most powerful 5" grinders on the market today. The front of the guard on the EBS 125.5 D is removable to allow the cup wheel to grind against the wall while keeping a tight seal for complete dust extraction, making it the perfect tool for edge grinding.
Built-in vacuum port for dust-free operation when connected to an industrial vacuum.
Load speed of 10,000 RPM, the grinder handles the toughest jobs, like removing epoxy, paint and other coatings, as well as smoothing rough concrete surfaces before applying new paints or coatings.
Designed with handles on both sides of the motor to ensure the operator applies equal pressure on the tool, preventing the cup wheel from digging in and providing a smoother surface. This "H" design differs from traditional right angle grinders and allows the worker to finish larger areas with less fatigue.
Assorted diamond grinding wheels for concrete, epoxy and masonry material are available.
An optional walk-behind cart converts the EBS 125.5 D from a hand-held grinder to a walk-behind grinder to eliminate kneeling or bending while grinding and to provide more comfort to the user.
Request More Information
Fill out the form below to request more information about
CS Unitec's EBS 125.5 D Grinder